Gabion Trellis Wall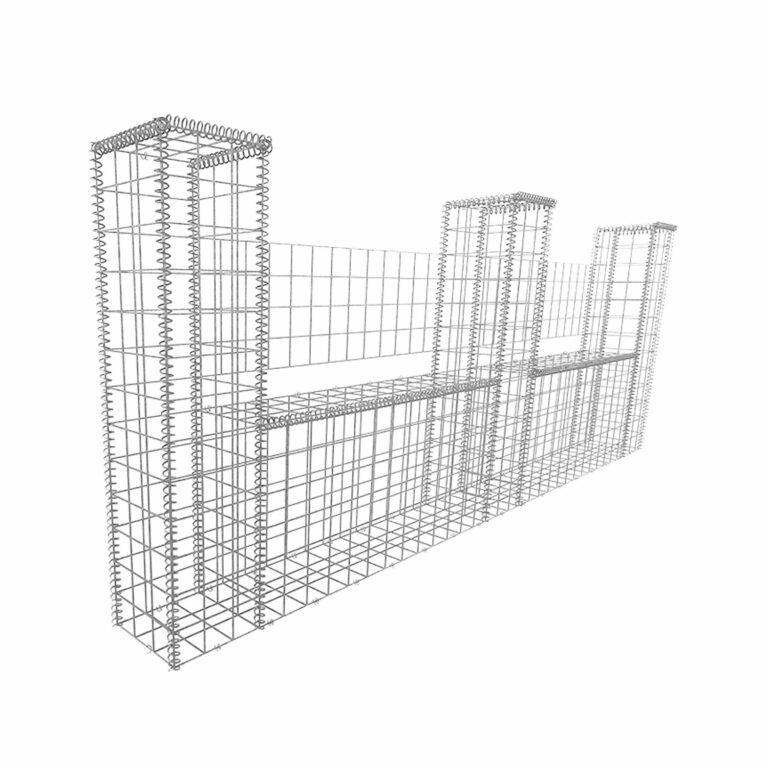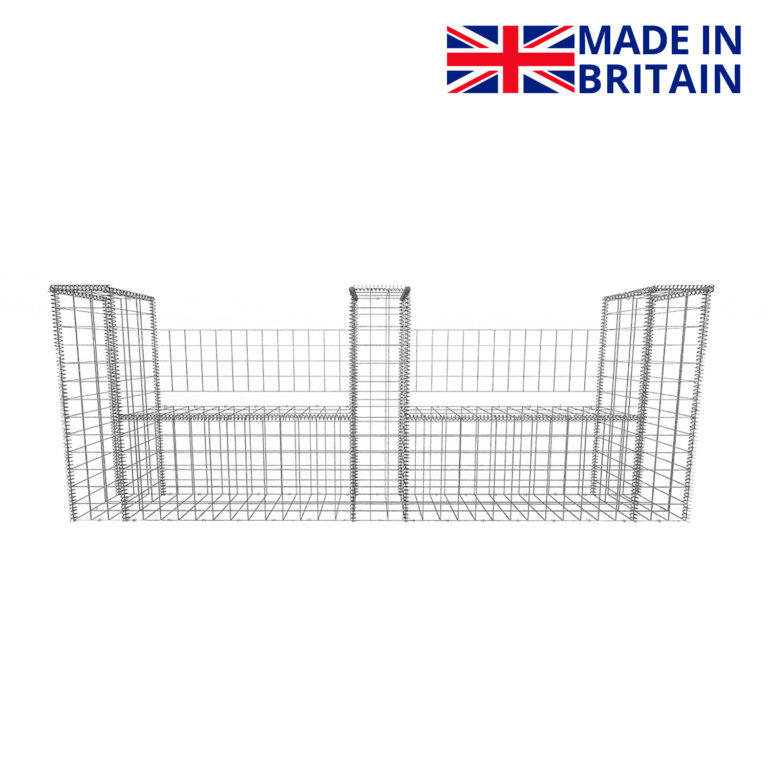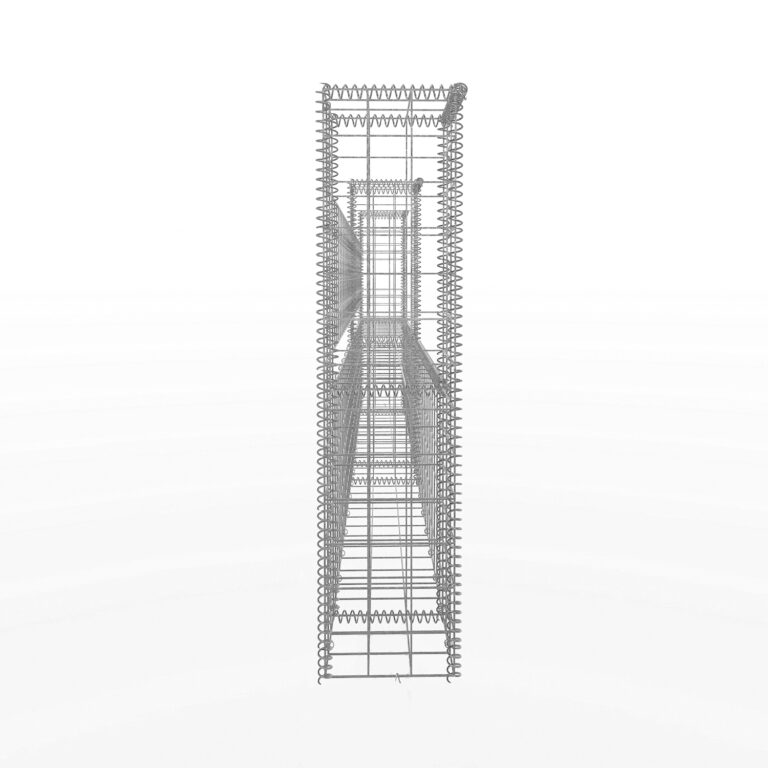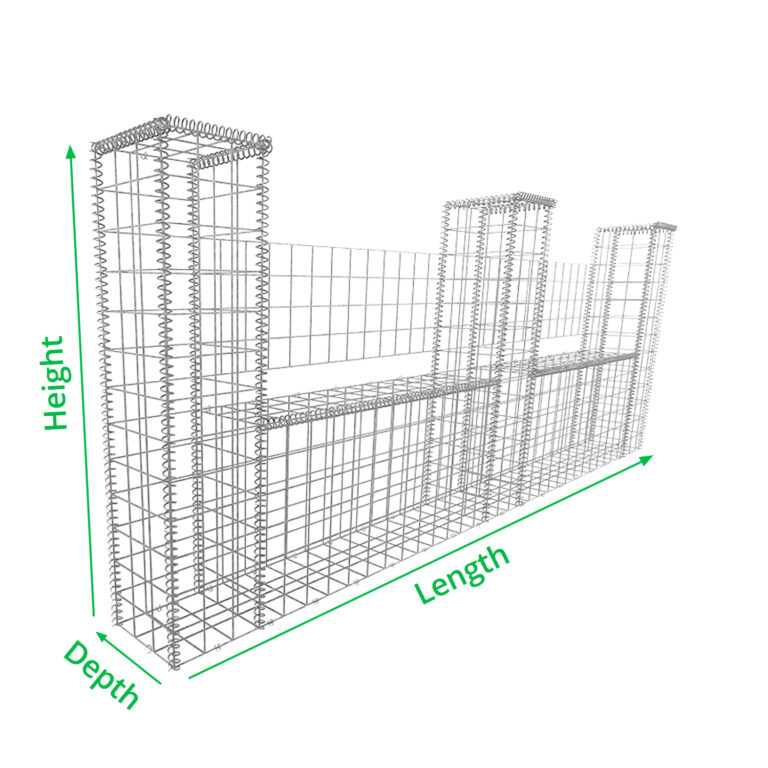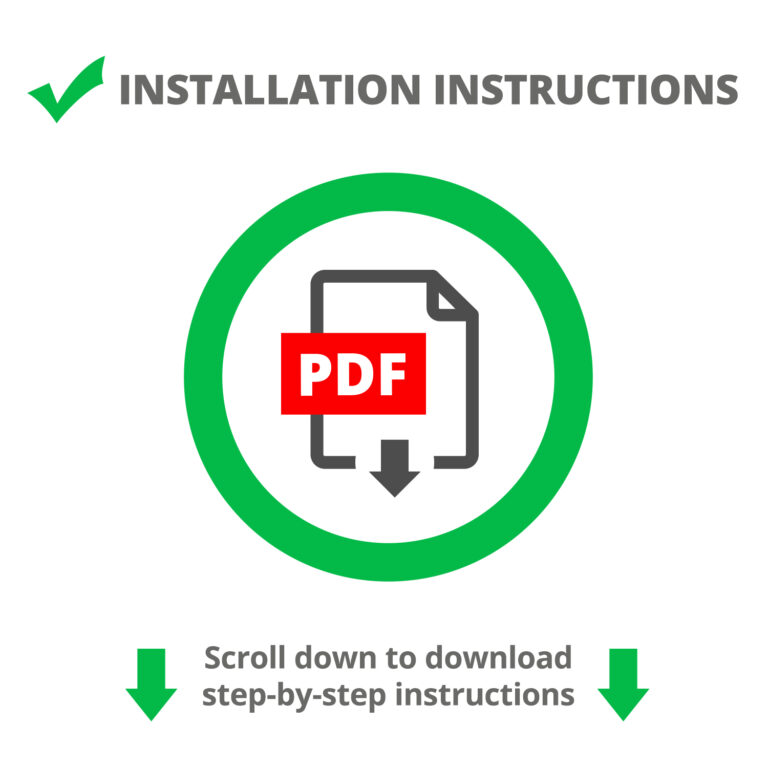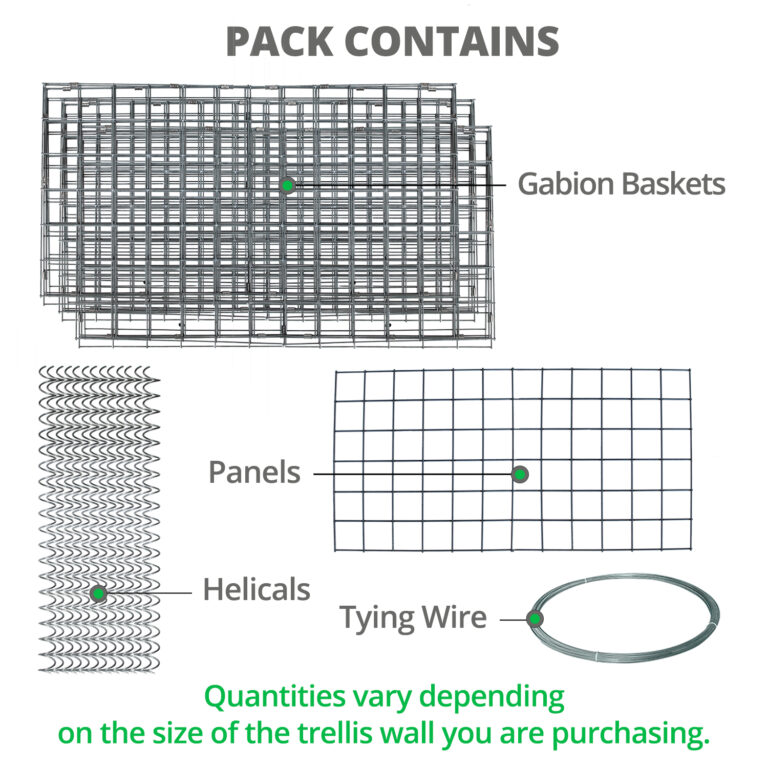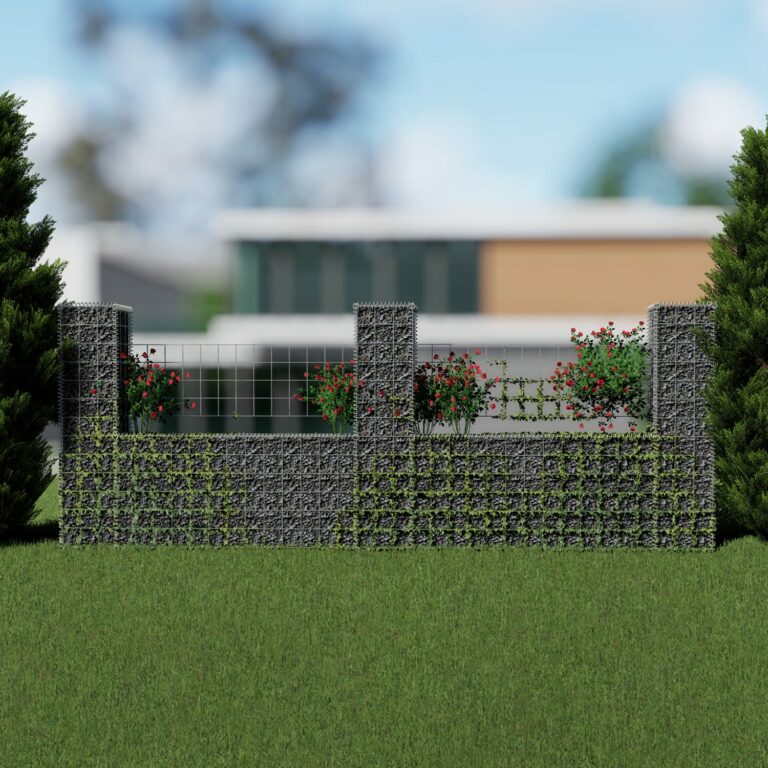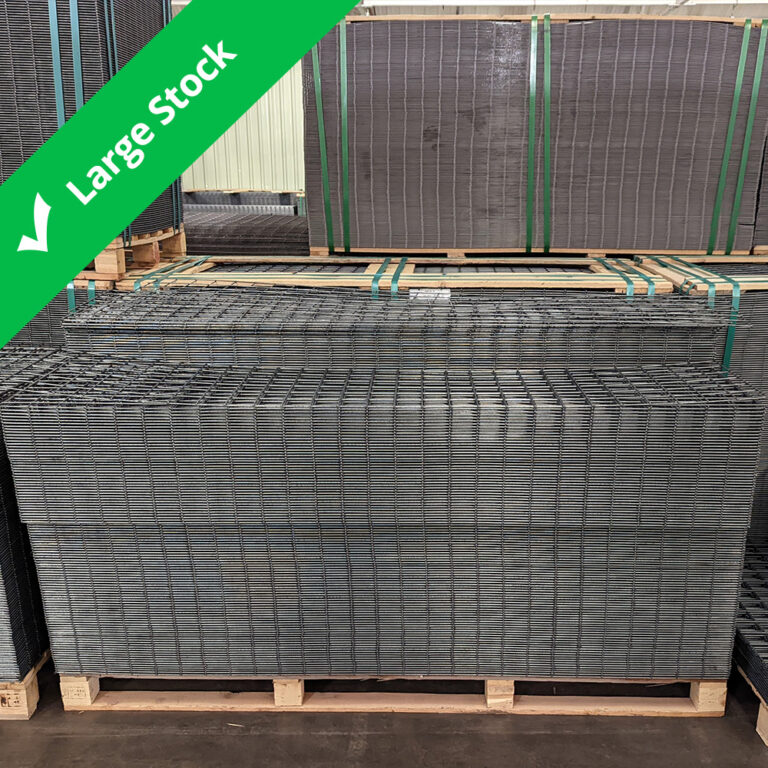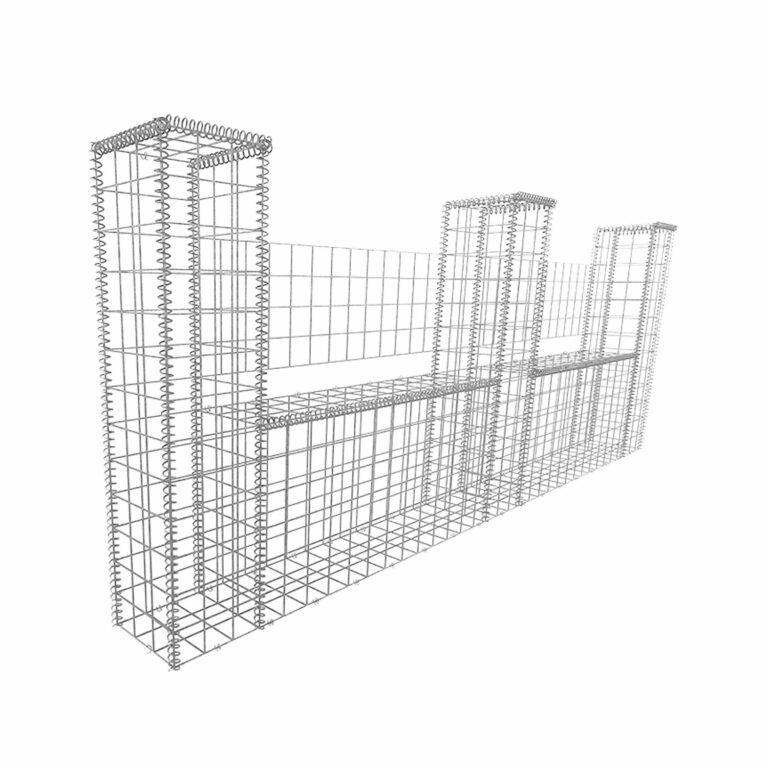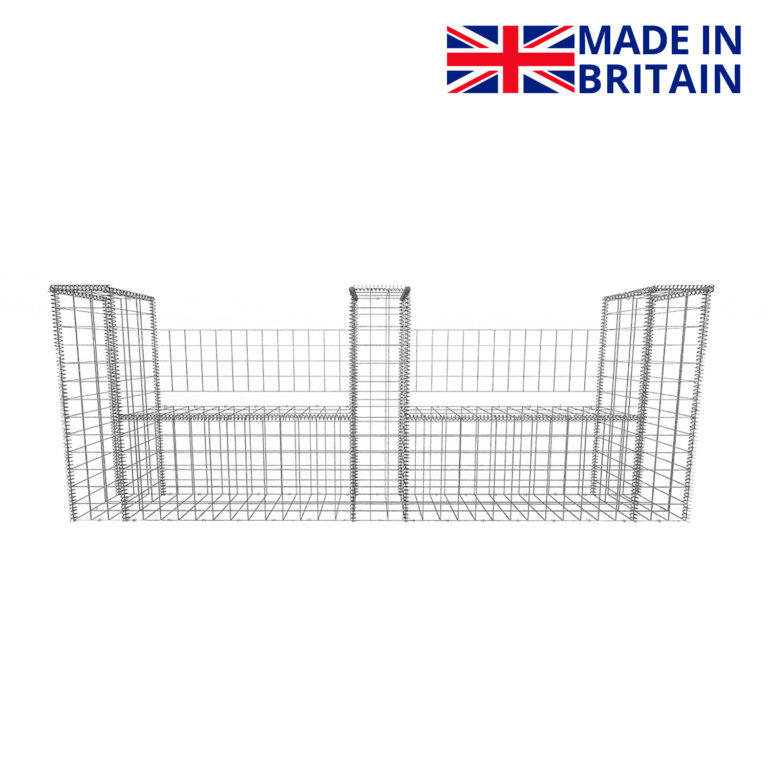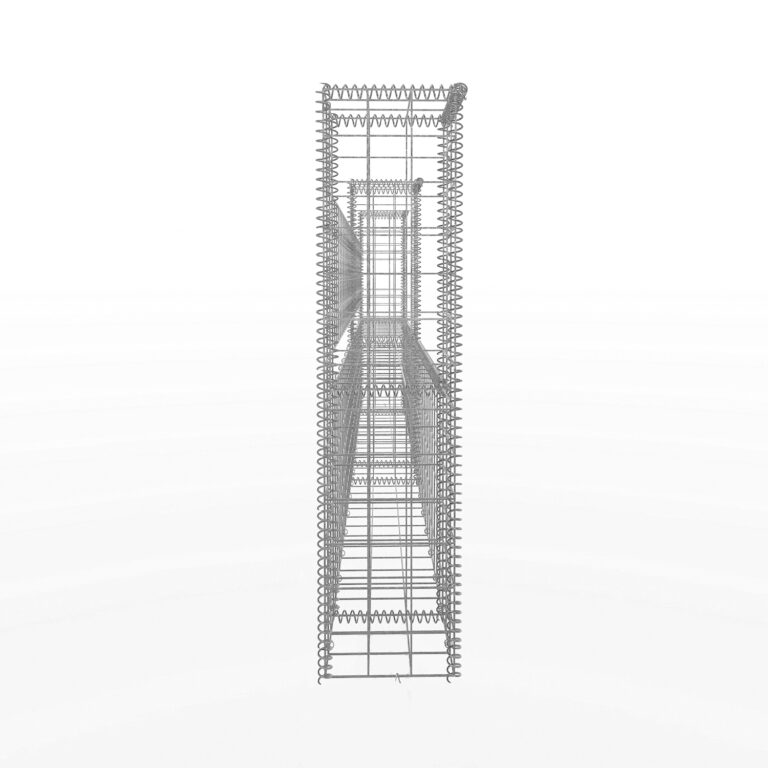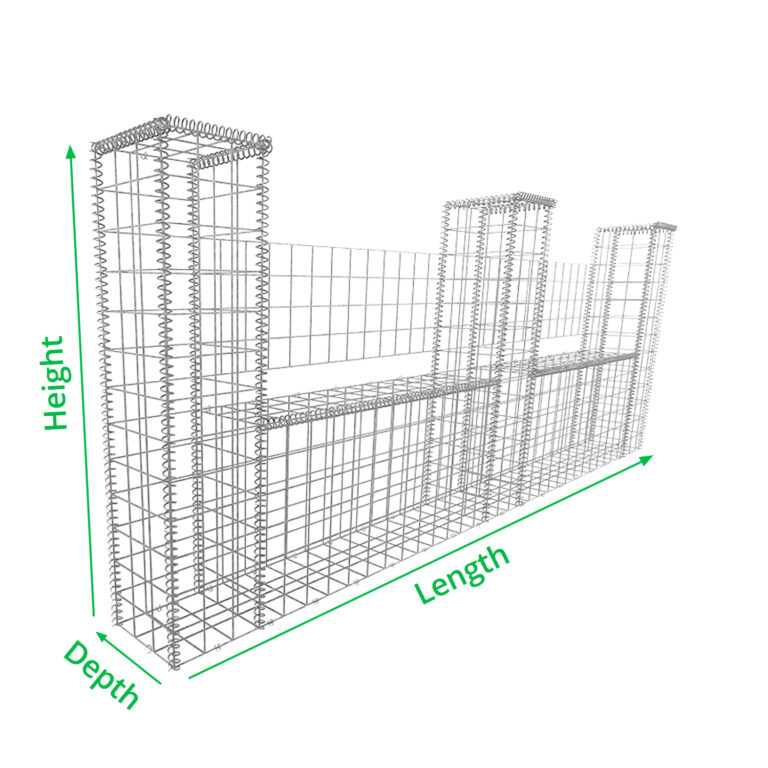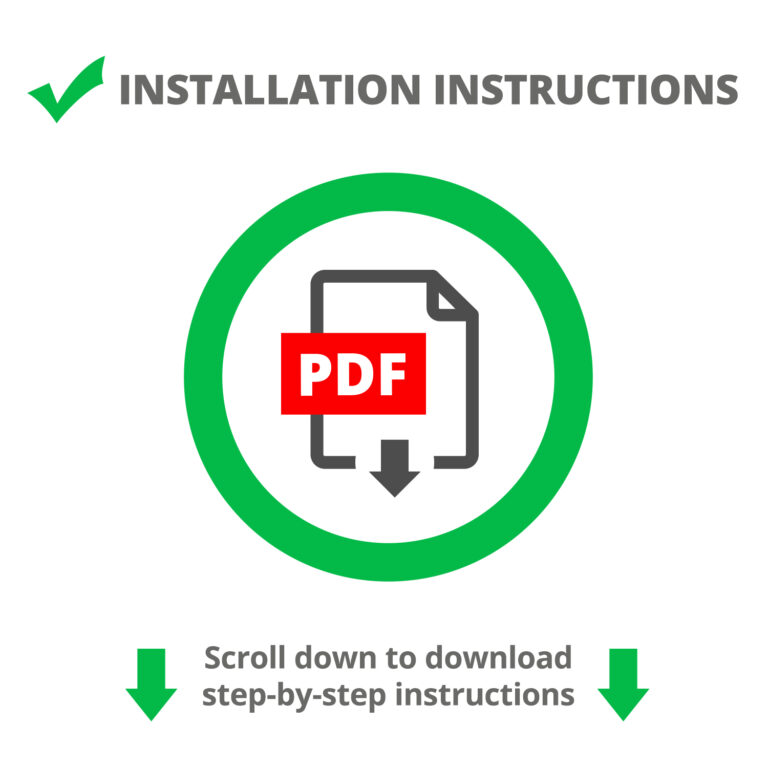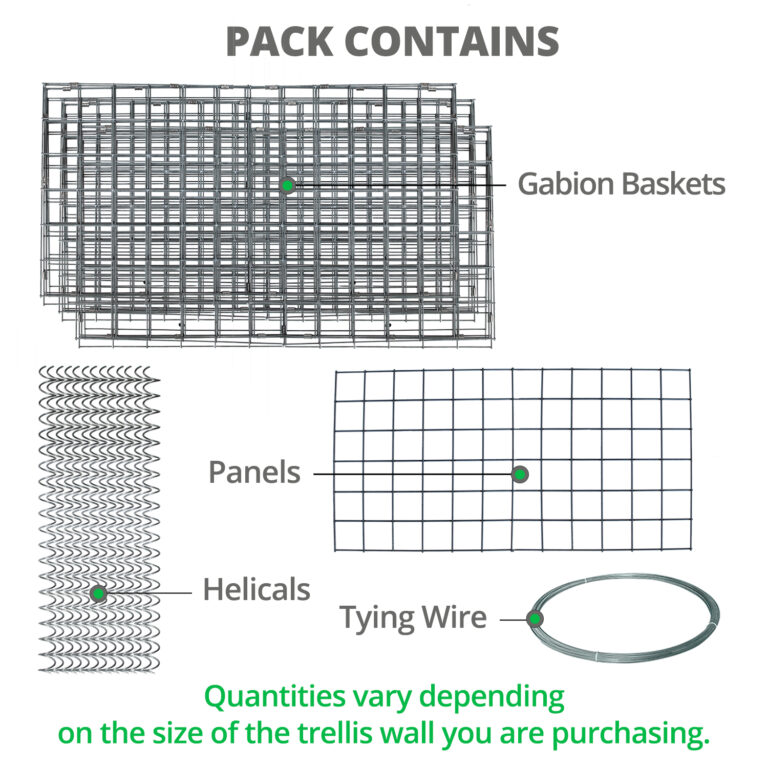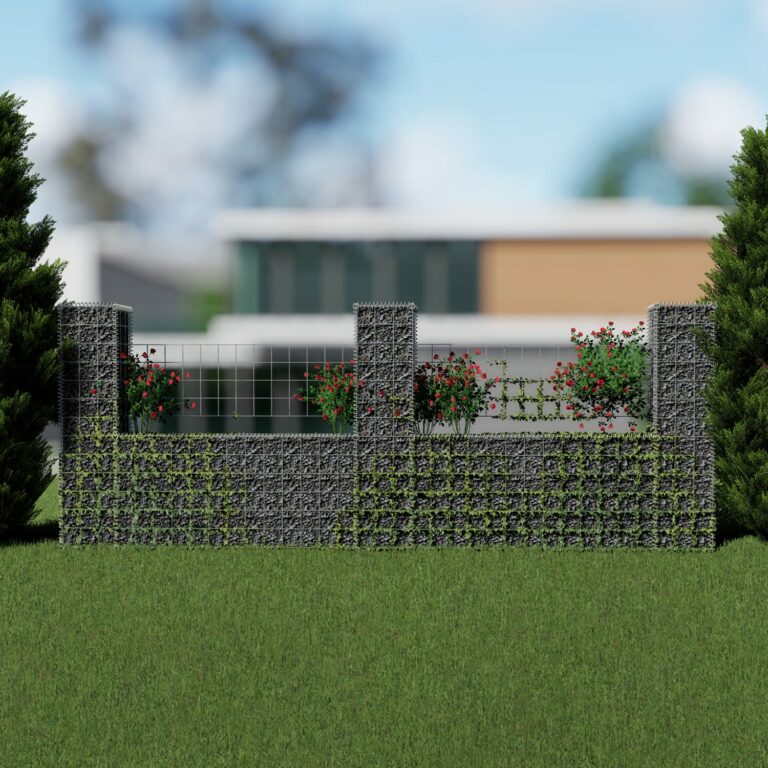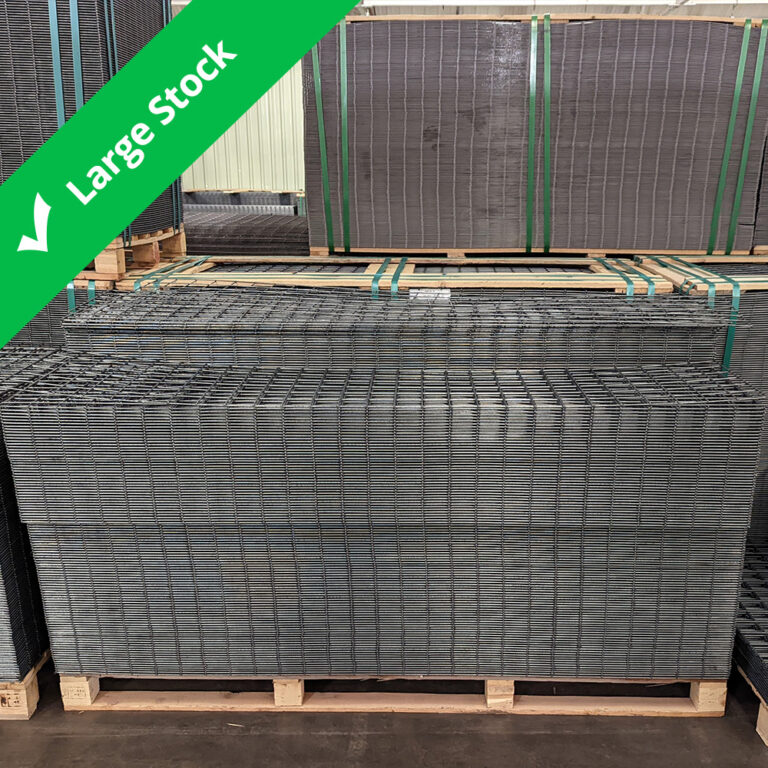 Gabion trellis wall kits include all equipment and instructions required to build a decorative gabion wall.
Also available, 1m wall and 2m gabions wall kits
Easy to install, no DIY experience necessary
Manufactured in the UK, to BS EN standards
Scroll for more details
Gabion Kit Includes
Included
Explanation
Full Installation Instructions
Gabion Baskets

 – Depending on the size of your chosen trellis wall, you will have a minimum of 3 gabions (2 columns and 1 midsection for the single unit) and a maximum of 11 gabions (6 columns and 5 midsections for the quintuple unit)

Trellis Panel(s)

 – You will receive 1x panel to fit between the columns

Helicals

 – Helicals will be included so you can attach the corners and lids for all gabion baskets in your order.  Helicals are 1m long so if your gabion baskets are under 1m, you will need to cut the helicals to size with a hacksaw or bolt cutters 

Geotextile
If required, geotextile is ordered separately. 
Stone separating panels
If required, stone separating panels can be ordered separately
Stones
If required, Gabion stone provided separately Jump to

quantity guide

Tools required (not supplied)

You may need a spade and some gravel if you are installing on soft ground.  You will also need a hacksaw or bolt cutters to trim the helicals.
Gabion Wall Overview
 
Galfan Coated
PVC Coated
 
4mm Wire Diameter
5mm Wire Diameter
4.3mm Wire Diameter
Freestanding wall

 

 

 

Retaining wall

 

 

 

Can be walked on

 

 

 

Can be sat on

 

 

 

No bulges when filled with rocks

 

 

 

Residential areas

 

 

 

Public leisure area

 

Best

 

Delivered as
Flat packed, strapped to a wood pallet with option of small or large truck
Can wires be cut
Yes – with a good bolt cutter
Made in UK
Yes
Conforms to British manufacturing standard
BS EN 10223-8:2013
Certificate of conformity
Yes – download
Construction
 
 
 
Mesh Hole Size
75mm x 75mm
75mm x 75mm
75mm x 75mm
Mesh Material
Galfan coated steel
Galfan coated steel
Galfan coated steel with PVC coating
Mesh Construction
Welded
Welded
Welded
Mesh panels joined together by
Stainless steel C Clips
Strength and environment
 
 
 
Tensile strength range
540-770 N/mm²
540-770 N/mm²
540-770 N/mm²
Corrosion resistance
Yes, conforms to British standard BS EN 10244-2:2009
Abrasion resistance
Yes, conforms to EN 60229:2008
Life Expectancy
50 – 100 years
50 – 100 years
120
years

Suited to Environments

C2 – C4
C2 – C4
C2 – C5
Rocks / Filling / Installation
 
 
 
Speed of installation
2-5 mins each
Experience required to install
Easy install
Rock size required
Minimum 80mm x 80mm
Requires angular, interlocking rocks
No – these commercial grade gabions can be filled with any shape of stone without bulging.
Can be filled with crushed concrete

 

 

 

Can fill with rounded rocks

 

 

 

Save money
Stone separating panel (ordered separately).  Allows you to backfill the cages with cheaper stone or rubble
Installation Instructions
To Do
Explanation

Step 1 – Identify Location

Mark the location where you plan to construct your wall.

Step 2 – Dig

Dig 10cm or until the ground is firm.  Gabion walls lower than 1m are often placed directly on the ground but it will be more stable if placed on firm ground such as clay instead of the topsoil.

Step 3 – Add Geotextile / Weed Block

Place a layer of geotextile or weed mat to prevent weeds from growing up and through your gabions.

Step 4 – Add Gravel

Add a 10cm layer of gravel or basecourse into your hole.

Step 5 – Compact Gravel

Walk and stomp on the gravel to make it compact.

Optional – Concrete Foundation

Most low-level gabion walls do not require a foundation but if you have a large amount of groundwater or the soil is weak, it may be needed. 

Step 6 – Unpack Kit

Unpack your gabion trellis kit. 

Step 7 – Unfold Baskets

Unfold the baskets and lift up their sides, front and back.  Leave the lids hanging backward.

Step 8 – Connect Outer Corners

Twist the helicals around the mesh holes to connect three corners of the gabion columns. 

A single helical will connect the column basket to the midsection basket like this.


Step 9 – Close Lid

Close the lid of the midsection but don't secure it yet.

Step 10 – Connect Trellis Panel

Holding the trellis panel in place, attach the final corners so the helical connects both the panel and the corners together.

Additional tying wire will be supplied in case you would like to strengthen this connection.

Step 11 – Fill with Stone

Start filling up your gabions with your desired type of stone.

Step 12 – Attach Lids

When the gabions are filled to the top with rocks, close the lids and attach them with helicals at the front.

Step 13 – Cut Helicals

Once the helicals are in place, cut the excess lengths with a hacksaw or bolt cutters. You can use these offcuts for the other sides of the lids if you wish.

Step 14 – Rinse and Repeat 

If your wall is longer than a single unit (2x columns & 1x midsection), repeat the steps until you're done with the whole structure.
Calculate Stone Quantity
Use the guide below to calculate the amount of stone that you need to fill your gabion wall
You can use stone separating panels to reduce the amount of decorative rocks required and save money
Gabion Wall Dimensions (cm)
Bulk Bags of Granite Stone Required
Bulk Bags of Limestone Required
142.5cm
22.5cm
97.5cm
1
1
262.5cm
22.5cm
97.5cm
1
1
382.5cm
22.5cm
97.5cm
2
2
502.5cm
22.5cm
97.5cm
2
2
622.5cm
22.5cm
97.5cm
2
2
157.5cm
30cm
97.5cm
1
1
285cm
30cm
97.5cm
2
2
412.5cm
30cm
97.5cm
2
2
540cm
30cm
97.5cm
3
3
667.5cm
30cm
97.5cm
3
3
187.5cm
45cm
97.5cm
2
2
330cm
45cm
97.5cm
3
3
472.5cm
45cm
97.5cm
3
4
615cm
45cm
97.5cm
4
4
757.5cm
45cm
97.5cm
5
5
Download PDFs
Specification
Certification