The ever lasting chicken run
Why our chicken runs should last "forever"
Yes, it's a big claim but when we originally designed our large house and run, and the large chicken run it was always our intention that they would have a long life.
How is this possible?
Our chicken runs are a bit like Trigger's broom, when parts need replacing you can pick up spare bits from your local DIY store.  The original design, some 12 years ago, was constructed entirely from materials bought off the shelve from the local store.  Since then the only real change is that we now buy materials in bulk and everything is pressure treated with a preservative.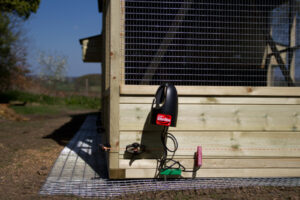 One of the fundamental differences between our runs and almost ever other run we've seen is that  the main structure of our chicken runs sits on a sacrificial timber that can be replaced if it starts to show signs of rot.  Almost all others attach the mesh directly to the timber that rest on the floor.  As soon as the bottom 2″ of timber starts to rot the mesh becomes detached and the run is no longer usable.  With our run all you need to do is remove a few bolts and slide in a replacement timber. (we've been back to move chicken runs to new locations and even after 8 years the sacrificial timber is still good and doesn't need replacing.)
The next thing that makes our chicken runs different is we use big timbers. The bulk of our runs is constructed with a 2×3″ nominal timber that's graded as C16 (this is the standard of timber you'll find used to build timber frame house) which is 2 to 3 times the size of most other chicken runs.
If you've chosen a run with the 6″ or 12″ base plinth this is another part that extends the life of you chicken run as it's another part that can easily be repaired or replaced before the mesh becomes detached.
When we specify the mesh we could use an inexpensive, Chinese mesh but instead we prefer a quality mesh sourced from Italy.  Unfortunately, when comparing mesh from different suppliers it's difficult to tell how strong it is as the strength relates to the quality of the steel and not the size.  This isn't something that is apparent until you try to cut it.  It takes much more effort to cut our mesh compared to a cheaper alternative.  Our mesh is also double galvanised, firstly the individual wires are galvanised before they are made into the mesh, then the completed mesh is galvanised again.  Cheaper meshes are only galvanised once.  You can see the difference if you look at the joint where the wires cross, our's has a more substantial globule of plating at the joint compared to cheaper wire.
When we attach the wire mesh to the timber frame we use a 35mm staple spaced at around 10-12cm.  The length of these staples means the mesh is unlikely to ever be pushed off the frame.  If we used thinner timber we simply couldn't use this length of staple.