My first Year Of keeping Chickens – by Emma Brown
I grew up on a small farm in Wales and used to tell my parents that all I wanted to do was live in the Big Smoke and far away from the boring fields, hills & animals of the countryside – how wrong I was! It turned out that I lasted 6 months in London, before retreating to the relative peace of Wiltshire where I found work, met my husband, got married and had two daughters.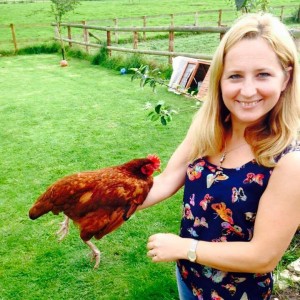 My yearning for chickens began a few years ago and has grown gradually stronger, until last year I could resist no more. I got 2 hybrid chickens, one Columbian Black-tail and one Crested Legbar, from another chicken-loving friend in my village and have since added another 3 ex-battery chickens who were awaiting slaughter. There was a fourth, Anna, but unfortunately, after 3 months in the sunshine, she succumbed to illness and was buried under an apple tree in our field. My daughters have given them their names – Edith, Margo, Elsa, Noria & Divia – and they are still as excited about checking for eggs as they were when we first got them. They help me clean them out, give them snacks and sometimes sing and dance in the field to entertain them! It has been amazing watching the ex-bats grow their feathers back, enjoy their first dust baths, sunbathe and relax into life outside of the factory. They are extremely affectionate and love a cuddle. Every day, when they hear my car pull up, they come running to say hello and I am torn between staying with them for hugs and rushing in to see my children! They have added such richness and happiness to our lives (although my husband isn't very pleased with the state of the garden but that is largely thanks to the rescue ducks that have recently joined the family!). I have always loved animals and have two 9 year old cats that have moved with us through the years, so I knew I would love my chickens. What I didn't expect was HOW much they would come to mean to me – I held Anna in my arms when she was dying and literally cried for a whole day after she died – and she had only been with us for 3 months. Each chicken has their own individual personality and they vary so much – one is shy, one is flighty, one is so tame that she sits in my arms and goes to sleep, one loves dust baths so much that you have to physically remove her from the flower bed when you want to put her to bed and one still can't work out the steps up into the run, after many weeks of showing her and makes me laugh with her attempts every night.
They lay wonderful eggs with bright orange yolks and have made me realise that so called 'free range' eggs in supermarkets are actually not as they seem. I used to turn up to the houses of friends with wine and flowers – now I inevitably turn up with wine and eggs instead – people seem to love receiving fresh eggs from the hens they see pop up in their Facebook feeds so often! In fact my husband did suggest that I might like to take a few more photos of the children rather than using my whole memory card on the chickens! For anyone considering getting chickens, don't hesitate, they are a wonderful addition to any family! I now know that I will be keeping chickens for many years to come – there is no end in sight – I am have officially got a chicken addiction and am without a doubt a crazy chicken lady!