Curved Gabions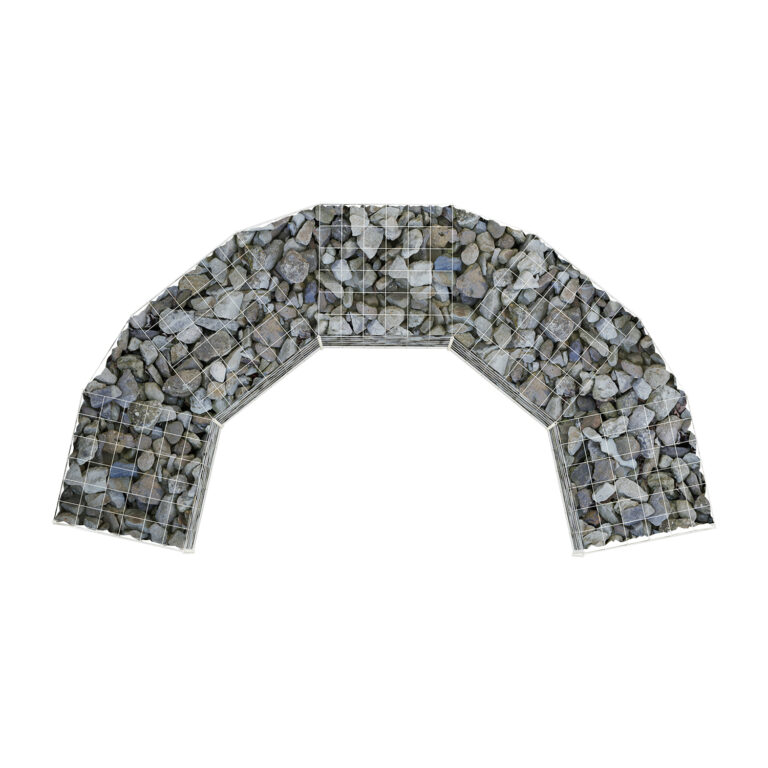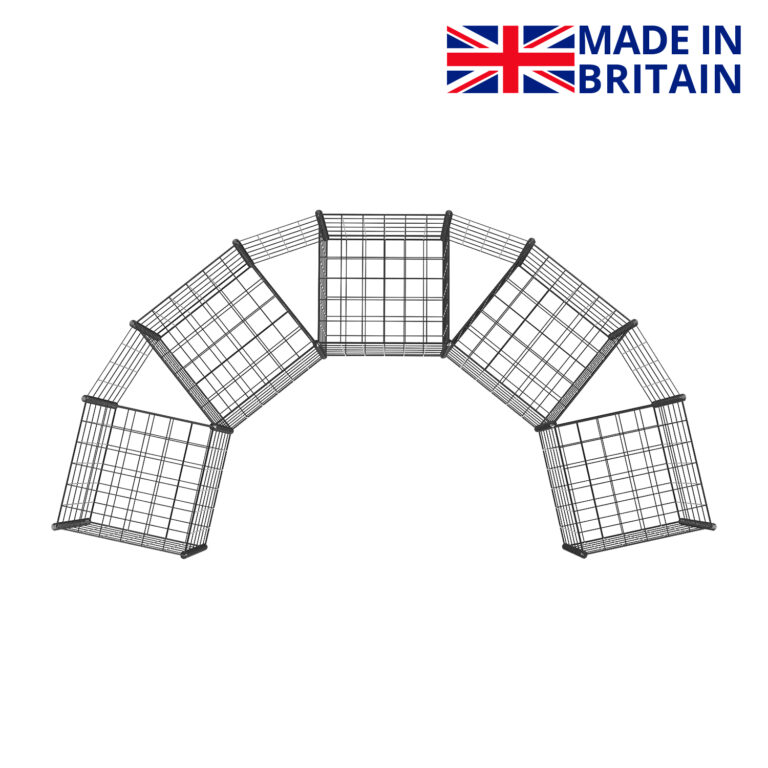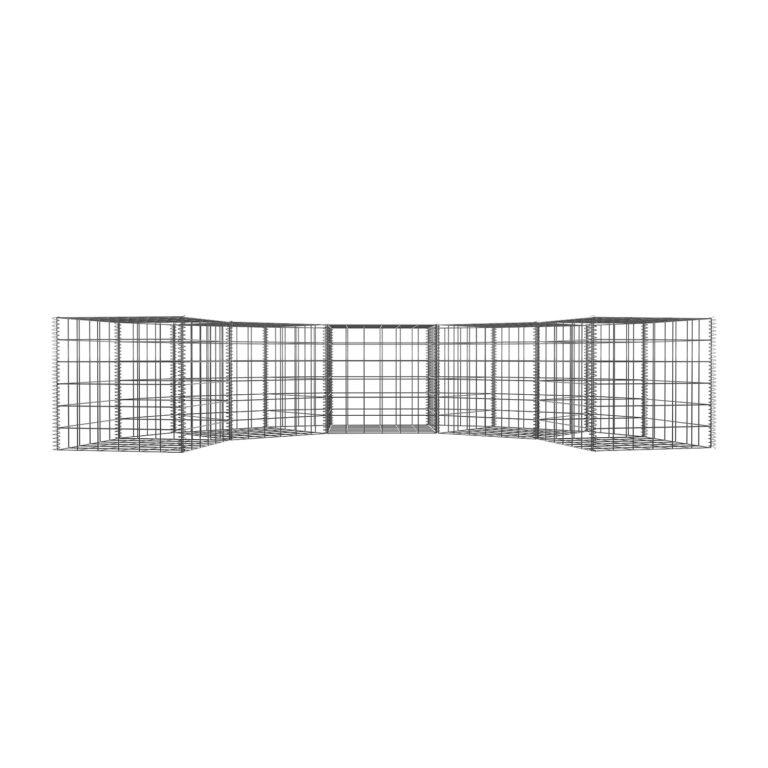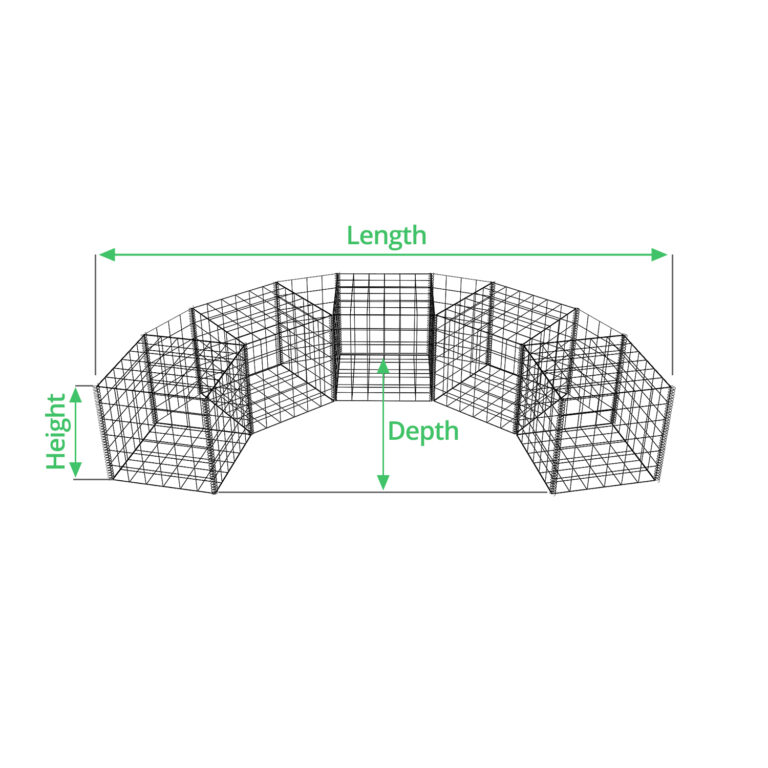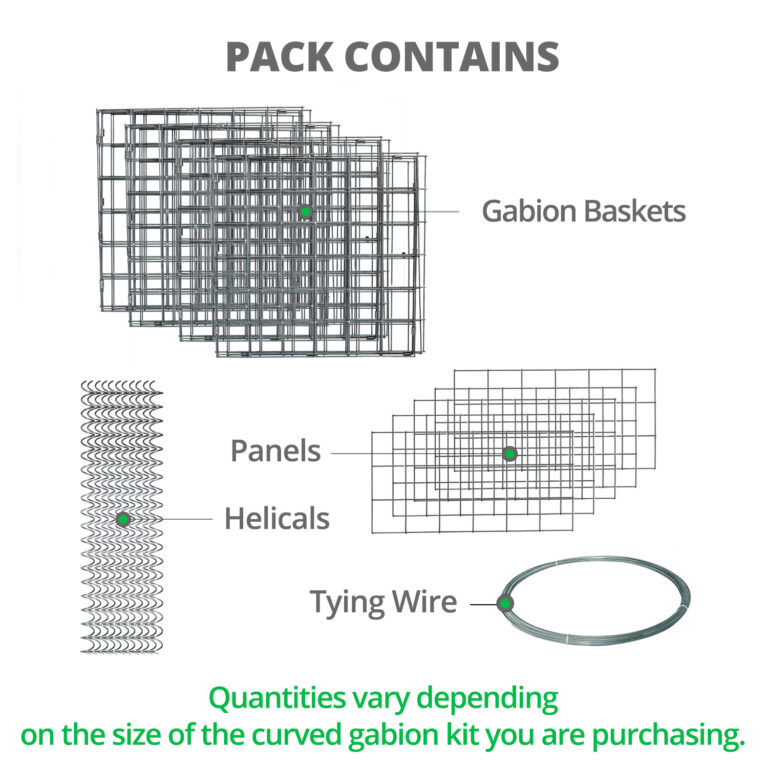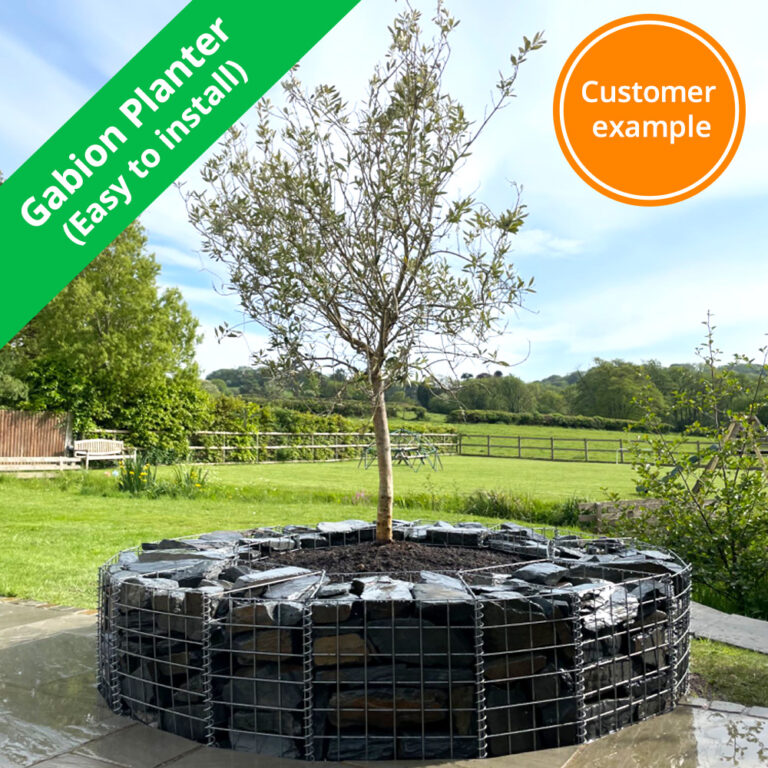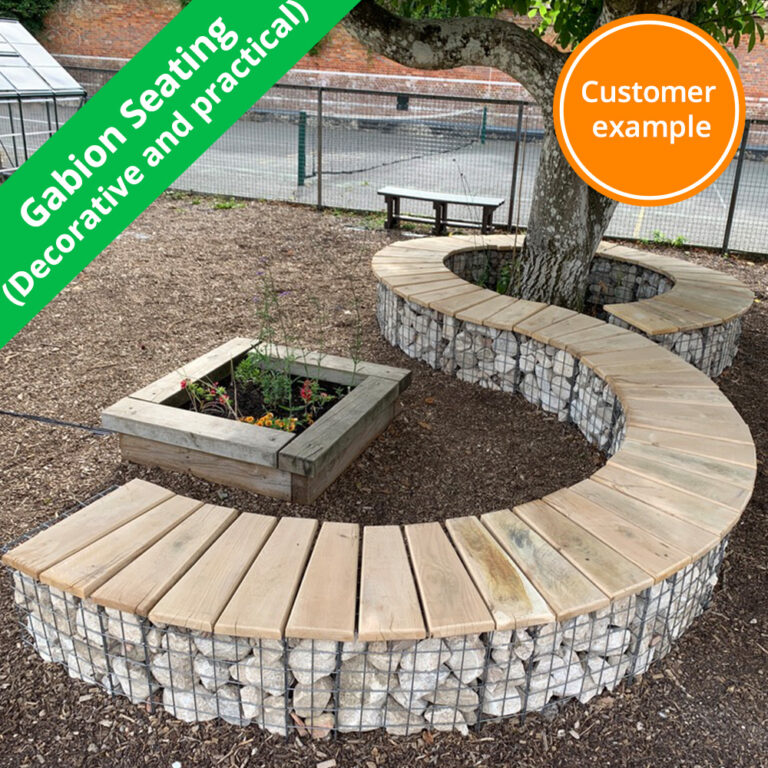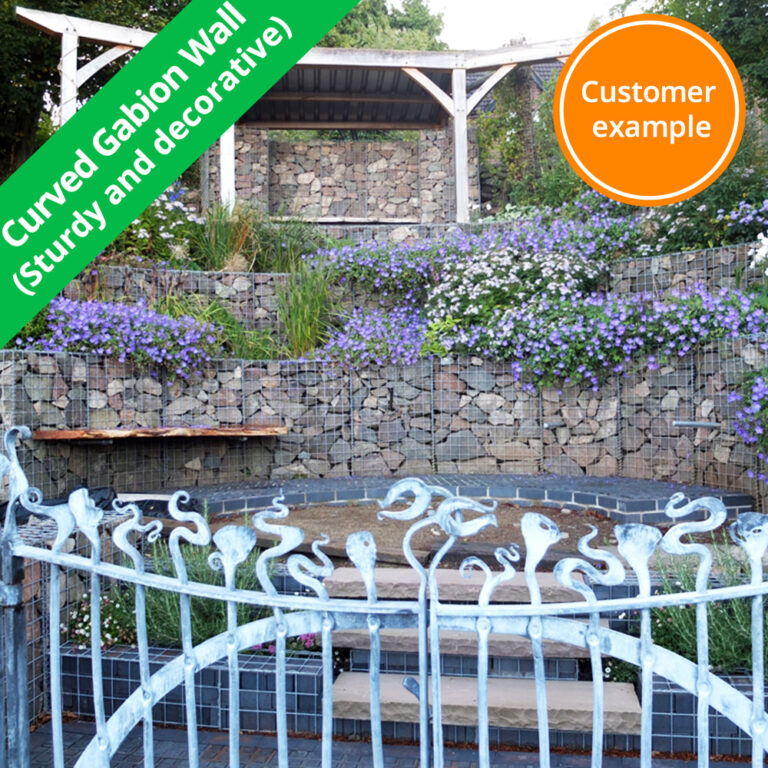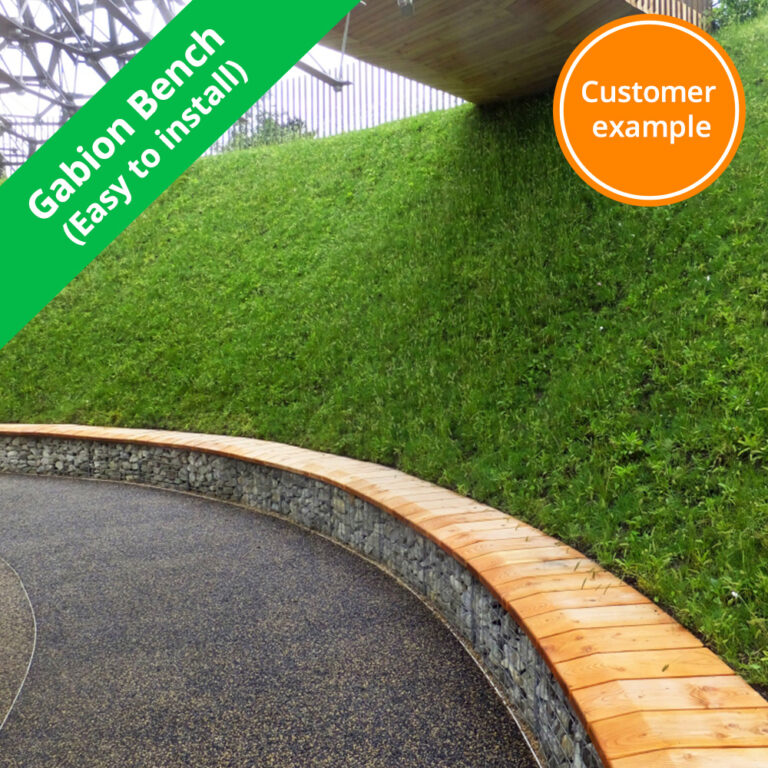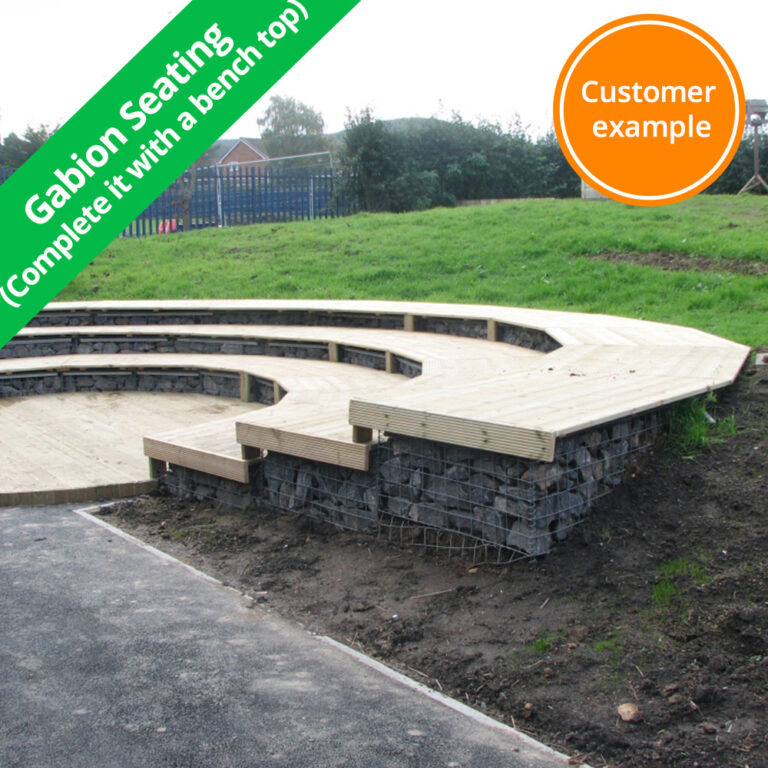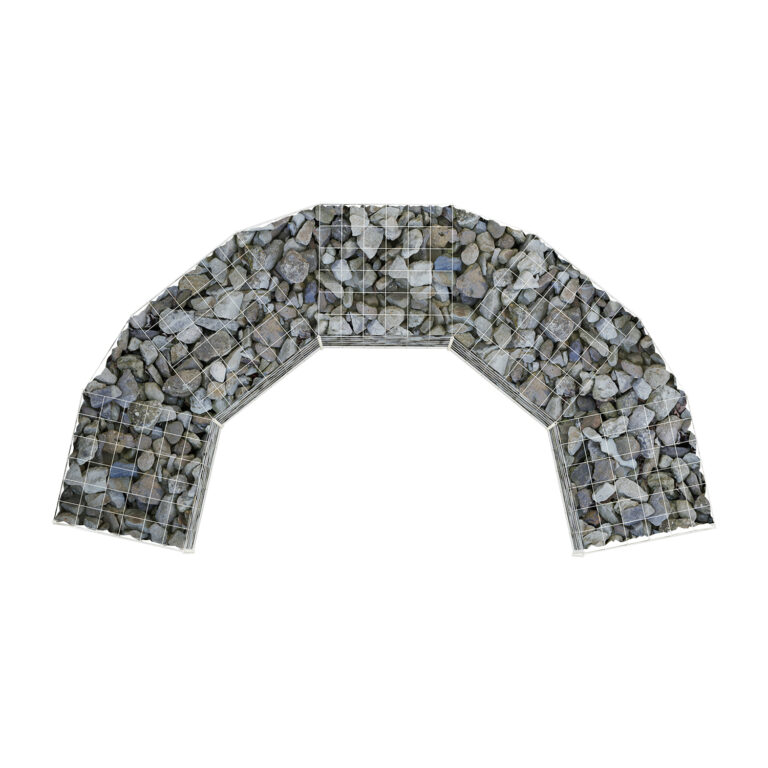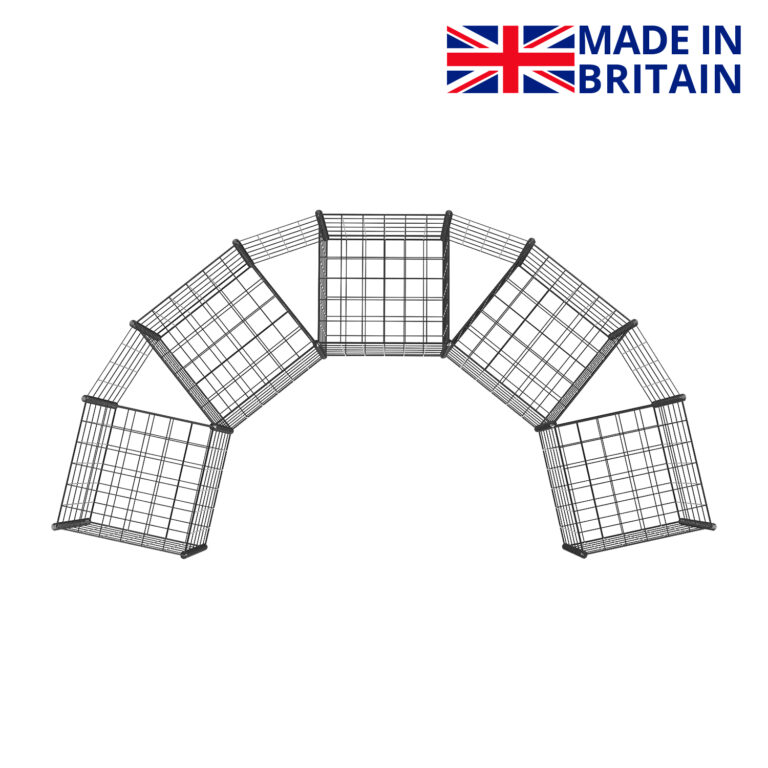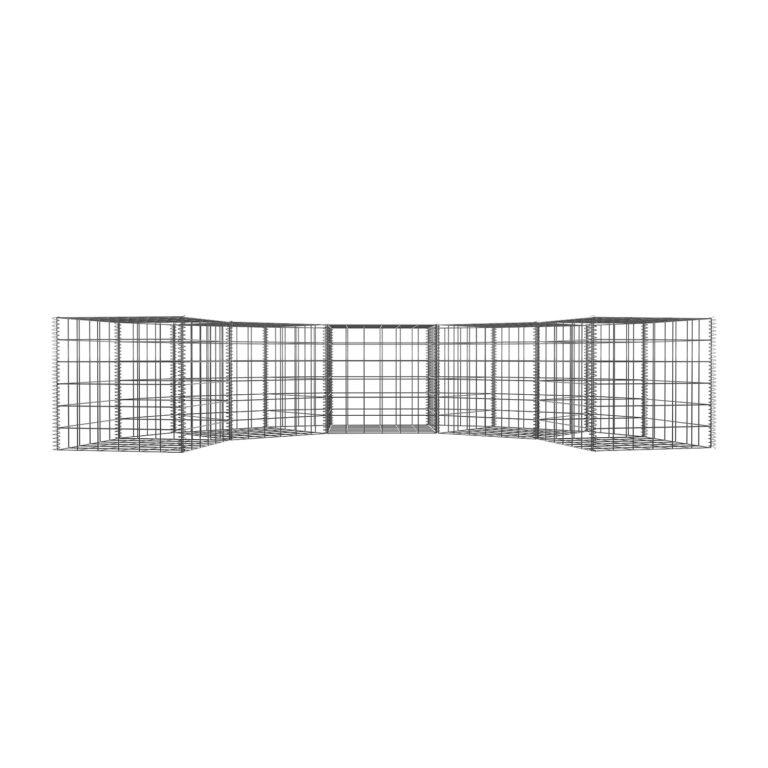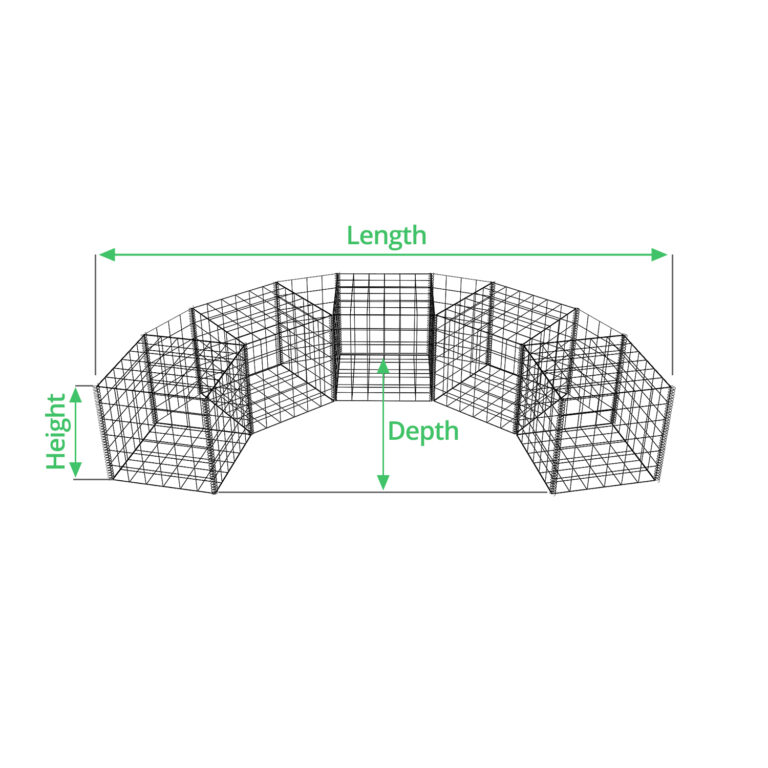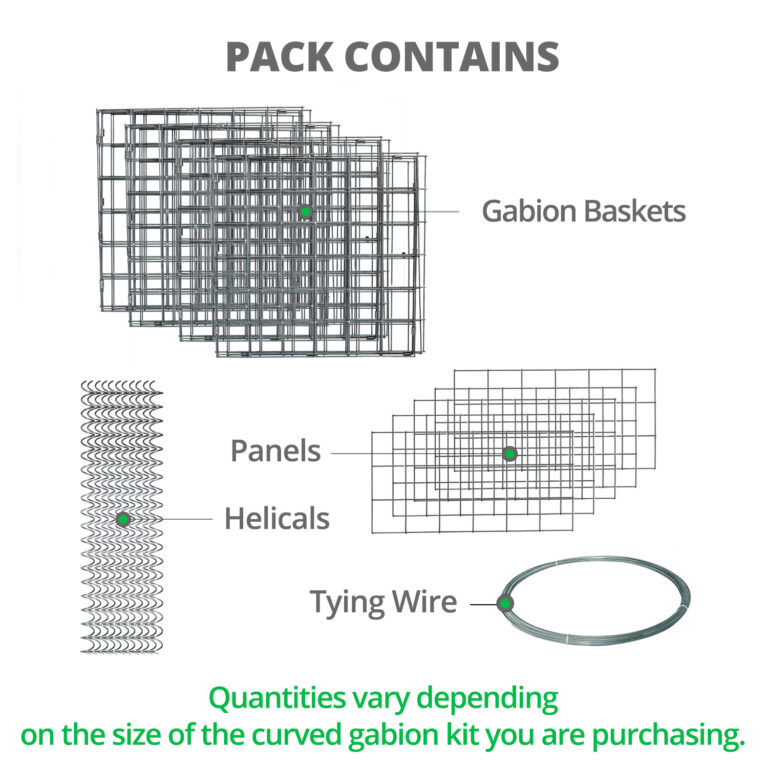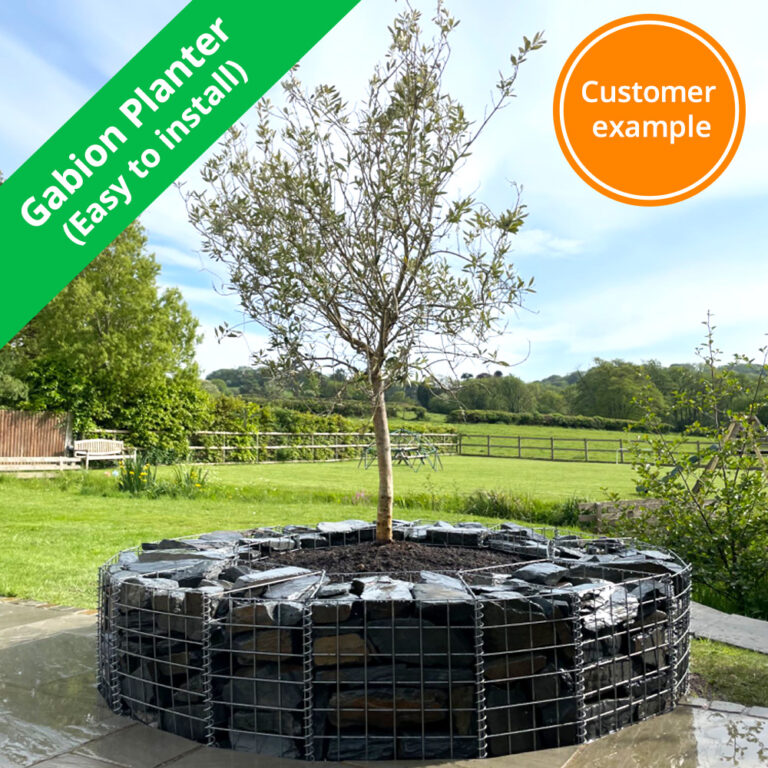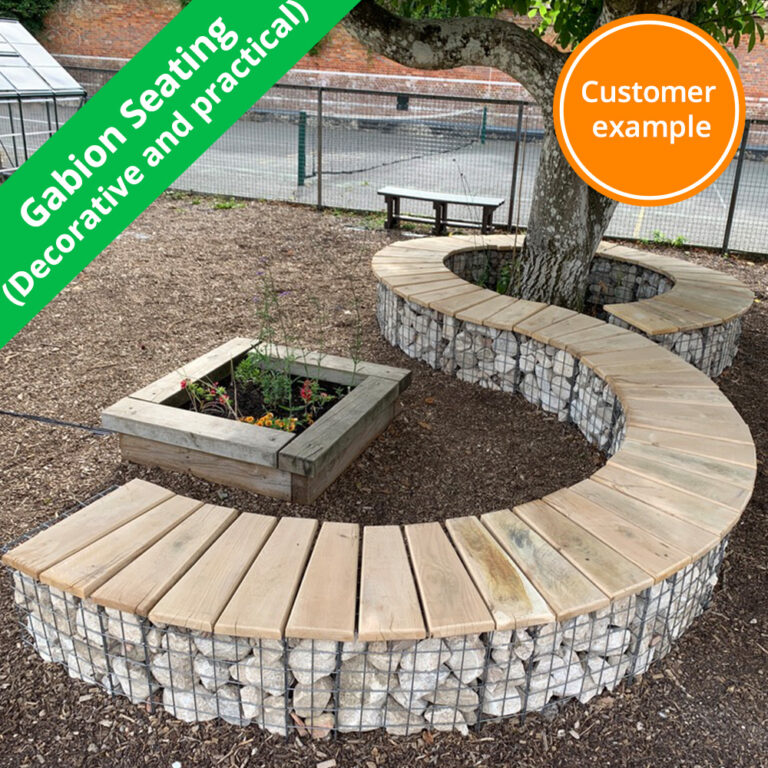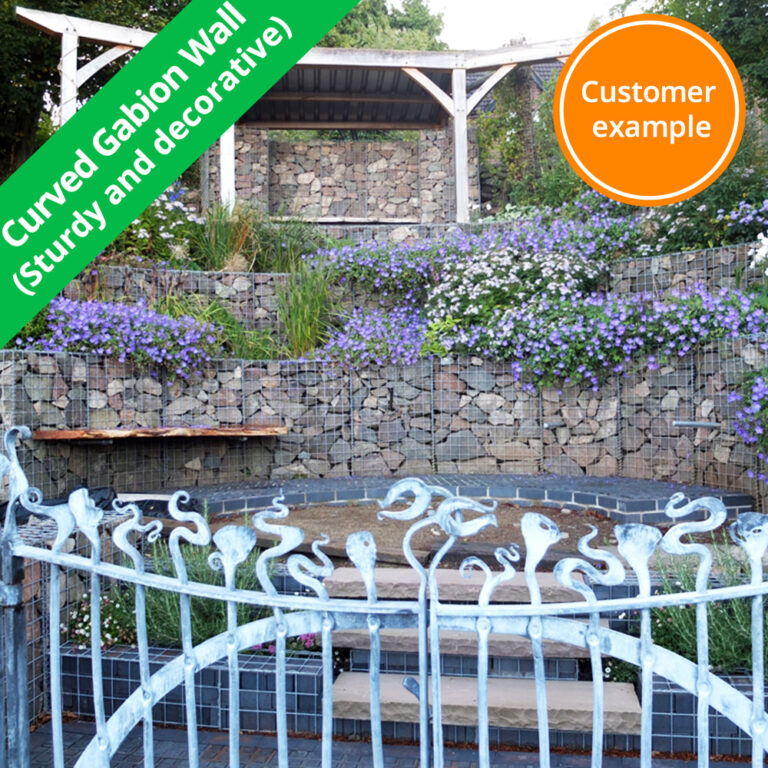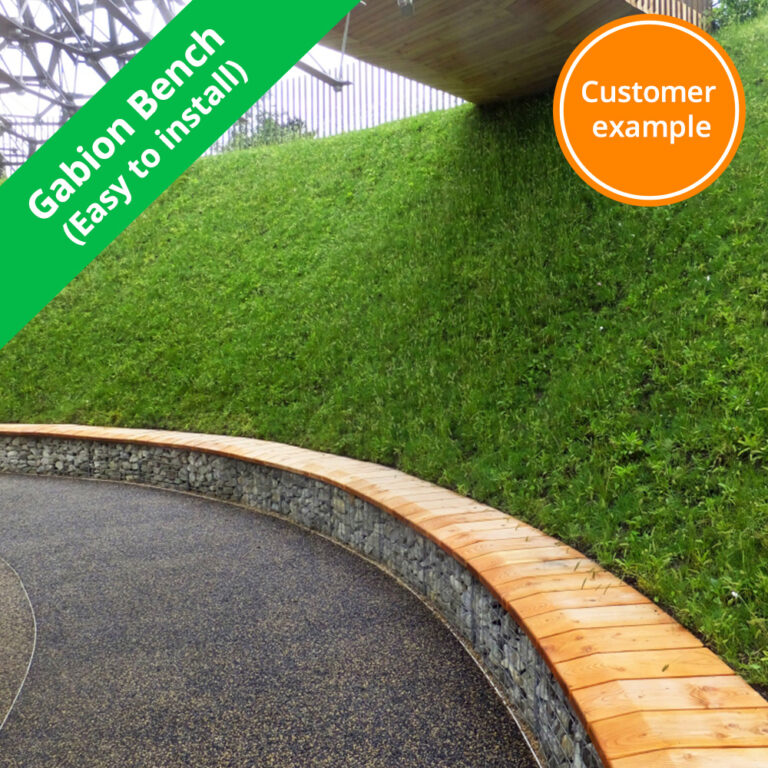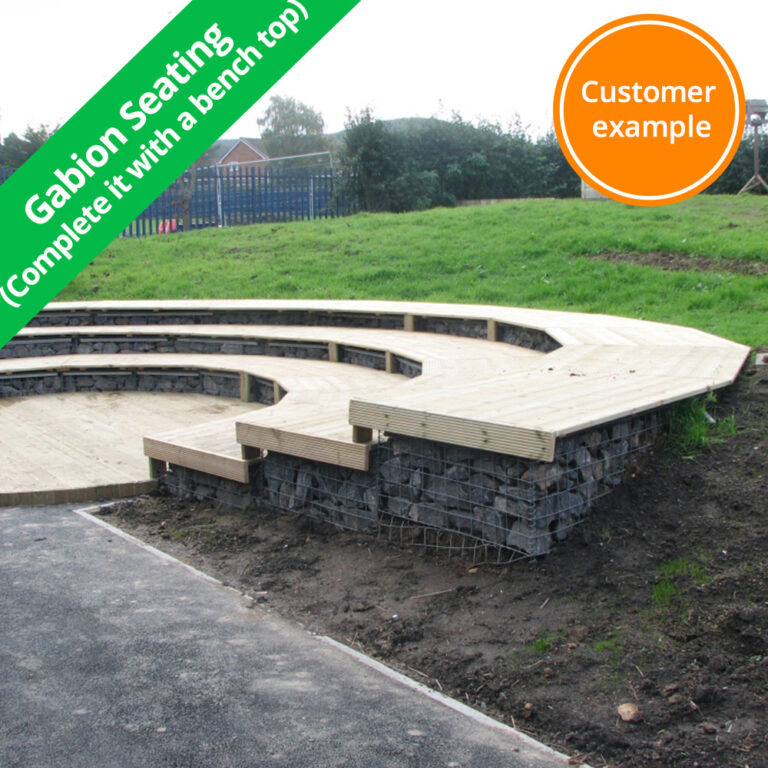 Easily create curved gabion baskets using our simple-to-follow instructions.  Commonly used to make curved gabion walls, benches and planters.
Scroll for more details
Customer Images
Recommended applications & uses
 
Galfan Coated
PVC Coated
 
3mm Wire Diameter
4mm Wire Diameter
5mm Wire Diameter
3.2mm Wire Diameter
4.3mm Wire Diameter
Curved gabion

 

 

 

 

 

Can be walked on

 

 

 

 

 

Can be sat on

 

 

 

 

 

Tall or thin structures

 

 

 

 

 

Planters

 

 

 

 

 

Freestanding structure

 

 

 

 

 

Retaining structure (up to 5m)

 

 

 

 

 

Retaining structure (5m and over)

 

 

 

 

 

Erosion control

 

 

 

 

 

Coastal protection

 

 

 

 

 

Landscaping: no bulges when filled with

irregularly

shaped rocks

 

 

 

 

 

Landscaping: no bulges when filled with rounded rocks

 

 

 

 

 

Public leisure areas

 

 

 

 

 

Delivered as
Flat packed in small to large truck depending on order quantity
Delivered with
Delivered with FREE tying wire
Also available
Helicals for quicker assembly of the 4 vertical corners (ordered separately)
Also available
Corner ties to prevent bulging (ordered separately)
Can wires be cut
Yes – with bolt cutters
Made in UK
Yes
Conforms to British manufacturing standard
BS EN 10223-8:2013
Certificate of conformity
Yes – download
Construction
 
 
 
 
 
Mesh Hole Size
75mm x 75mm
75mm x 75mm
75mm x 75mm
75mm x 75mm
75mm x 75mm
Mesh Material
Galfan coated steel
Galfan coated steel
Galfan coated steel
Galfan coated steel with PVC coating
Galfan coated steel with PVC coating
Mesh Construction
Welded
Welded
Welded
Welded
Welded
Mesh panels joined together by
Stainless steel C Clips
Strength and environment
 
 
 
 
 
Tensile strength range
540-770 N/mm²
540-770 N/mm²
540-770 N/mm²
540-770 N/mm²
540-770 N/mm²
Corrosion resistance
Yes, conforms to British standard BS EN 10244-2:2009
Abrasion resistance
Conforms to EN 60229:2008
Life Expectancy
50 – 100 years
50 – 100 years
50 – 100 years
120
years
120
years

Suited to Environments

C2 – C4
C2 – C4
C2 – C4
C2 – C5
C2 – C5
Rocks / Filling / Installation
 
 
 
 
 
Speed of installation
2-5 mins each
Experience required to install
Easy install
Depth of structure
Minimum

half of the height

Rock size required
Minimum 80mm x 80mm
Requires angular, interlocking rocks

 

 

 

 

 

Can be filled with crushed concrete

 

 

 

 

 

Can fill with rounded rocks

 

 

 

 

 
Measuring Instructions
Use the following instructions to measure exactly how many baskets you need before placing your order.
 
Explanation

Step 1 – Walk the curve

Attach string to a bamboo stick.  Pull the string taut, then walk the string along the area where you would like to create a curved gabion wall.

Step 2 – Mark the curve using string

Place string along the curve where you plan to install the wall.  The string should be placed on the ground and used to mark the inner and outer sides.  Hold the string in place at every 1 meter distance using rocks.

Step 3 – Measure the string

Lay the string on the ground, then use a measuring tape to record the length of both pieces of string. 

Step 4 –

 Order materials

You will need enough cages to cover the length of your inner curve.

45cm or 97.5 cm cages will give you the best curve effect.  Longer cages can also be used but the curve effect will not be as pronounced.
Installation Instructions
Kit Installation Easiest to measure, calculate the material required, and install.  Sold as a kit with everything you need to construct the curved structure.

Mitre Corner Installation Offers the most flexibility to adjust the radius of the curve when installing. Requires bolt cutters so you cut openings to create a mitre corner.

DIY Installation This installation technique will create an actual rounded edge but installation is longer than other techniques.
To Do
Explanation

Step 1 – Mark Area

Mark the area where you plan to install before placing your order.

If possible, keep the area marked until your order arrives to ensure the curve shape remains exactly the same.

It is possible to adjust the shape slightly after delivery but if the curve changes significantly, you may need to reorder new materials.

Step 2 – Dig

Dig until the ground is firm.  Structures 1m tall or less are often placed directly on the ground but they will be more stable if placed on firm ground such as clay instead of the topsoil.

Step 3 – Geotextile

Place a layer of geotextile on top of the soil to prevent weeds from growing through your structure after installation.

Step 4 – Add Gravel or Basecourse

Add a layer of gravel or basecourse on top of the geotextile.

1m high = 10cm gravel

2m high = 20cm gravel

3m high = 30cm gravel

Step 5 – Compact Gravel

Walk and stomp on the gravel to make it compact or use a base plate for bigger jobs.

Optional – Concrete foundation

Most low-level installations do not require a foundation but if you have a large amount of groundwater or the soil is weak, it may be needed.

Step 6 – Assemble

Assemble each of your baskets (download PDF) leaving the lid loose so you can fill them.

Step 7 – Put Into Position

Put them in place ensuring they are in the same position as when you took the measurements.

If the curve shape has changed since measuring, you may need to reorder additional materials.

Step 8 – Add Panels

Connect the back using panels.

We always suggest ordering a 1x1m spare panel which you can cut to size just in case the curve changes shape slightly.

Step 9 – Fill with Rocks

Fill with gabion stone (download PDF).
To Do
Explanation

Step 1 – Mark Area

Mark the area where you plan to install before placing your order.

If possible, keep the area marked until your order arrives to ensure the curve shape remains exactly the same.

It is possible to adjust the shape slightly after delivery but if the curve changes significantly, you may need to reorder new materials.

Step 2 – Dig

Dig until the ground is firm.  Structures 1m tall or less are often placed directly on the ground but they will be more stable if placed on firm ground such as clay instead of the topsoil.

Step 3 – Geotextile

Place a layer of geotextile on top of the soil to prevent weeds from growing through your structure after installation.

Step 4 – Add Gravel or Basecourse

Add a layer of gravel or basecourse on top of the geotextile.

1m high = 10cm gravel

2m high = 20cm gravel

3m high = 30cm gravel

Step 5 – Compact Gravel

Walk and stomp on the gravel to make it compact or use a base plate for bigger jobs.

Optional – Concrete Foundation

Most low-level installations do not require a foundation but if you have a large amount of groundwater or the soil is weak, it may be needed.

Step 6 – Assemble

Assemble each of your baskets (download PDF) leaving the lid loose so you can fill them.

Step 7 – Cut Mitre Corner

Using bolt cutters, cut the side of the first cage to create an opening for the second one to slot into.

Important: we suggest ordering cages 15cm – 30cm longer than you require after measuring.  This allows for adjustments that may need to be made when installing.

Step 9 – Repeat Steps 6-8

Repeat this process, adjusting the position as you lay each cage to get the exact curve you require.

Step 9 – Fill with Stone

Once all of your cages are in place, fill them with gabion stone. (download PDF)
To Do
Explanation

Step 1 – Mark Area

Mark the area where you plan to install before placing your order.

If possible, keep the area marked until your order arrives to ensure the curve shape remains exactly the same.

It is possible to adjust the shape slightly after delivery but if the curve changes significantly you may need to reorder new materials.

Step 2 – Dig

Dig until the ground is firm.  Structures 1m tall or less are often placed directly on the ground but they will be more stable if placed on firm ground such as clay instead of the topsoil.

Step 3 – Geotextile

Place a layer of geotextile on top of the soil to prevent weeds from growing through your structure after installation.

Step 4 – Add Gravel or Basecourse

Add a layer of gravel or basecourse on top of the geotextile:

1m high = 10cm gravel

2m high = 20cm gravel

3m high = 30cm gravel

Step 5 – Compact Gravel

Walk and stomp on the gravel to make it compact or use a base plate for bigger jobs.

Step 6 – Base Panels

Place panels on the ground along the entire length of your curved wall making sure the panels overhang the base that you have created.

Step 7 – Roll side panels into shape

Roll the panel around a car tire or similar curved object.  Keep rolling until you get the circular shape you would like.

Step 8 – Adjust Curve

You may need to tread on the panel after rolling it to adjust the curvature.

Step 9 – Put Side Panels into Position

Put the first inner, outer, back and front panels into position on top of the base panels.

When you attach the corners of the panels, they should stay in position.  Add rocks or posts for added support during installation.

Step 10 – Add Braces

Add braces for every meter of the wall.  The braces should be installed about halfway up the height of the structure.  This will increase stability and reduce bulging.

Step 11 – Cut Base

Cut the base panels so that the so that they follow the curve of the side panels, leaving roughly 5-10cm of extra wire that can be folded back into the cage.

Step 12 – Fold Base Wires

Fold the extra 5-10cm of wires back into the basket making sure they loop over the top of the side panel mesh.

Step 13 – Repeat Steps 6-11

Follow steps 6-11 until you have completed your installation.

Step 14 – Fill with Stone

Once all of your cages are in place, you can fill them with gabion stone (download PDF)
Calculate Stone Quantity
Use the guide below to calculate the amount of stone that you need to fill your gabion wall
You can use stone separating panels to reduce the amount of decorative rocks required and save money rubble-bag
Gabion Wall Dimensions (cm)
Bulk Bags of Granite Stone Required
Bulk Bags of Granite Stone Required if using Partitions
Bulk Bags of Limestone Required
Bulk Bags of Limestone Required if using Partitions
250cm
110cm
45cm
2
1
2
1
250cm
110cm
45cm
2
1
2
1
250cm
110cm
45cm
2
1
2
1
250cm
110cm
45cm
2
1
2
1
250cm
110cm
45cm
2
1
2
1
556cm
187cm
97.5cm
12
7
13
7
556cm
187cm
97.5cm
12
7
13
7
556cm
187cm
97.5cm
12
7
13
7
556cm
187cm
97.5cm
12
7
13
7
556cm
187cm
97.5cm
12
7
13
7
225cm
120cm
45cm
2
1
2
1
225cm
120cm
45cm
2
1
2
1
225cm
120cm
45cm
2
1
2
1
225cm
120cm
45cm
2
1
2
1
225cm
120cm
45cm
2
1
2
1
560cm
185cm
97.5cm
13
7
13
8
560cm
185cm
97.5cm
13
7
13
8
560cm
185cm
97.5cm
13
7
13
8
560cm
185cm
97.5cm
13
7
13
8
560cm
185cm
97.5cm
13
7
13
8
260cm
240cm
45cm
3
2
3
2
260cm
240cm
45cm
3
2
3
2
260cm
240cm
45cm
3
2
3
2
260cm
240cm
45cm
3
2
3
2
260cm
240cm
45cm
3
2
3
2
932cm
362cm
97.5cm
24
13
26
14
932cm
362cm
97.5cm
24
13
26
14
932cm
362cm
97.5cm
24
13
26
14
932cm
362cm
97.5cm
24
13
26
14
932cm
362cm
97.5cm
24
13
26
14
220cm
220cm
45cm
3
2
3
2
220cm
220cm
45cm
3
2
3
2
220cm
220cm
45cm
3
2
3
2
220cm
220cm
45cm
3
2
3
2
220cm
220cm
45cm
3
2
3
2
815cm
415cm
97.5cm
25
15
27
16
815cm
415cm
97.5cm
25
15
27
16
815cm
415cm
97.5cm
25
15
27
16
815cm
415cm
97.5cm
25
15
27
16
815cm
415cm
97.5cm
25
15
27
16
Downloadable PDFs