Fish Pond Netting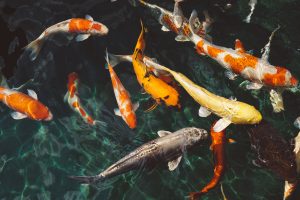 Our pond mesh cover provides excellent protection for your fish and water, making sure the fish stay in the water and the leafs stay out of it. 
Key info:
Keeps the water clean from leaves
Provides safety for the animals from predators
The fish won't be able to jump out
No more polluted water
Great protection
Easy installation
Strong and durable
Can easily be cut to the desired size
Scroll for more details
Product Technical Details
Material:

Polypropylene
Lengths: 150m
Widths: 2m
Hole Size: 6mm x 6mm
Weight: 44gsm

Colour:

 Black
FAQs
What is the purpose of this mesh?
These products are designed to provide a level of protection to fish in garden ponds who are otherwise left wide open and vulnerable to predators such as birds. These nets lay over a pond, making it very difficult for birds to get to the animals under.
What threats does my pond face?
It faces a range of different dangers, including predator birds, cats, dogs killing your fish. Without a net, these predators can easily get in to it and eat or kill your animals. There is also the danger of too many leaves getting into the water and polluting it. 
Does it help to keep the water cooler in hot temperatures ?
No, it doesn't have a cooling affect on the water as it lets air through normally.
How do I install this netting?
Our mesh is easy to install, and attaches to the ground around the pond, using our range of high quality fixing pegs.
What level of protection does this pond safety net provide?
The netting is strong and durable and made of high quality materials, making it difficult for predators to swoop in and attack your fish for a long period of time.
What other products help protect my fish?
You can also place some our excellent mesh products over your pond, for an extra layer of protection, but if this may clash with the aesthetic of your garden, then we recommend our more naturalistic and subtle netting.
Common Uses
Fruit bush protection
Plant climbing and support
Protection for vegetable beds
Tree netting