Catio Ideas: 50+ AMAZING CATIO IMAGES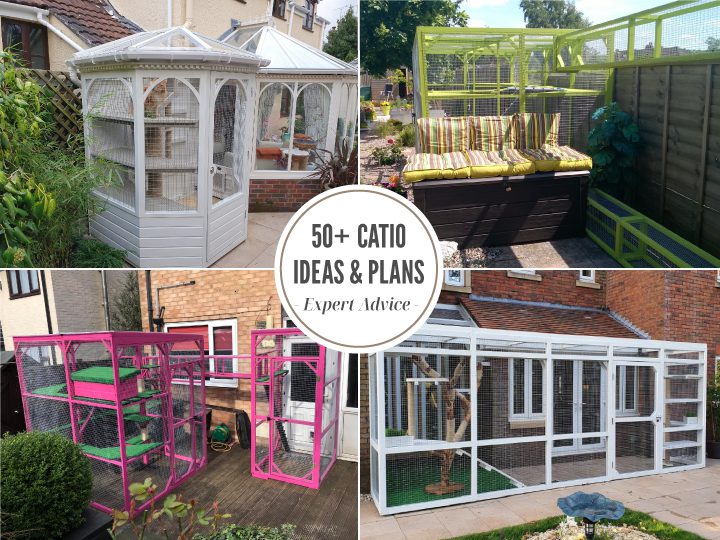 All cat owners want to keep their feline friends safe but also give them the best life possible. If you want to let your cat explore the outdoors in the safest way possible take a look at these catio ideas we collected. As a bonus we also included some expert advice about what to consider when planning to invest in a catio.
JUMP TO:
CATIO DESIGN IDEAS
---
Every Cats Dream Catio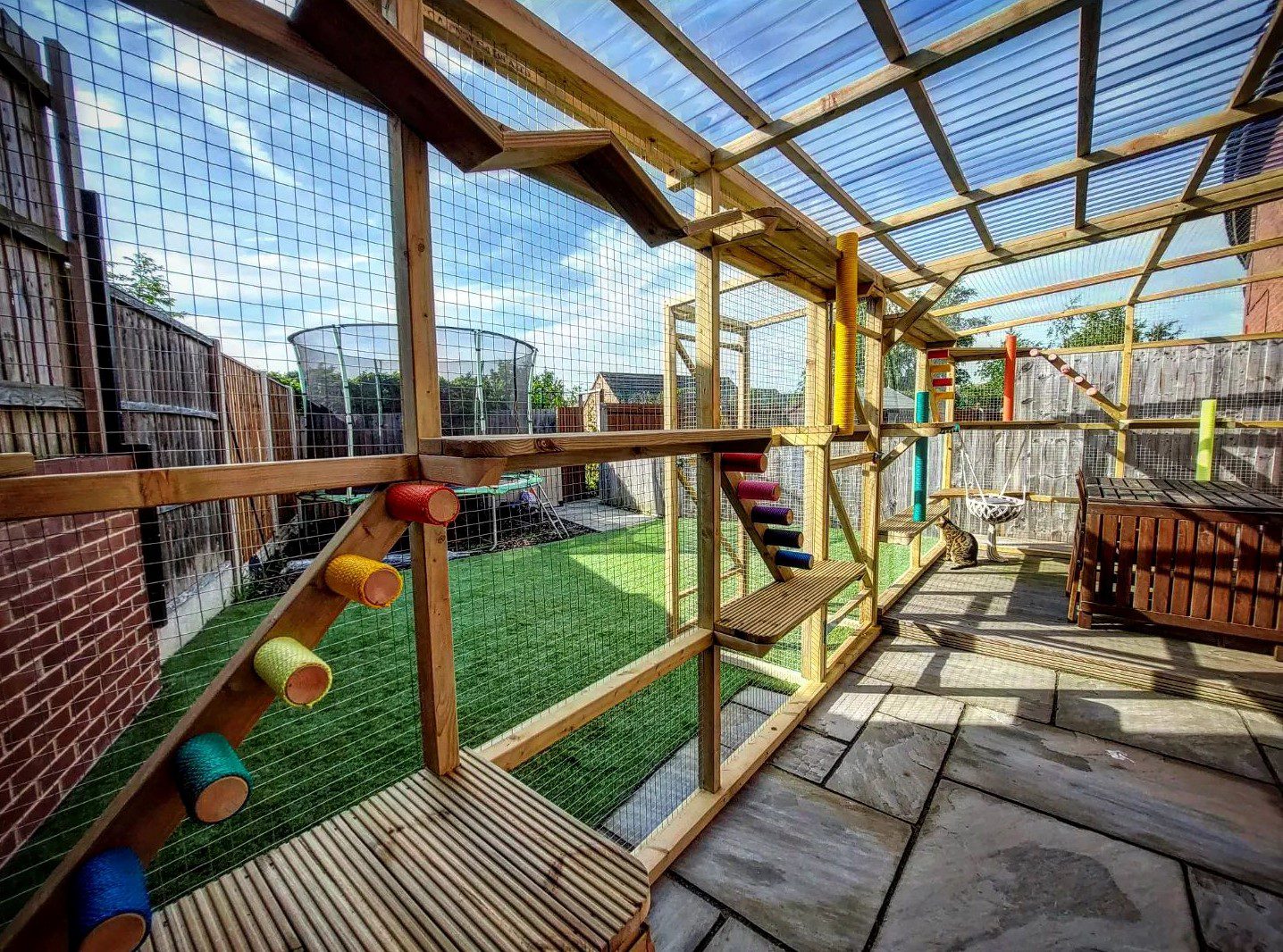 If you have a large amount of space in your backyard, then why not use some of it for a large catio? Viking Joinery surely understood the assignment when they made this large feline playground, with playful colors and a cat-sized hammock to complete the look!
Enrichment for Cats
Many catios feature scratching posts to help cats blow off the steam and keep their claws healthy. This catio by Custom Cat Creations is no different – as shown on the video, the scratcher acts as an enrichment tool, and it looks great in this composition of greens and wooden shelves.
Shelf System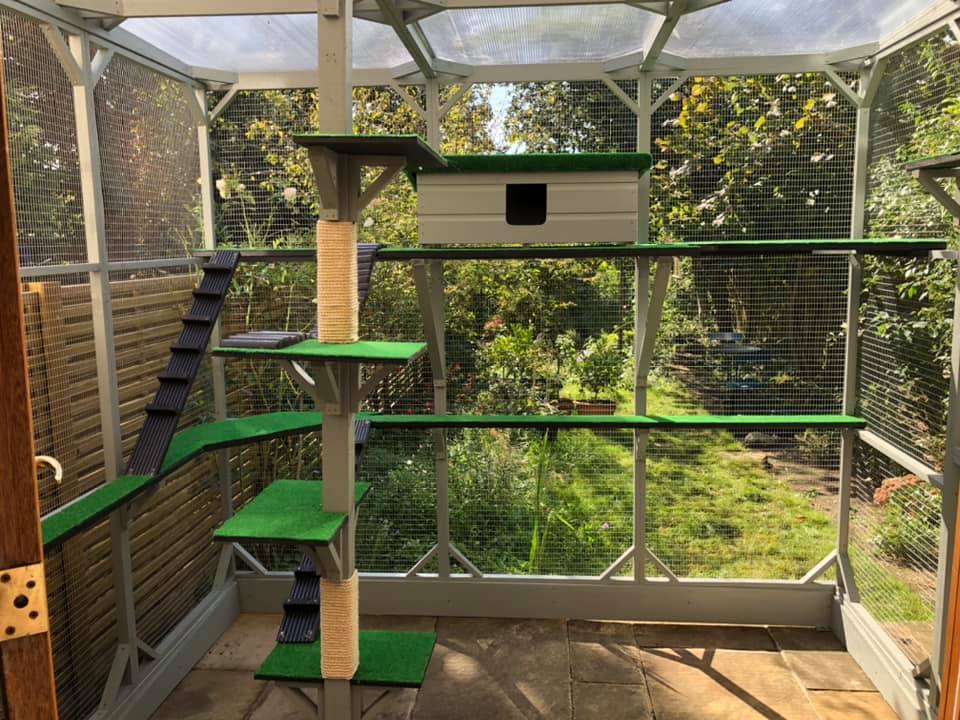 Bespoke Aviaries brought another inspiration for catio interiors – this creation features a rather simple shelf system with a cozy getaway cave and scratching posts – what else would your kitten need? And to make it more outdoorsy, the green carpet covering the shelves gives your cat the impression that they are walking on the backyard lawn!
Complex Catio with a Bridge
Photos wouldn't do justice to this wonderfully complex catio realized by Bespoke Aviaries. This video shows the interconnected areas all around the garden, all the way back to the house, allowing the cats to move freely between the different play spaces. And those gorgeous cats seem to be enjoying the freedom!
The Spacious Catio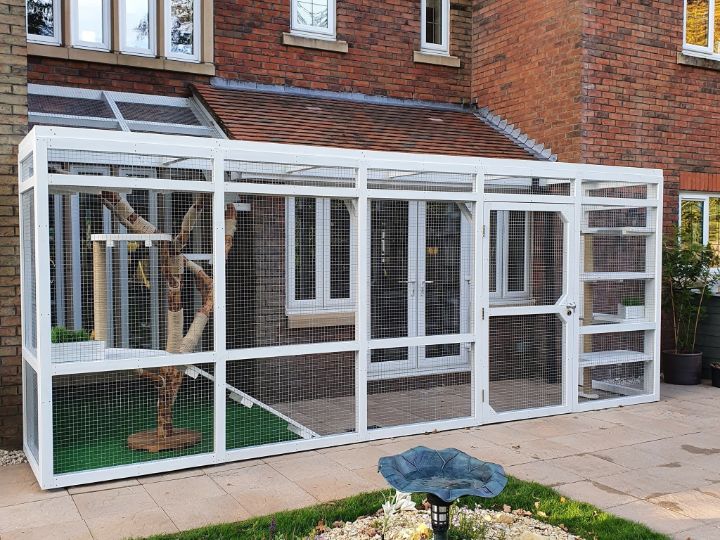 Let's take a look at this exquisite project by Custom Cat Creations. This catio is spacious enough to be considered your feline's own backyard, while incorporating scratching posts and a climbing tree as well. Perfect for those who want to go all the way out!
Catio in a Rose Garden
Another elaborate creation, also by Bespoke Aviaries features this interconnected catio built around a rose garden – it shows how you don't have to make a choice between building an artificial cat enclosure and leaving nature's delights untouched.
Playground for Cats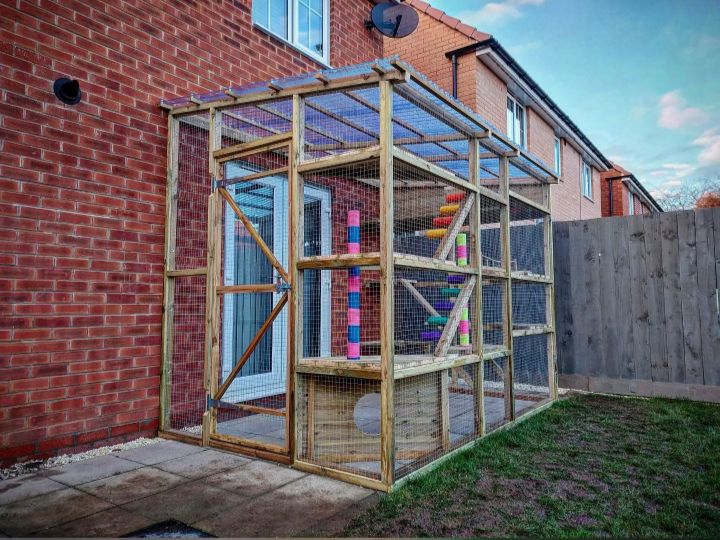 This creative project by Viking Joinery might be a great catio inspiration for those who want to create an enclosure that is not only safe for their feline, but also intellectually stimulating. By adding colorful scratching posts and steps, this catio looks really pleasing to the eye, while keeping your cat entertained in the meantime.
The Stylish One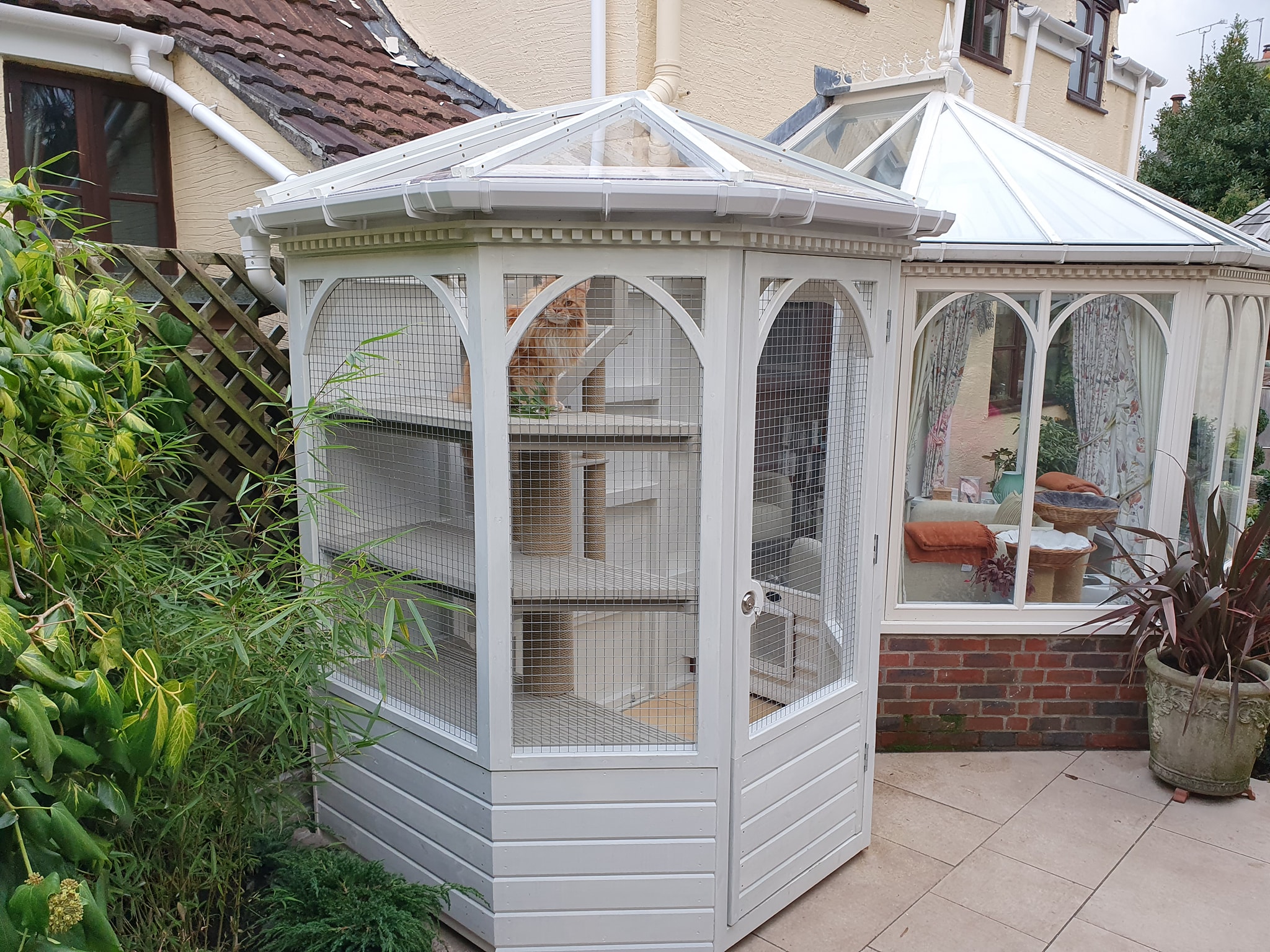 For those looking for more sophisticated catio decor ideas, this all-white design by Custom Cat Creations shows that a cat enclosure doesn't always have to stick out like a sore thumb – in fact, they can look like they have been part of your house from the start!
For the Love of Pink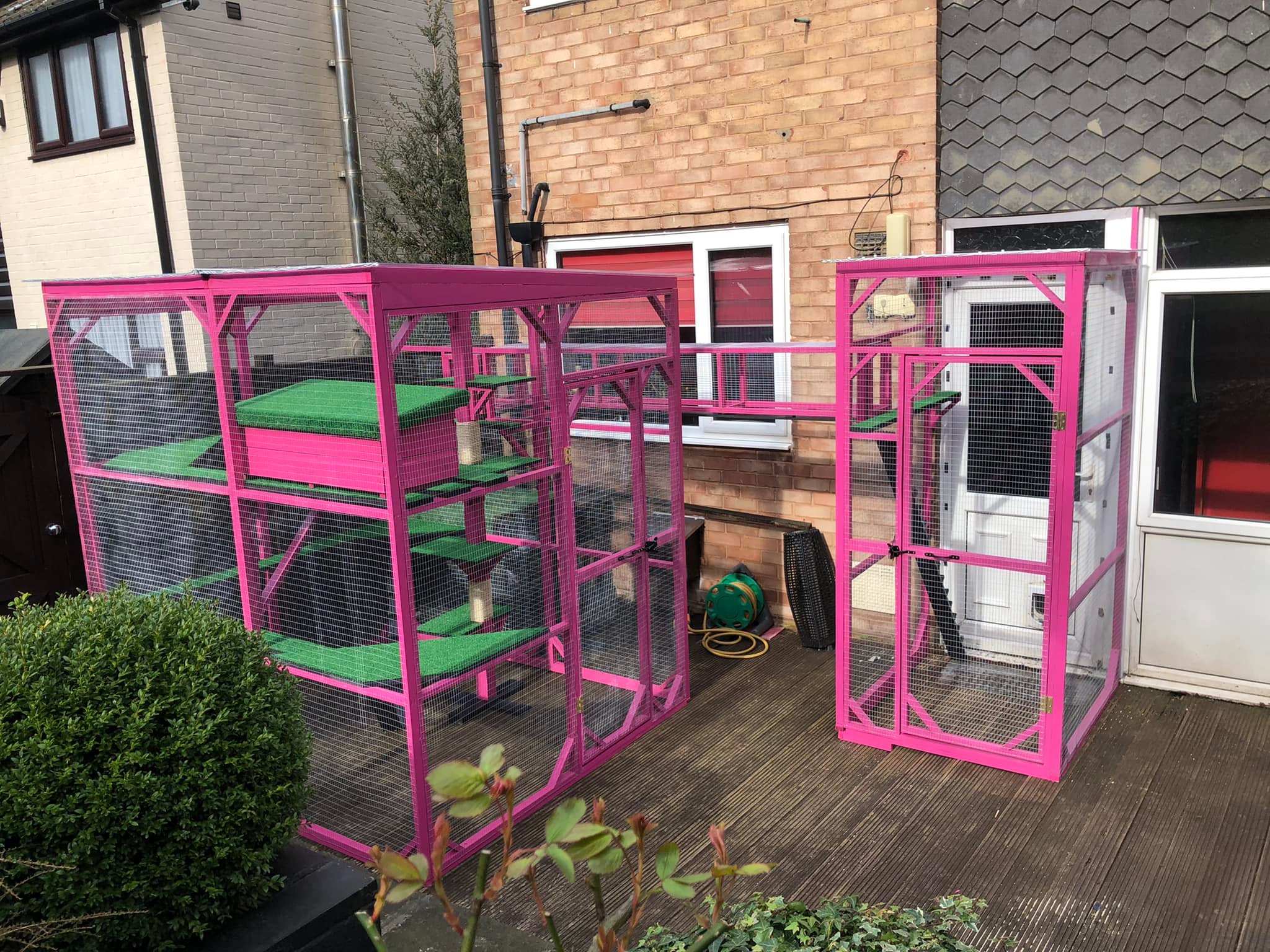 Does your kitten love to be the center of attention? Then this vibrant catio created by Bespoke Aviaries is just the perfect choice! Besides brightening up your backyard, it will also ensure that all eyes are on your feline when they are spending time in this catio.
Catio on the Balcony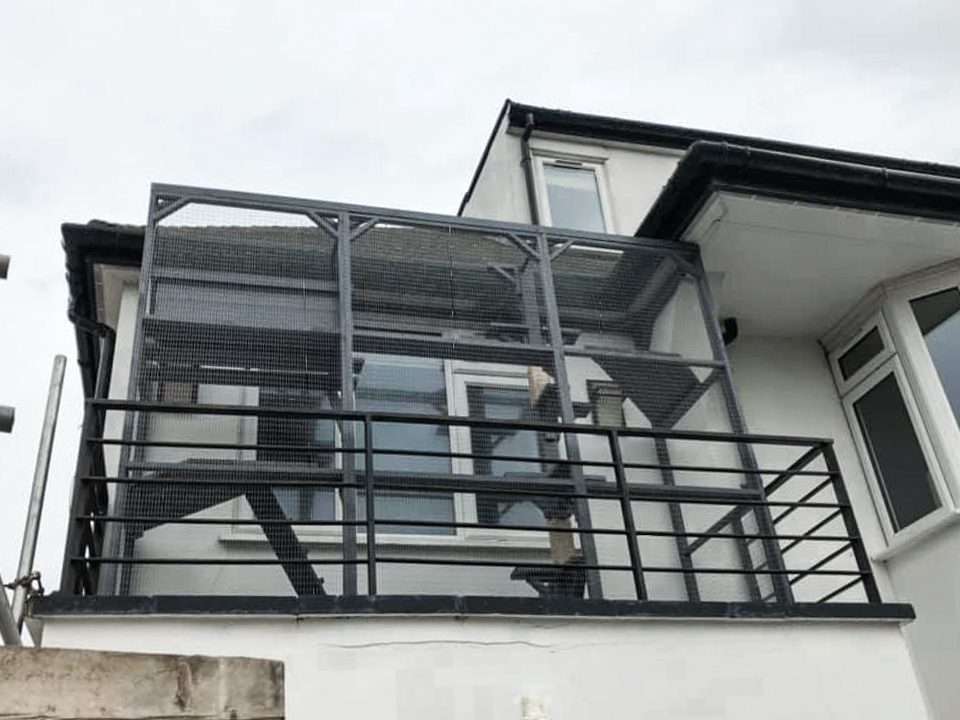 Is there an unused balcony in your house? Why not turn it into a catio? This project by Bespoke Aviaries shows how you can convert a balcony of a two-story house into a cat enclosure to give your feline a little breath of fresh air during their playtime.
Two-Storey Cat Enclosure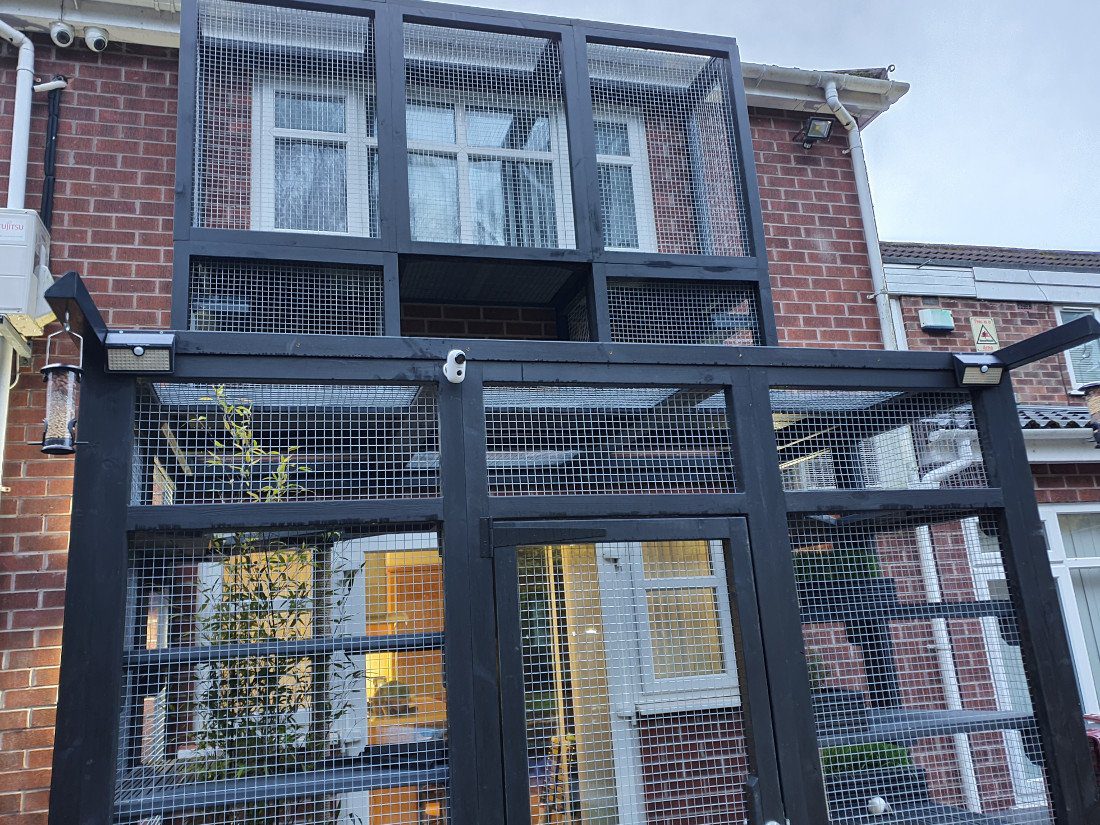 If you have been looking for ideas for catios that incorporate both levels of your home, we have just found you the perfect inspiration! Also created by Custom Cat Creations, this two-story catio allows your feline to decide on the height they wanna observe the outside world from today.
Obstacle Course Designed for Cats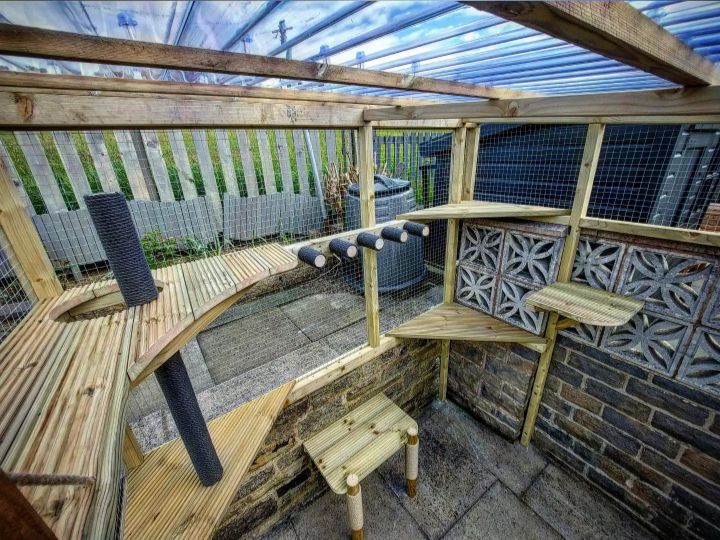 Sometimes the exciting part of a catio isn't just the way it looks from the outside. If you have already decided on building an enclosure and are looking for catio shelf ideas, Viking Joinery has got you covered! This project looks like an obstacle course designed for felines – your cat will surely enjoy spending time in it.
Extended Porch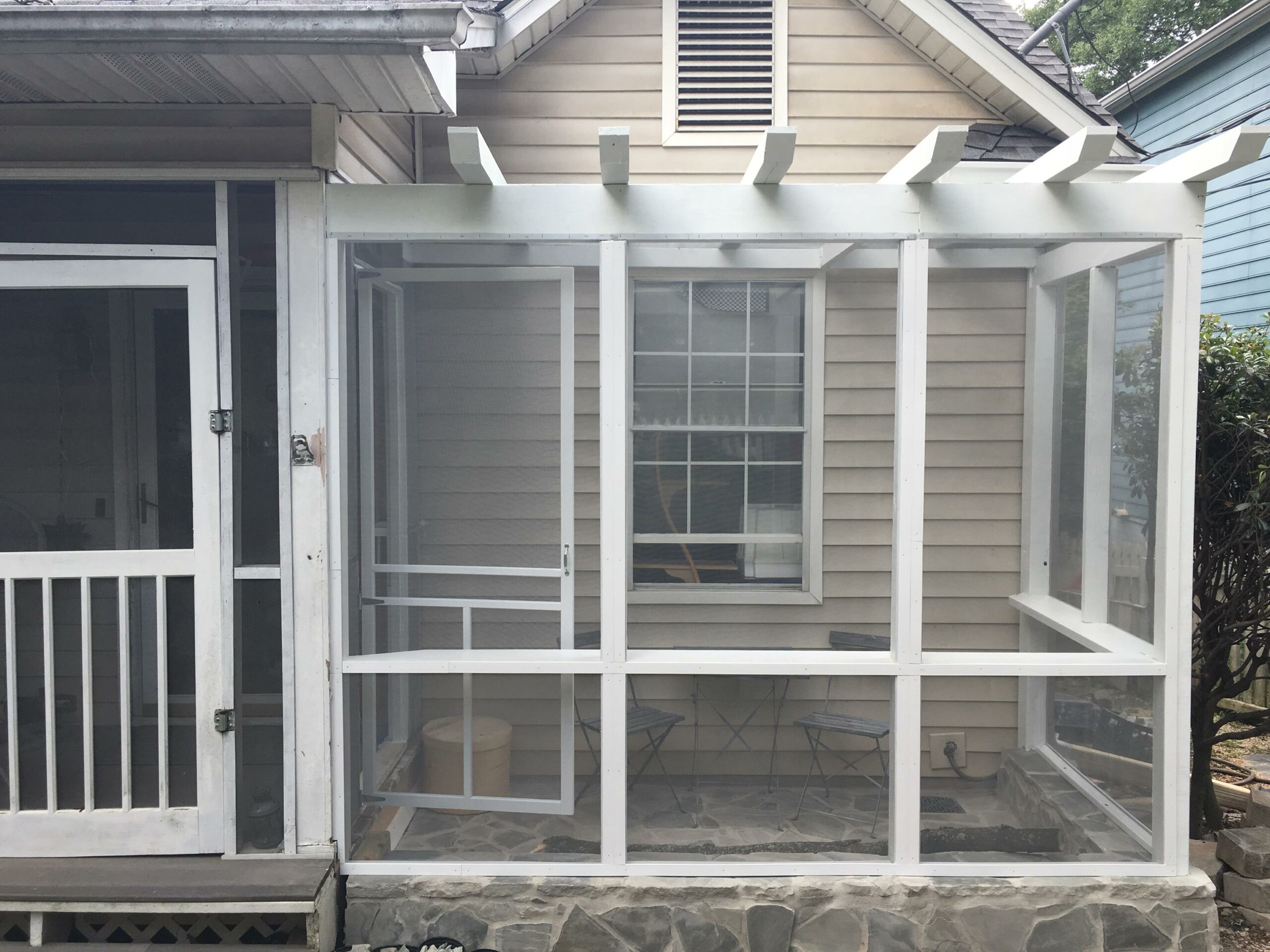 If you are looking for DIY catio ideas that do not include extending your house, you should take a look at this stunning creation by Fundamentally Feline. This project intends to fill your unused porch area, creating a cat-safe balcony for your furry friend to enjoy.
Freestanding Purple Catio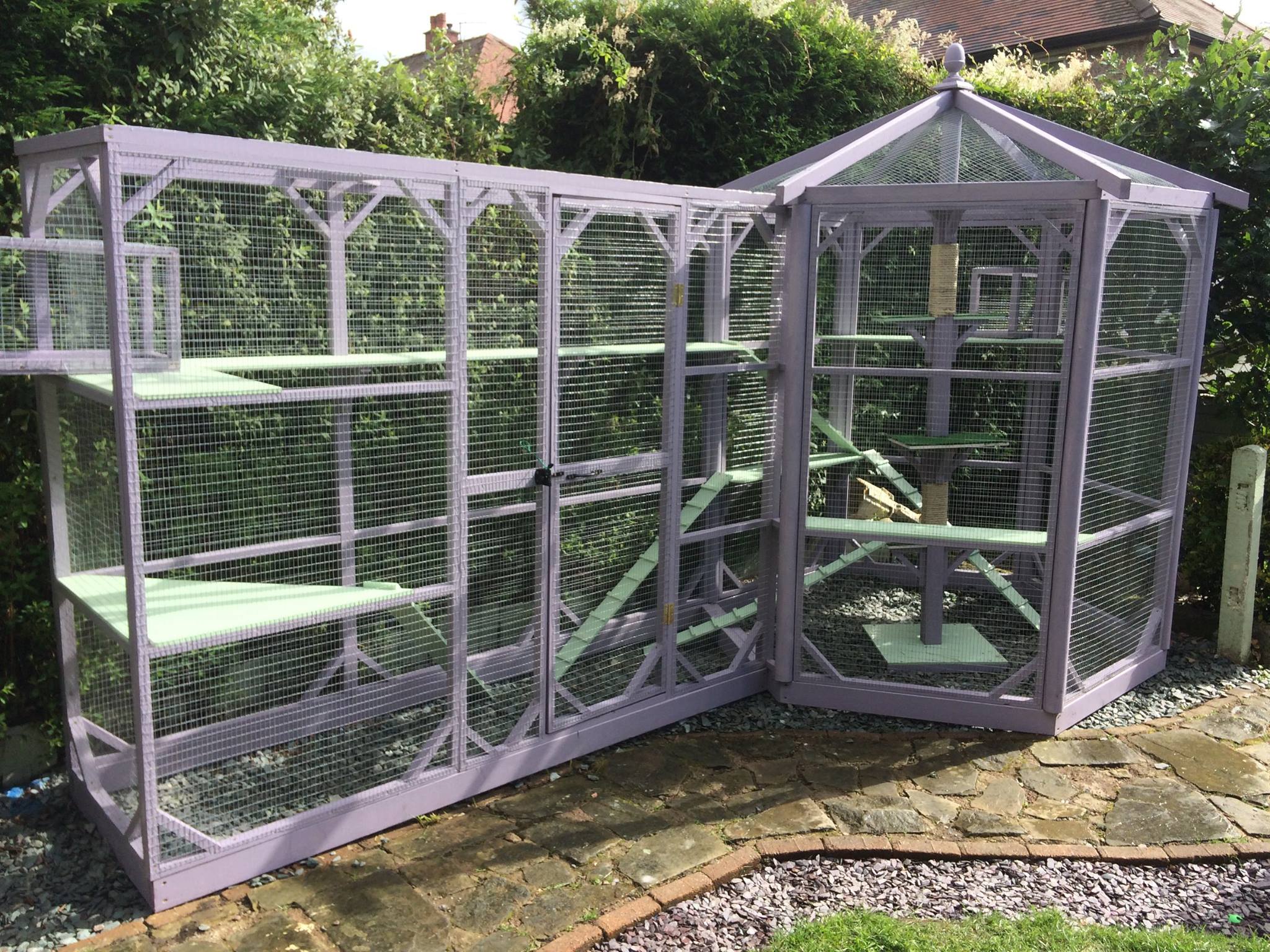 This cat enclosure created by Bespoke Aviaries is a completely freestanding project, as it isn't attached to a house. It could be a great idea for those who have an uncommonly shaped backyard, allowing them to make use of the space more efficiently.
The Perfect Match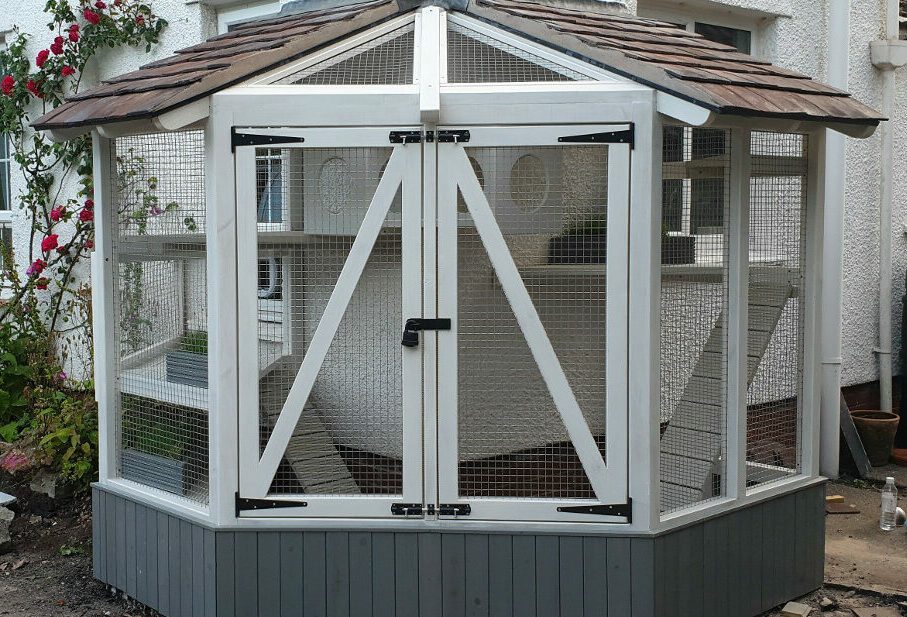 This is another one of Custom Cat Creations's work – a catio designed to blend into the main building perfectly. This model has multiple hidey hole boxes and shelves to entertain your feline, and it fits the house corners perfectly!
The Elegant Catio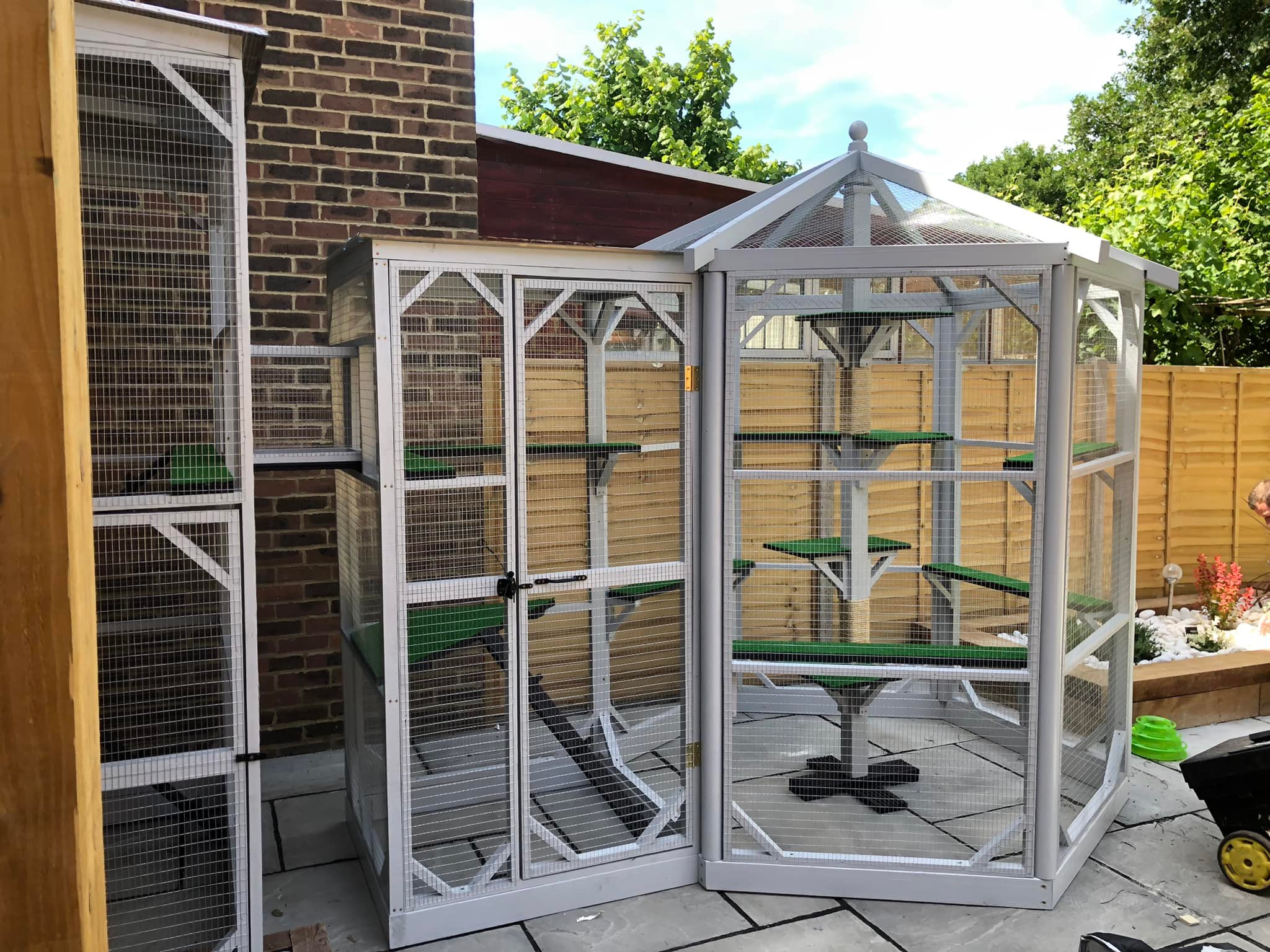 Cats love being able to explore multiple places within a catio, so this white-painted creation by Bespoke Aviaries will surely be a thrill for them. The colours blend in perfectly with the garden, while the multiple shapes make it fun for felines as well!
For the Purple Lovers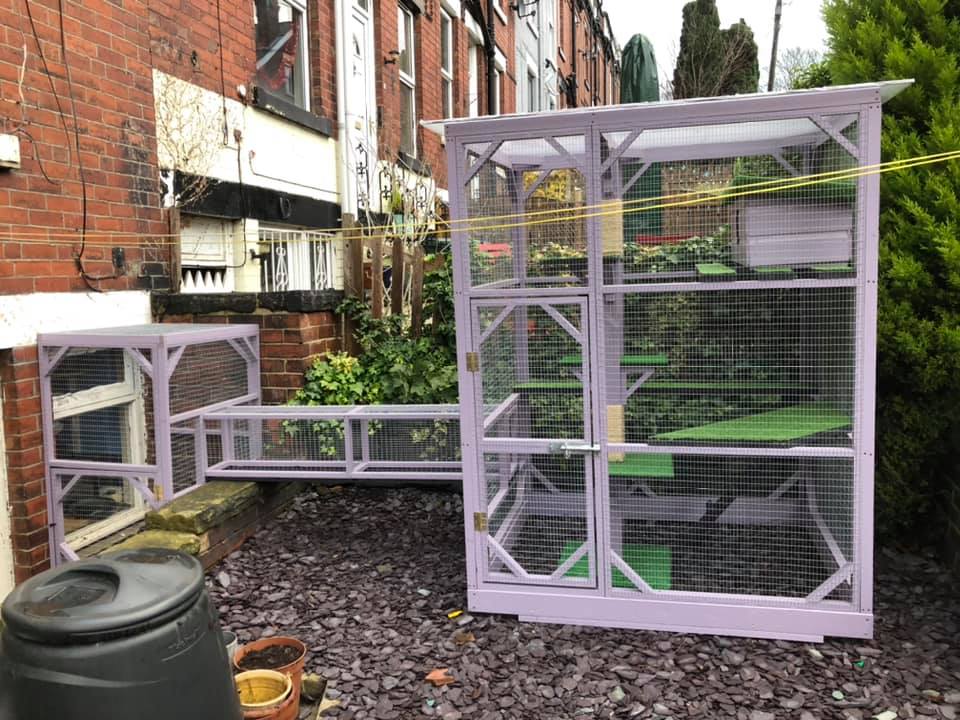 This is another great example from Bespoke Aviaries of making use of the space – despite the differences in levelling, this catio looks well-compositioned and space efficient.
Shelves are Important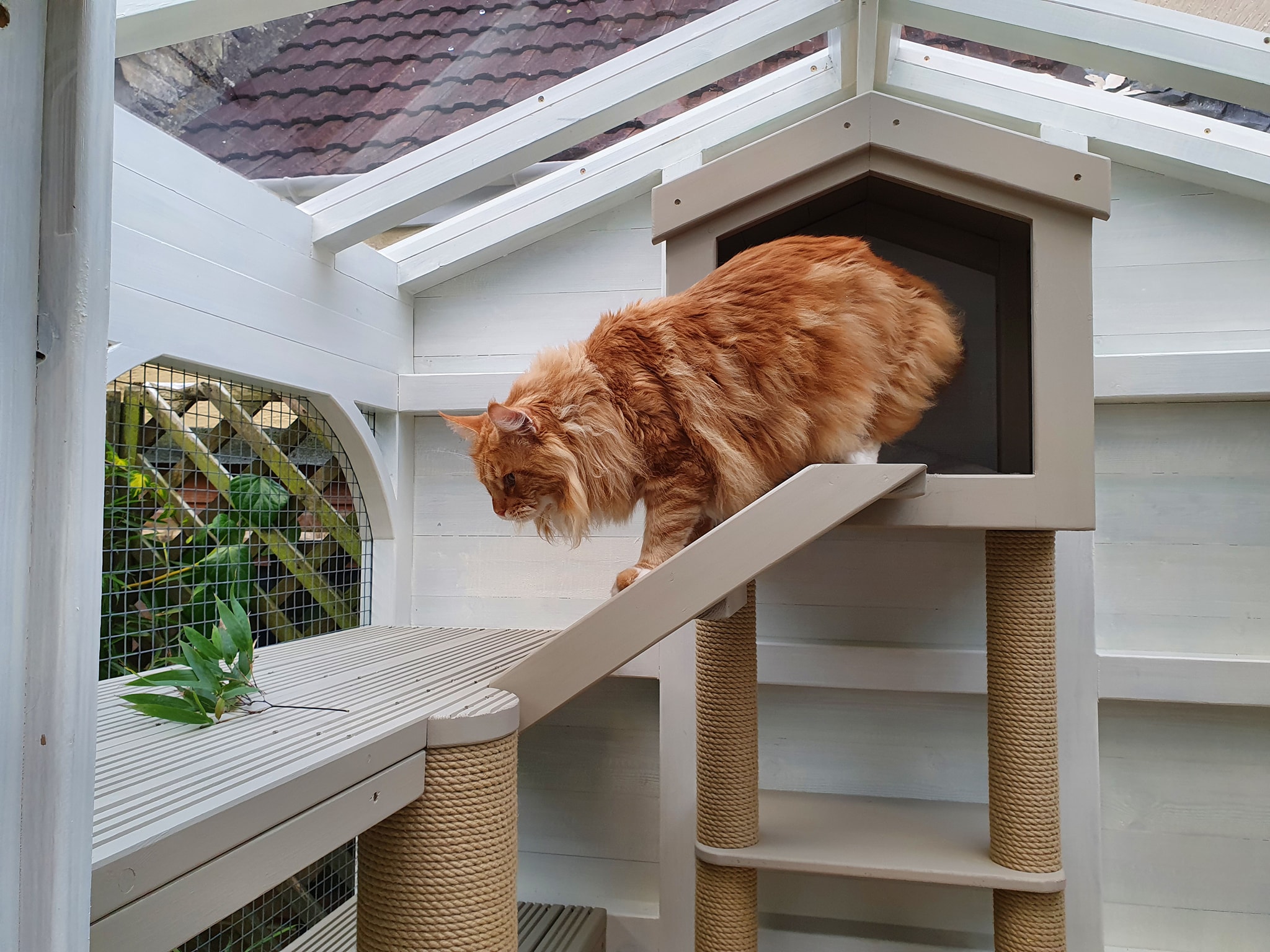 For some close-up inspiration, this beautiful catio by Custom Cat Creations shows how to incorporate shelves in an effortlessly elegant way. By wrapping the posts with sisal rope, you can achieve a stunning finish, while also allowing your feline to use them as scratching posts.
Add Branches
Catios can bring out the wild cat instincts of your feline, with all the opportunities to jump around as they please. Custom Cat Creations took this a step further and added branches to the catio that double down as scratchers. This way, your cat can practice their climbing skills while keeping their claws sharp and healthy.
A Colorful Choice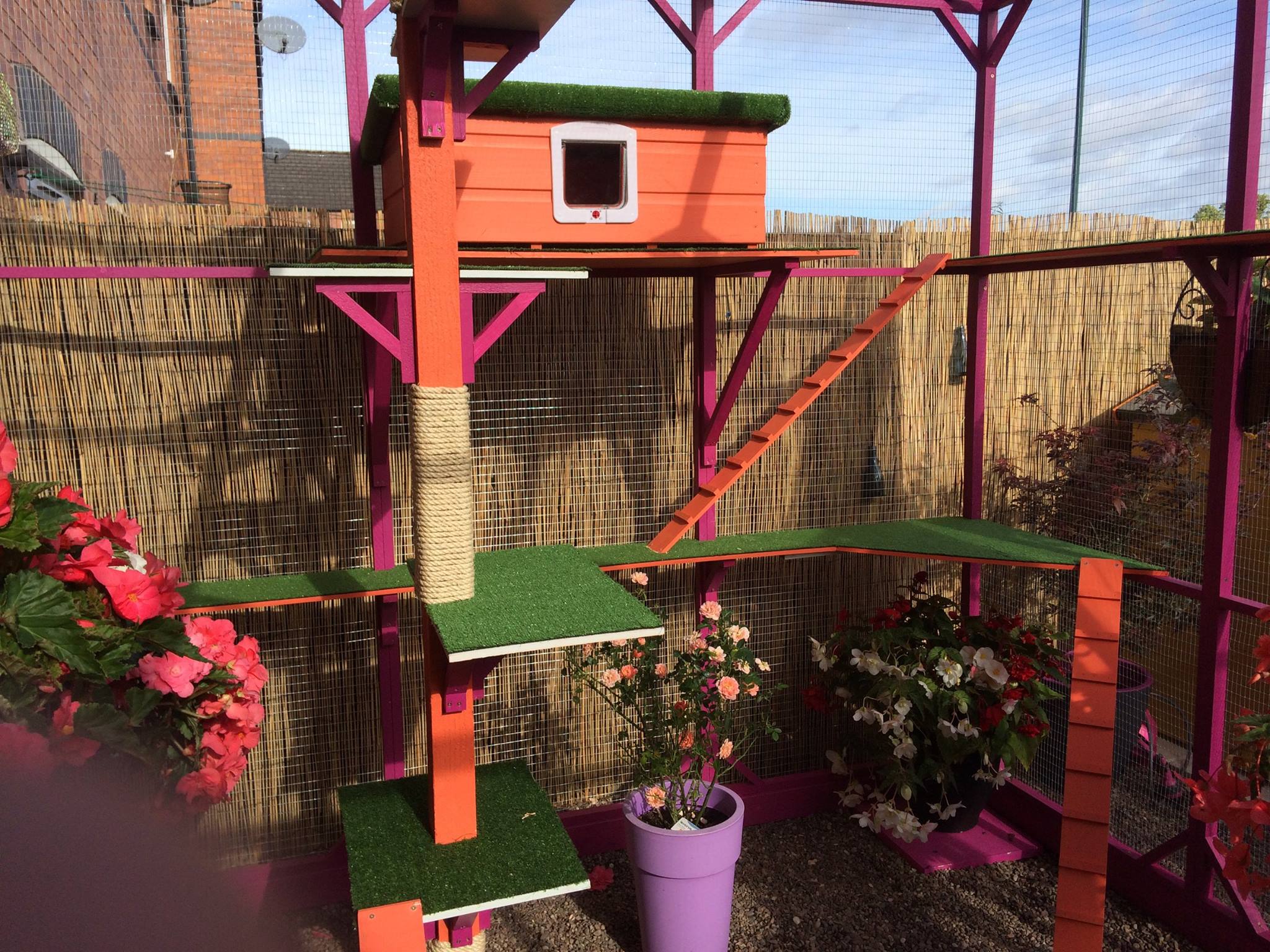 This creation by Bespoke Aviaries combines bold colors with a beautiful addition of flowers, giving out the vibe of a fairytale cottage. Surely your cats would feel like the main character in this one!
Catio and Protected Porch at the Same Time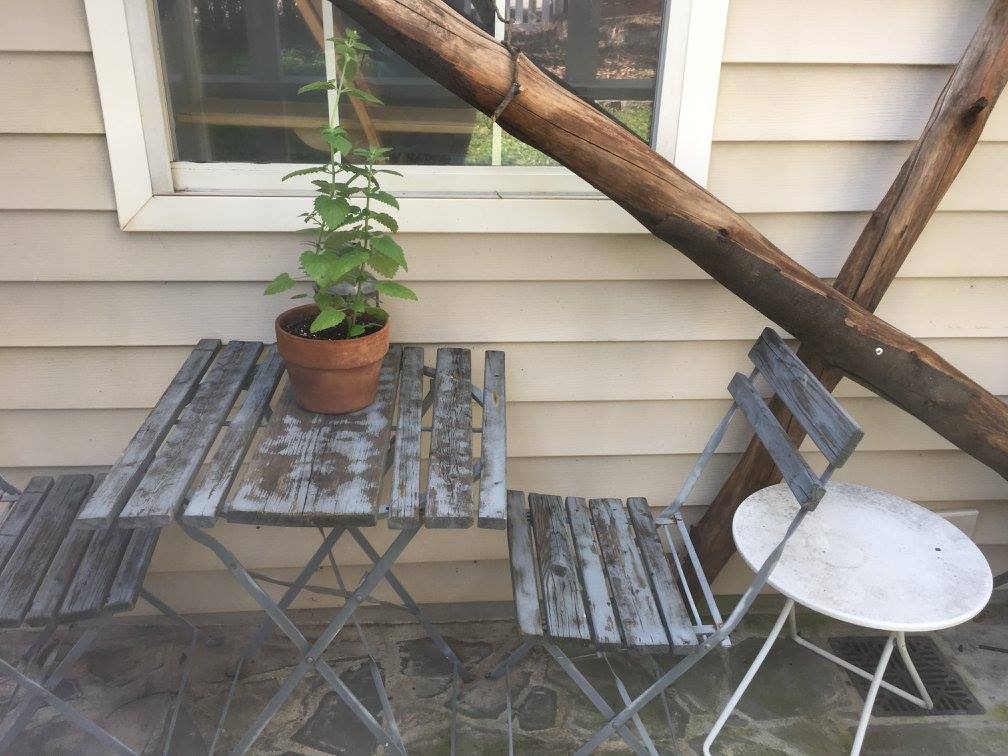 This catio by Fundamentally Feline serves a double purpose – besides allowing your cat to roam outside safely, it can also act as a porch area protected from mosquitoes that are trying to ruin your summer evening. And what else would make your summer evening better than having your cat cuddled up on your lap?
For the Mint Lovers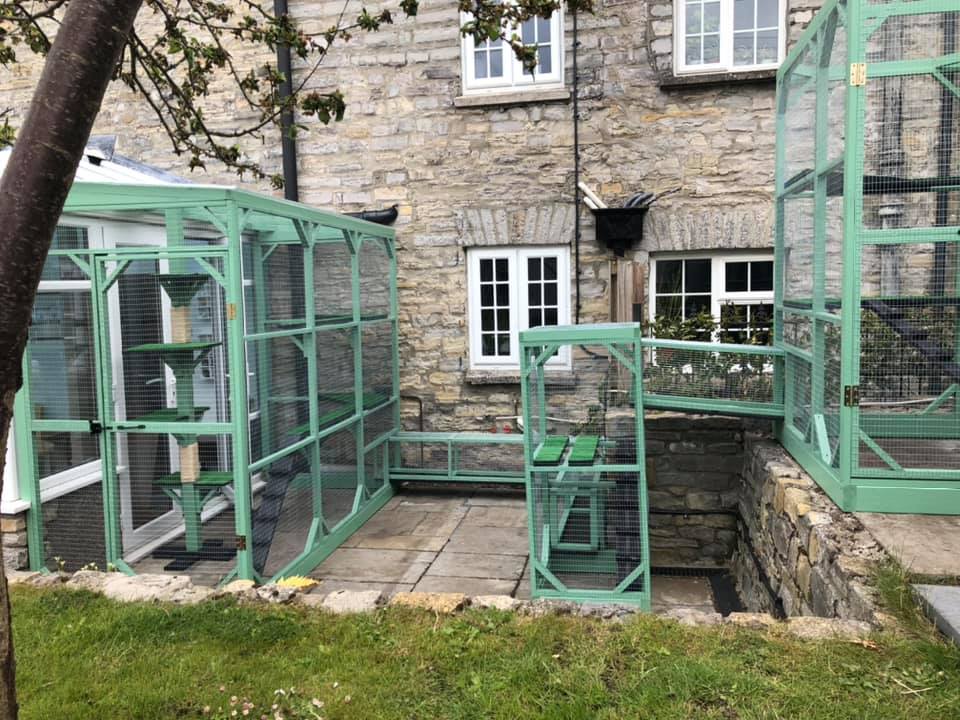 Prefer the mint, but not the stand-alone version of it? Worry not – this interconnected catio by Bespoke Aviaries joins different play areas, giving you (and your cat) plenty of space to enjoy!
Easy Access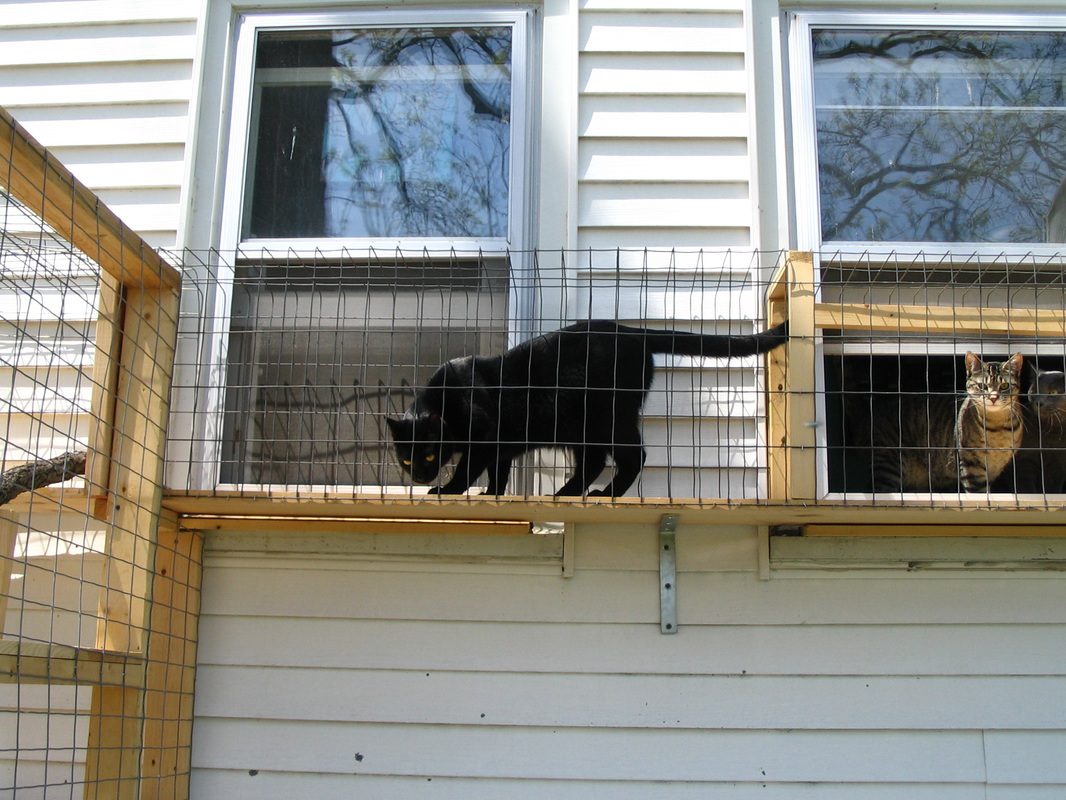 If you do not have a safe way to incorporate your doors into your cat enclosure, we got you covered – luckily you wouldn't be the first to encounter this issue, so there is some inspiration for you to get you started! Our Tiny Homestead came up with this fun way to connect their utility room window to the rest of the cat enclosure they made.
Black as My Soul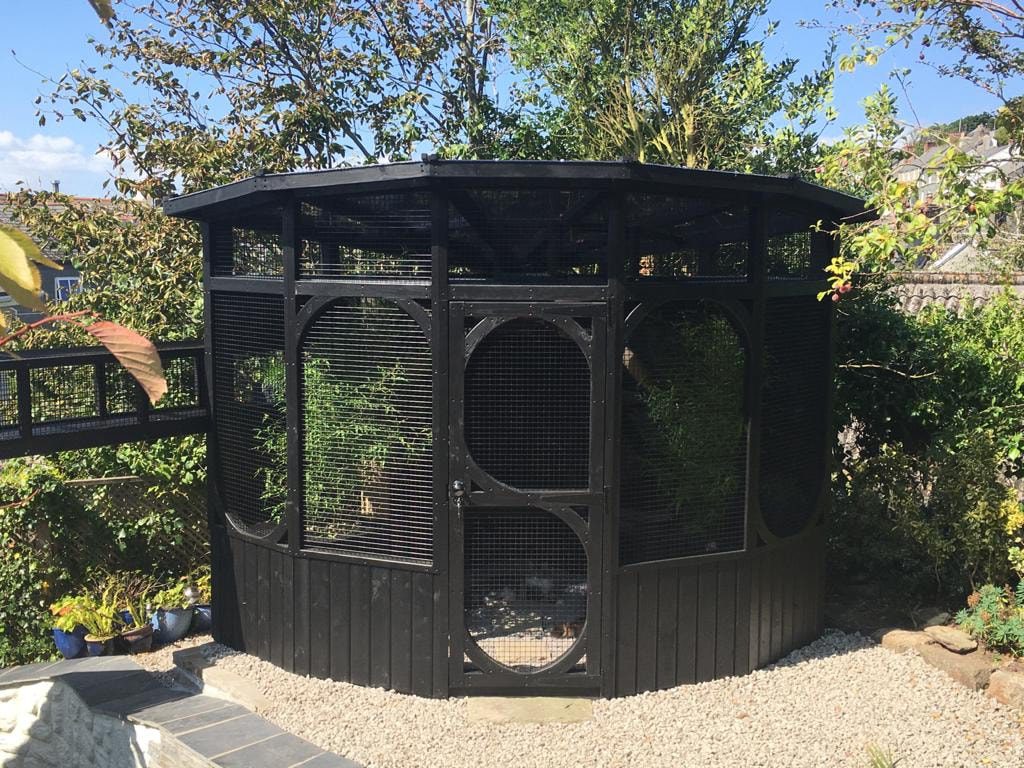 They say that cats are a perfect reflection of their owner's personality – why wouldn't this be true for catios as well? If you feel like this fancy black coloured enclosure by Custom Cat Creations is the best match to your style, don't be afraid of showing that to the world!
All Metal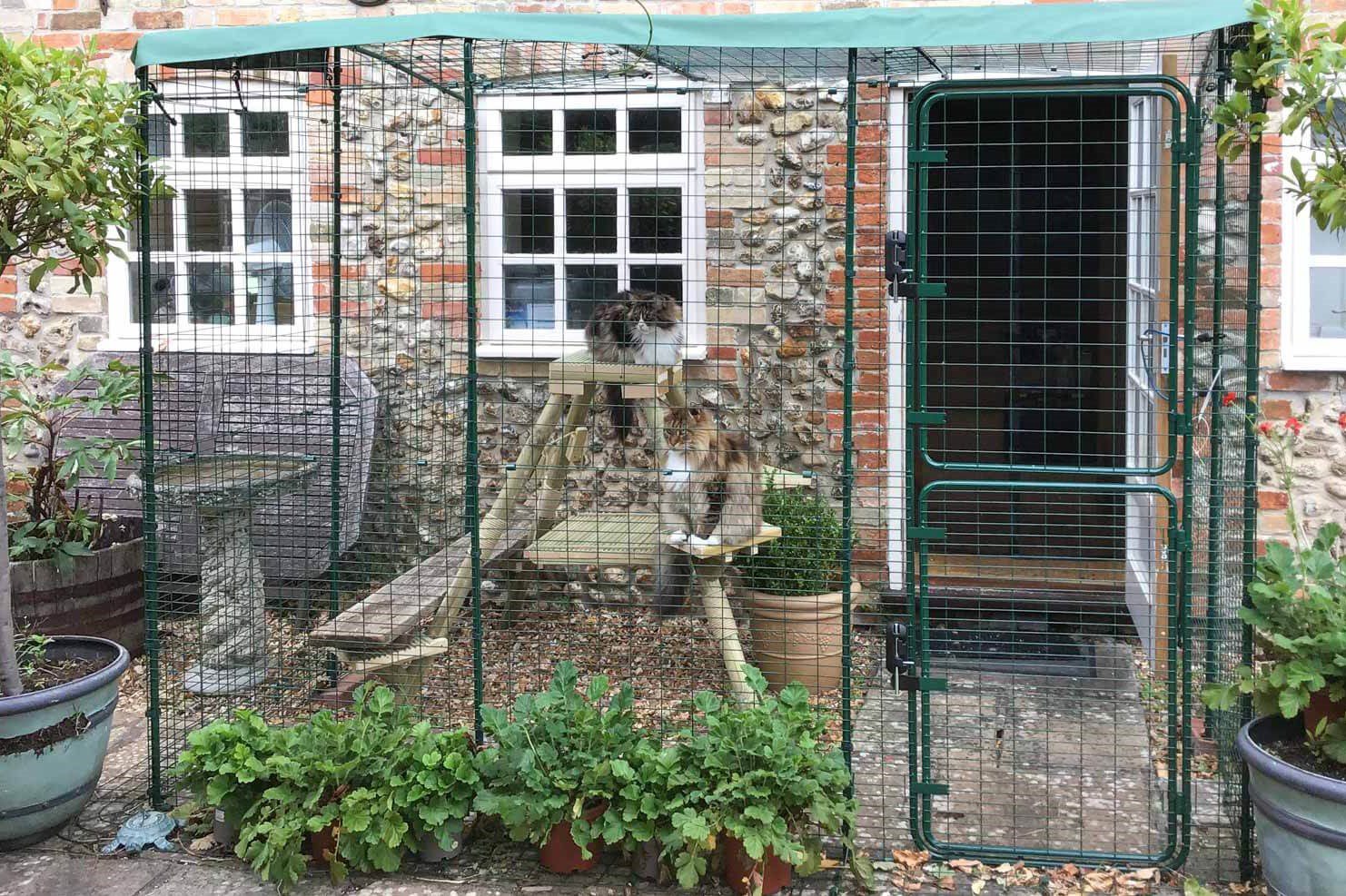 This image shows how one of Omlet's custom catios had been decorated by one of its customers – it blends perfectly into the green space of the backyard, adding a natural atmosphere to the enclosure.
Perfect Summer Evening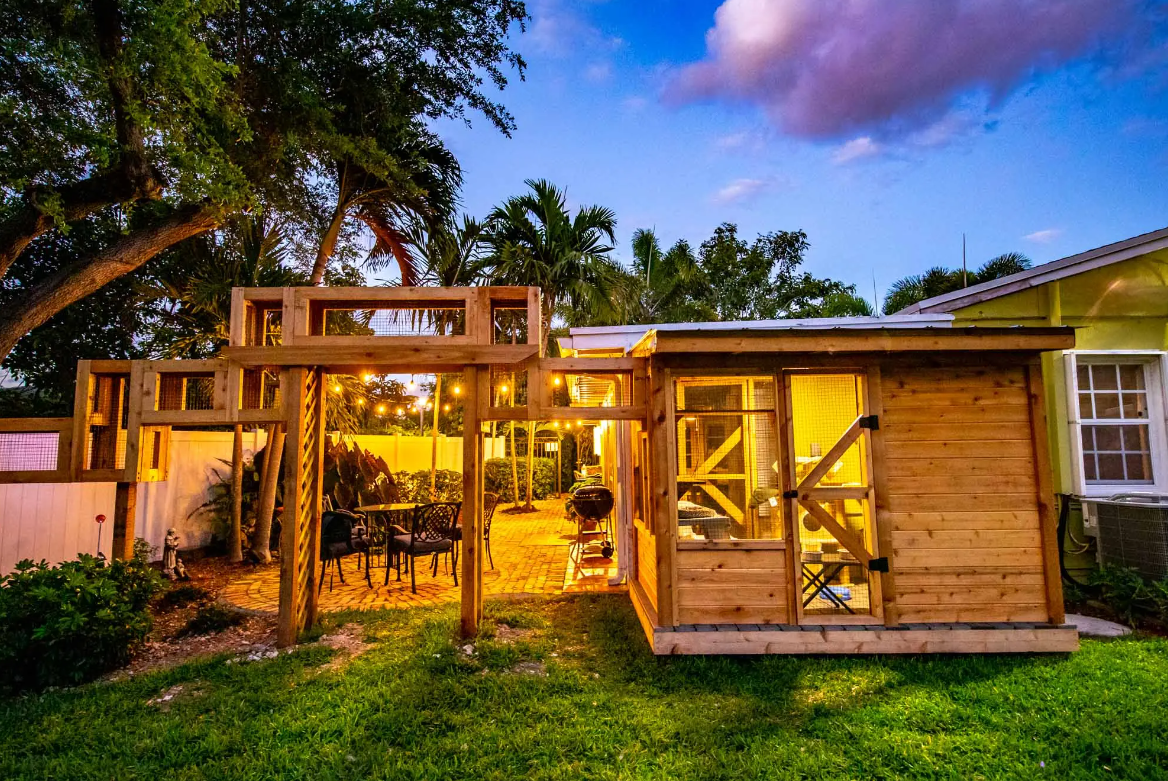 Looking at this photo – courtesy of Cat Topia – we can't help but imagine sipping a drink in this garden during a warm summer night. The best part about it is that no member of the family has to miss out on the fun, as this catio allows your feline friend to join in and enjoy from the top viewing spot. 
Miniature Adventure Park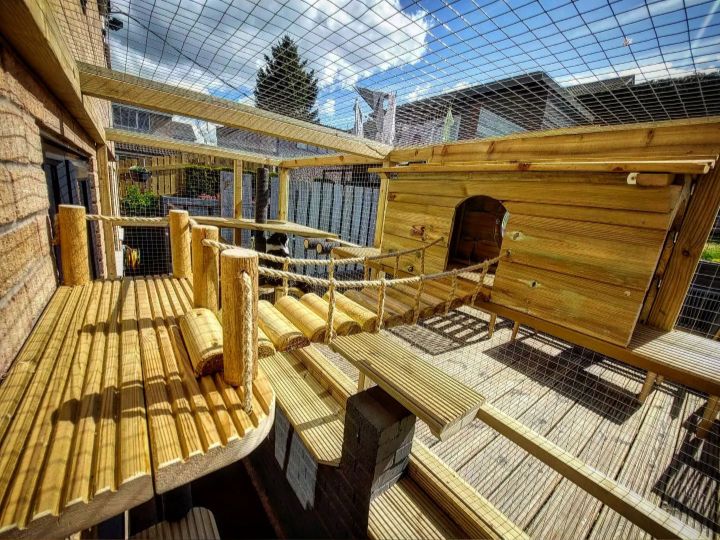 Is your cat like a child to you? Then you will surely be in awe once you see this stunning creation by Viking Joinery, wondering about which lucky cat gets to enjoy this beautiful woodwork and creatively arranged shelves. Talking about spoiling your feline!
For the Green Lovers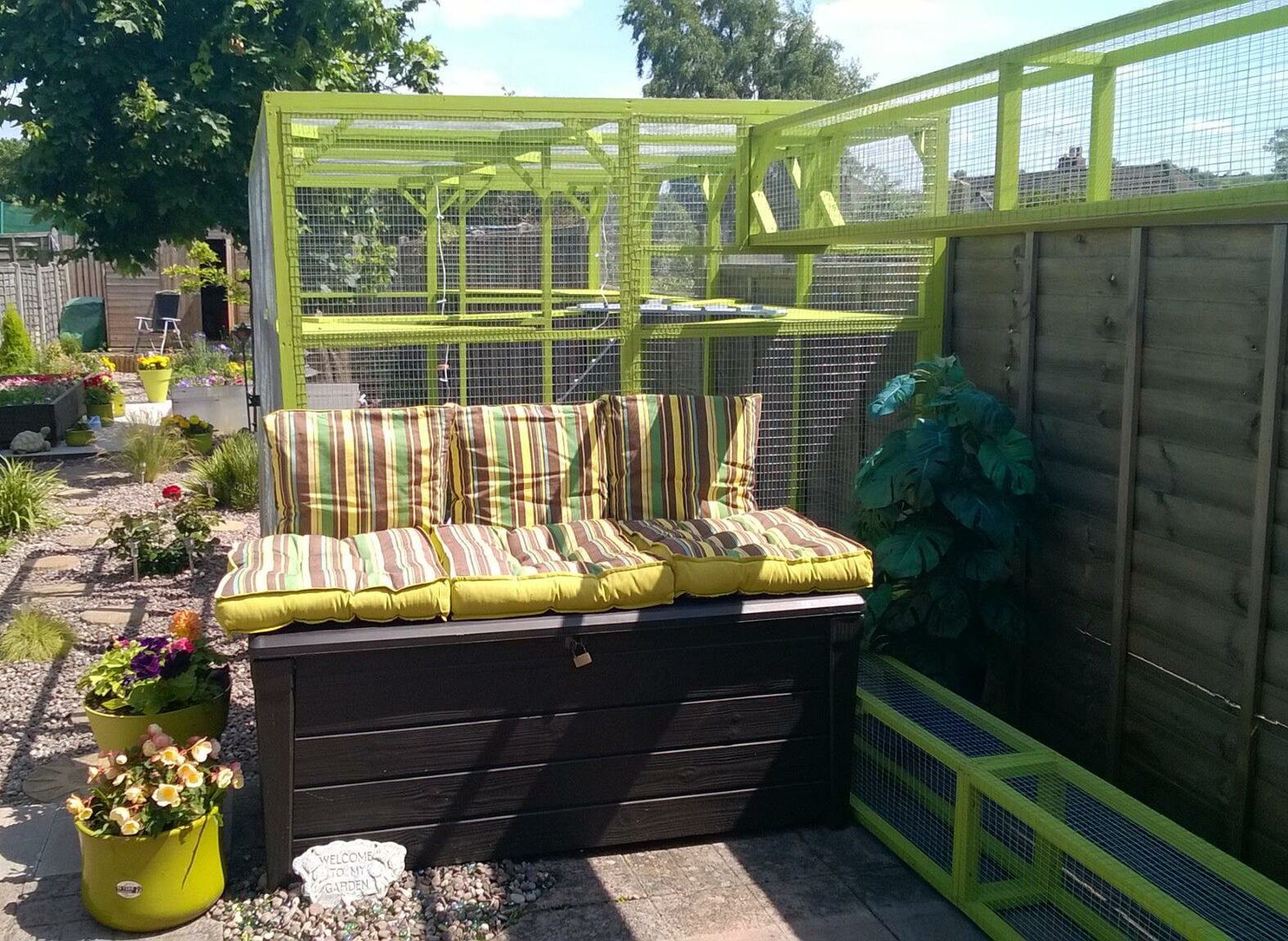 Got a taste for a touch of green? Look no further – Bespoke Aviaries has just the perfect catio design to satisfy your needs! Besides matching the green highlights of the garden, this project also features a storage box that doubles down as a bench. This way, you can soak up that summer sun along with your feline friend!
The Classic Black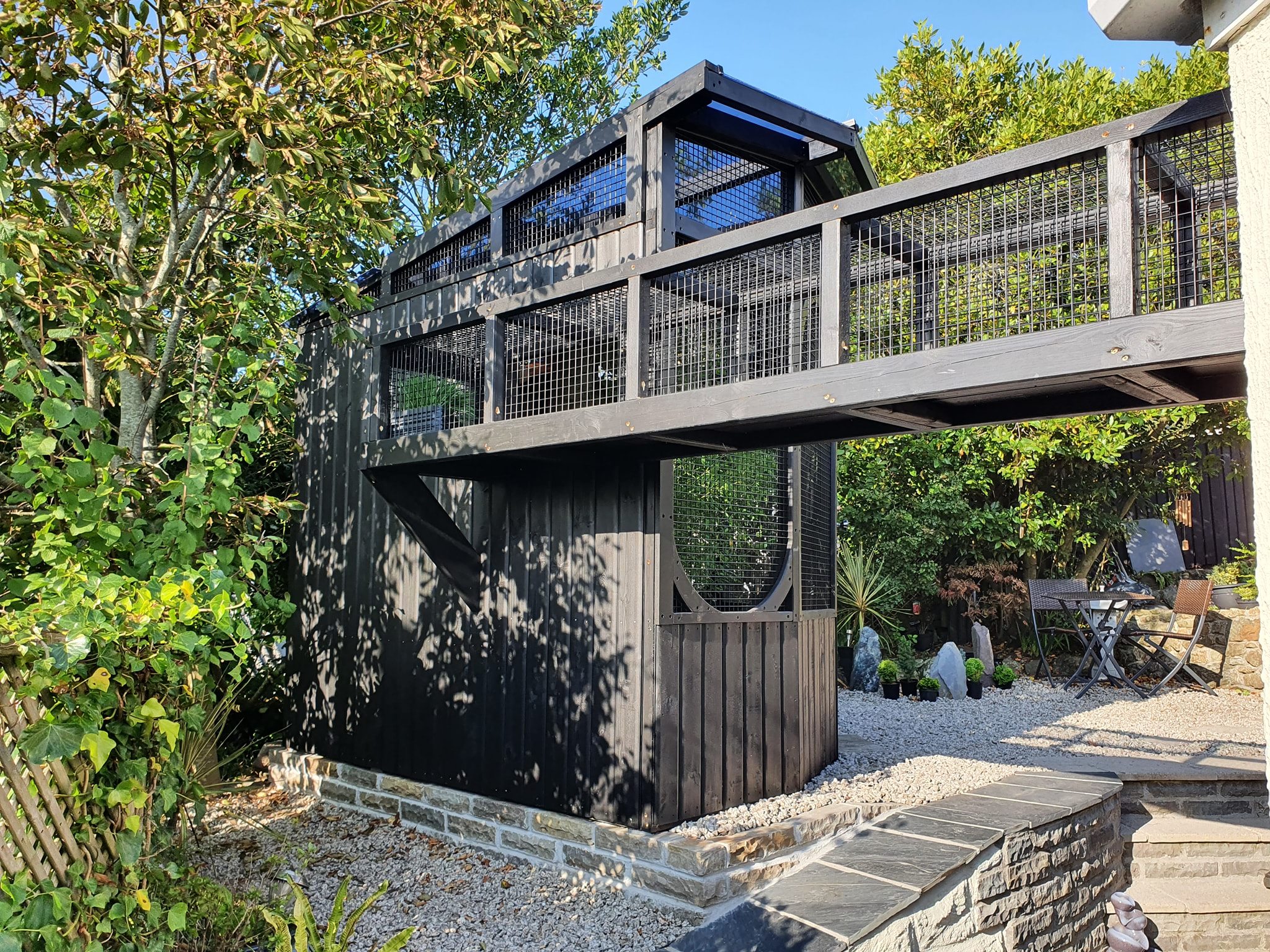 This is a different pitch-black design by Custom Cat Creations, connecting your outdoor catio to the rest of your home with a bridge-like passway for your cat. Talk about leaving in style!
A Sophisticated Wooden Look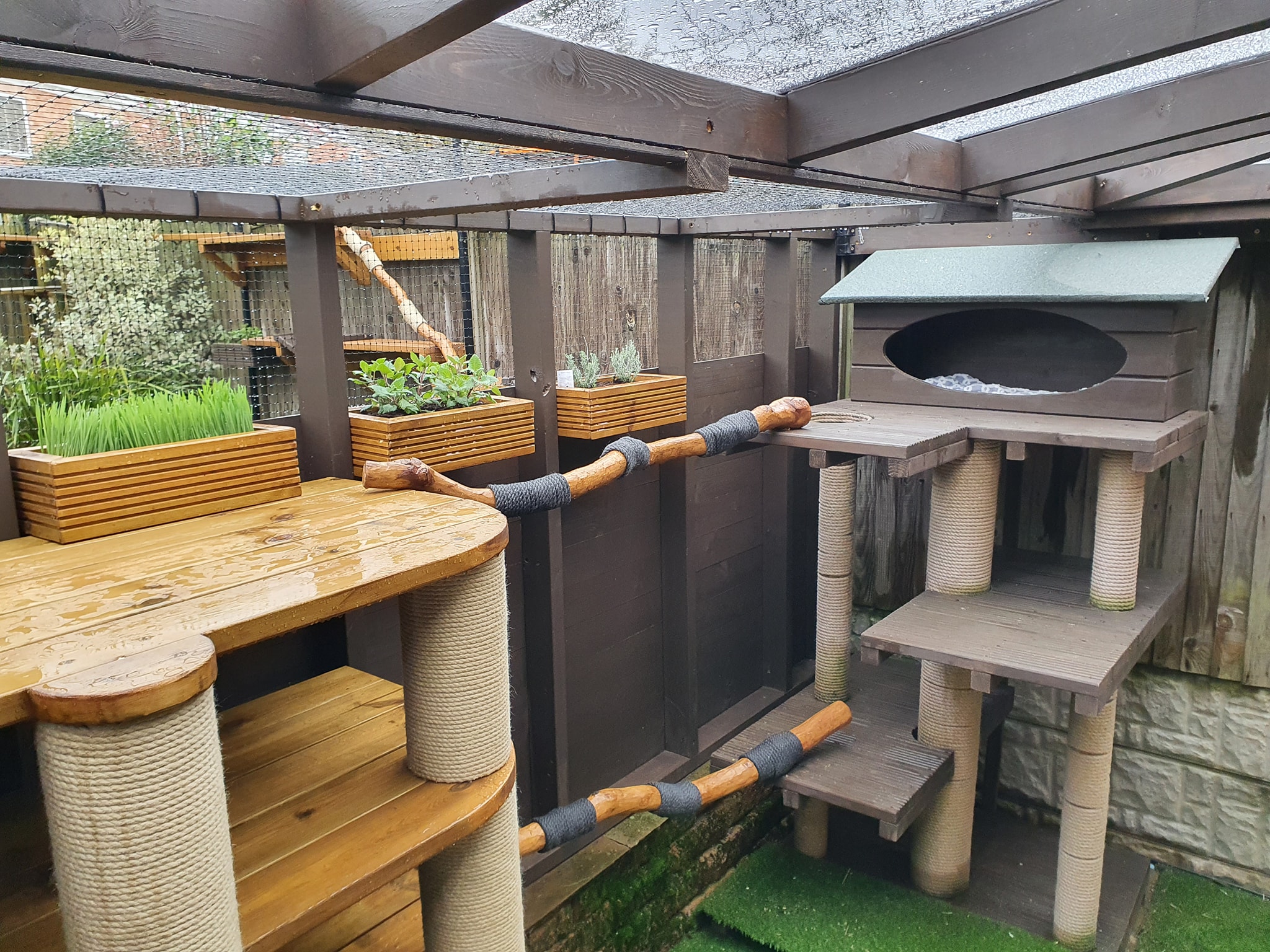 This area is part of an interconnected cat enclosure created by Custom Cat Creations, offering a sophisticated wooden look, combined with scratchers. It's safe to say that the cats must feel spoiled by their owners!
Together with Nature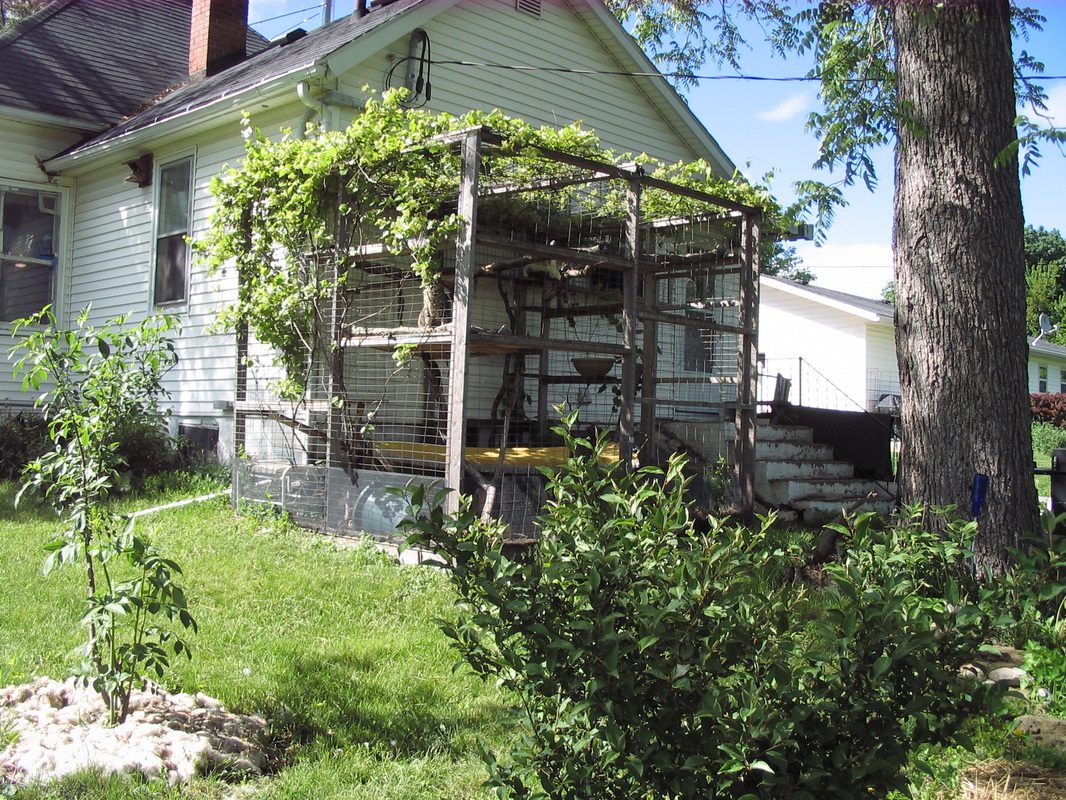 Wanna offer your kitten the possibility to spend the summer afternoons napping outside in a shady spot? This catio created by Our Tiny Homestead combining nature and safety can offer just that, while also looking stunning from the outside.
A Classic Choice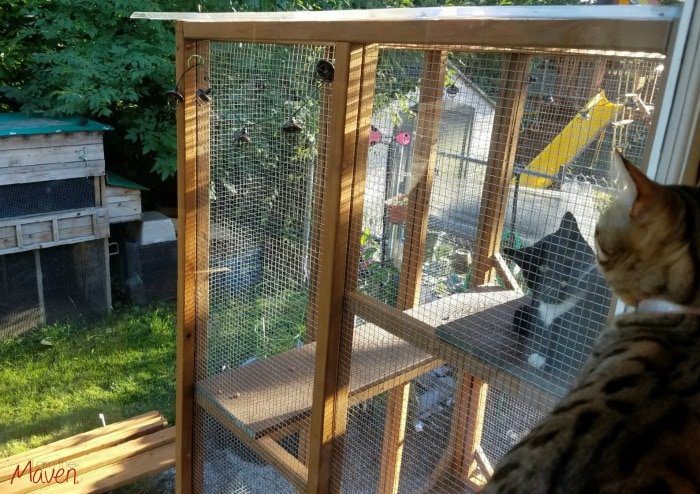 Kerri from I Am The Maven shared her experiences of coming up with her own DIY catio plans and building a catio for her beloved felines. She highlights the importance of having large perches in your catio, as well as having a sleeping place, food, water and outdoor litter for your kitten to feel at home in their outdoor world.
Add a Bridge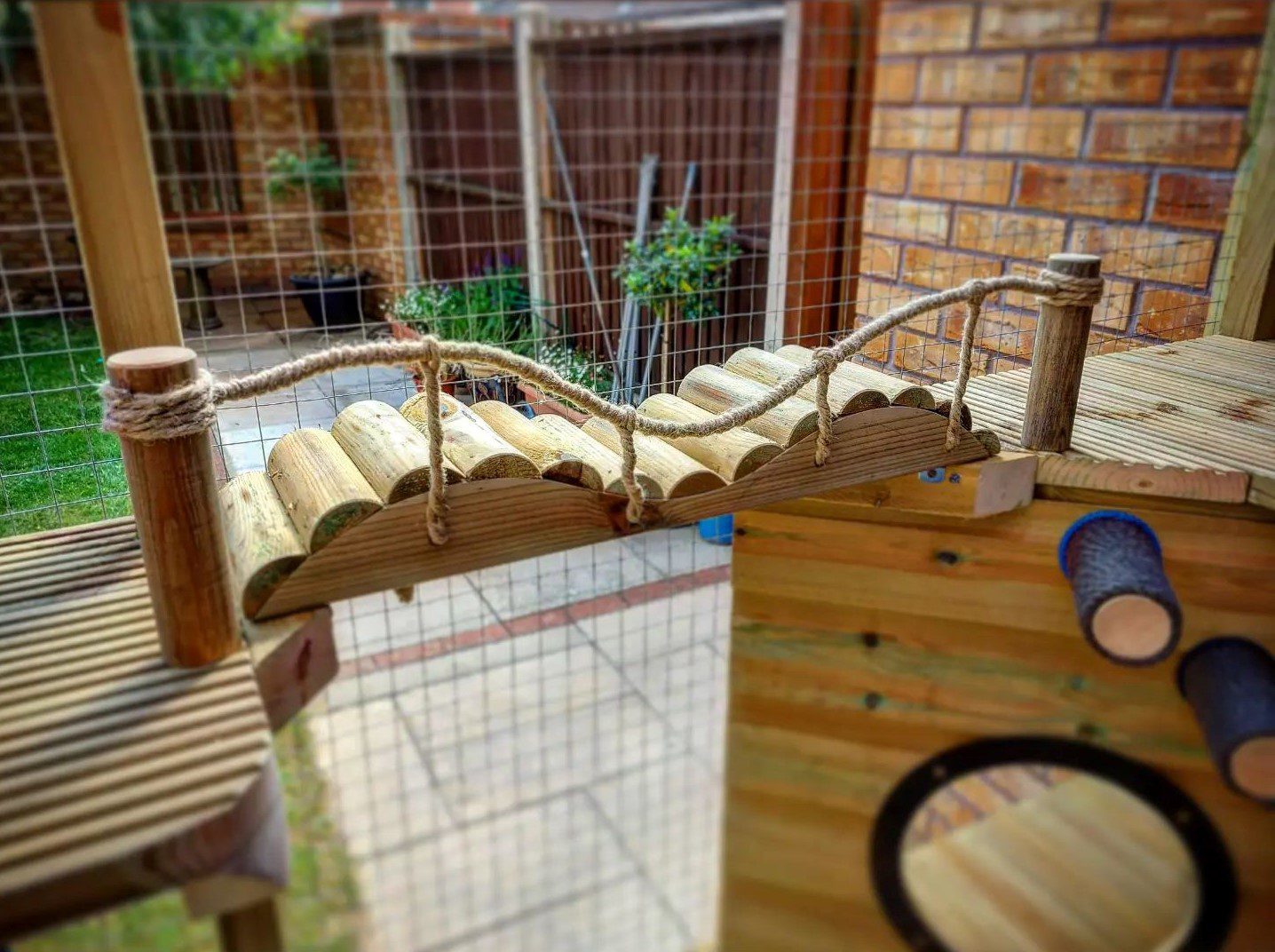 Another close-up photo taken by Viking Joinery featuring a tiny bridge as part of a catio – the details and design are just stunning and the cat using it must be a lucky one!
Creating Ambience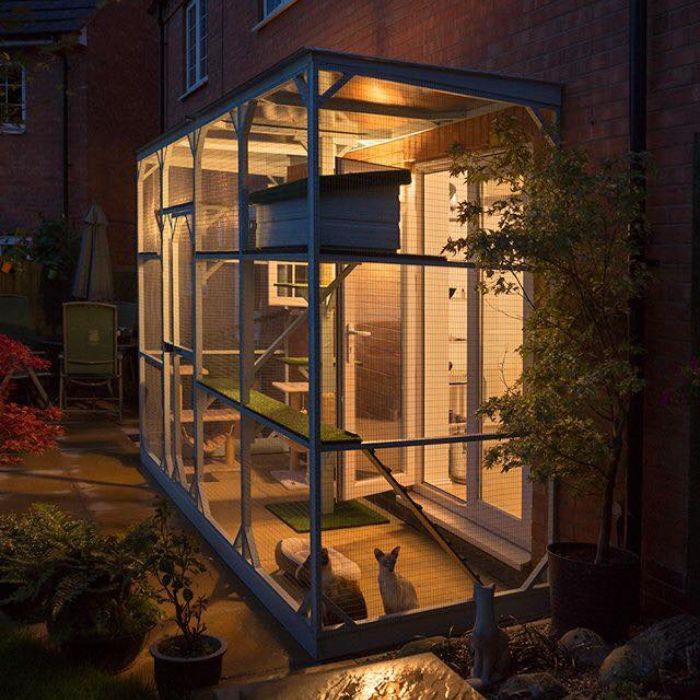 This gorgeous project by Bespoke Aviaries shows how much difference the lightning can make in your catio. With creatively organized interior and neatly arranged shelves, this catio has everything your feline desires – and it doesn't lose its charm even when night rolls around!
Branching Out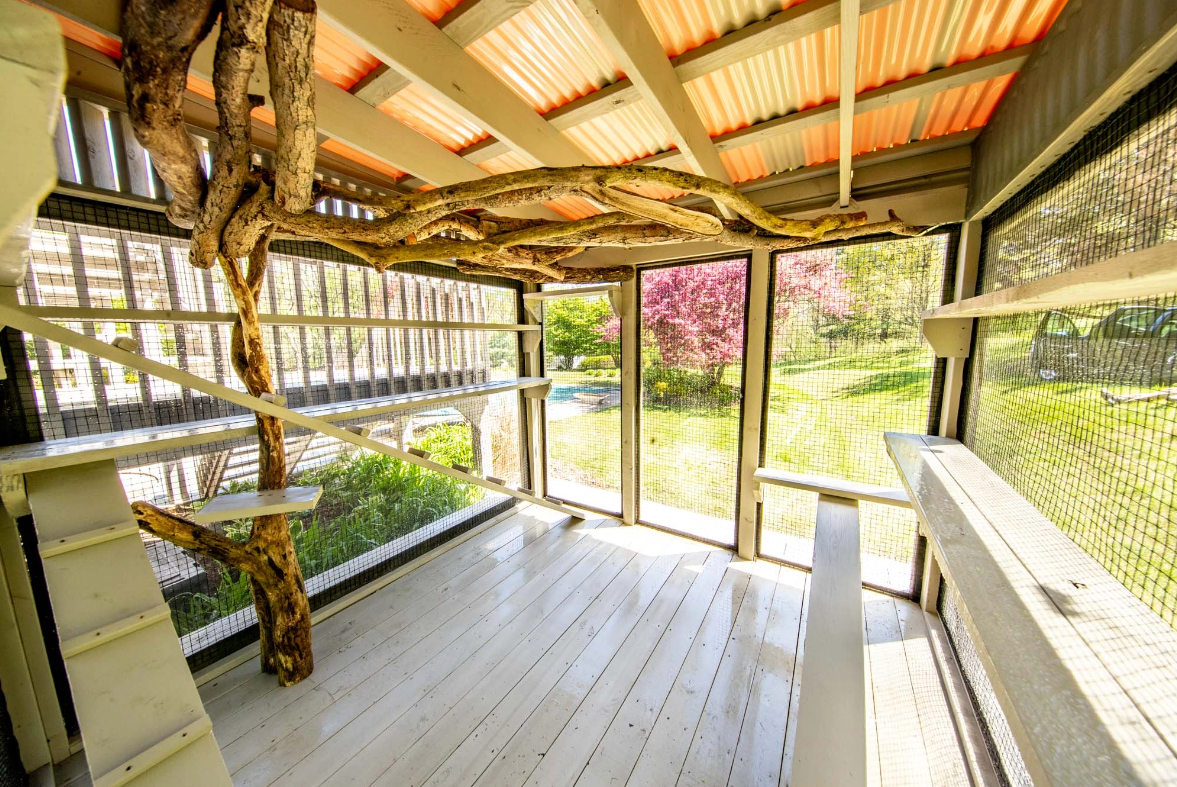 This catio by Cat Topia features plenty of climbing opportunities for your kitten who can feel right at home in nature. It combines safe and well-organised climbing spaces with lots of branches to hop on to and feel like a true wildcat! 
Add Some Hammocks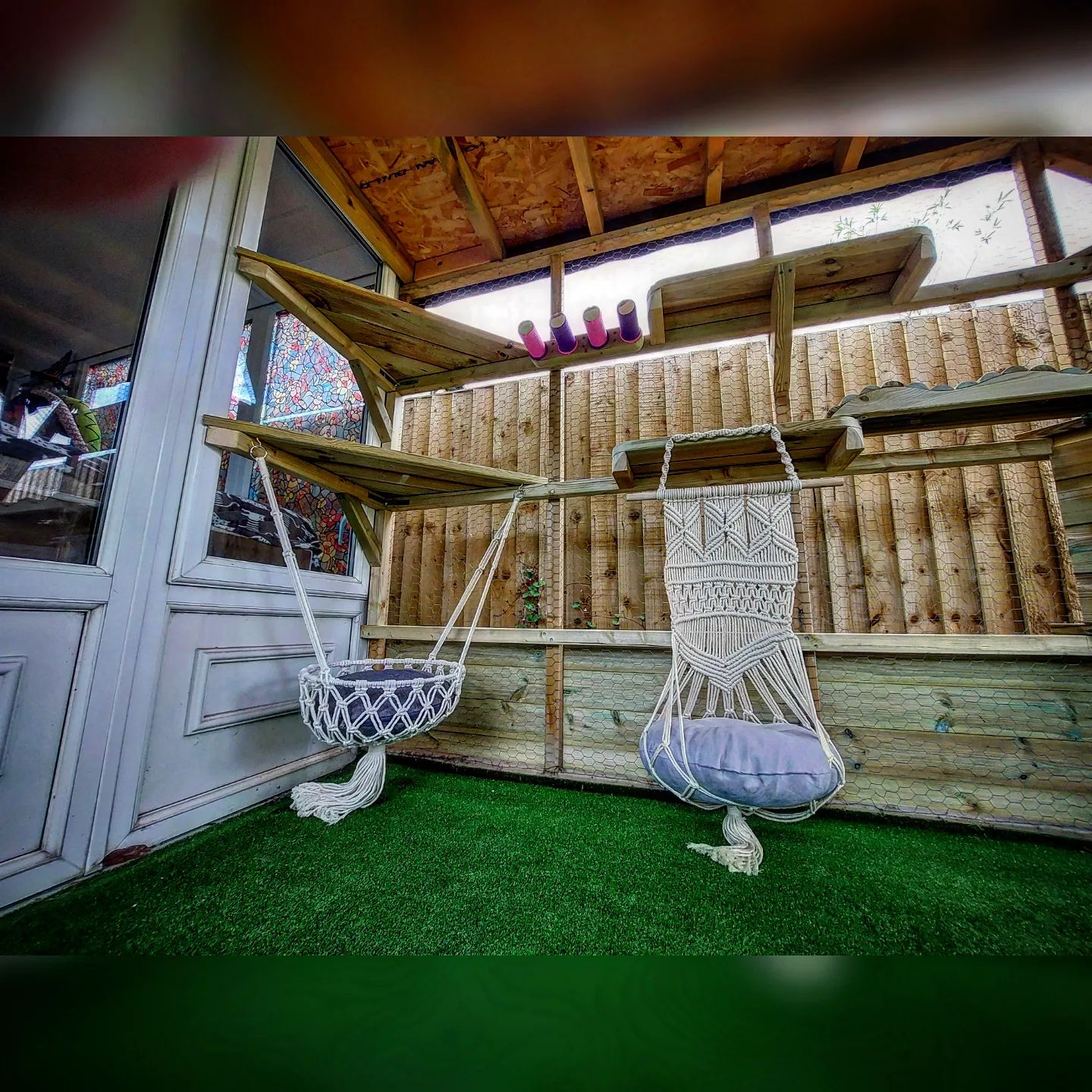 A close up idea for cat hammocks is featured in this stunning catio created by Viking Joinery. These little chilling/napping spaces are not only adorable but surely comfortable as well – and you can even DIY them if you're feeling creative!
A Clean Design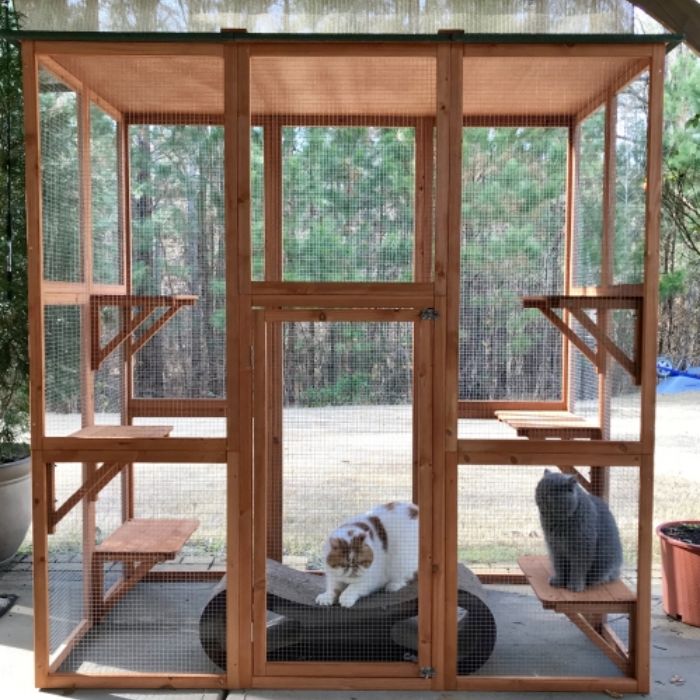 Viva Le'Purr Exotics presented this simple freestanding catio purchased from C&D Pets – they praised it for being easy to put together and reasonably sized, so purchasing one may be a great choice for those thinking about getting their first catio.
A Pop of Color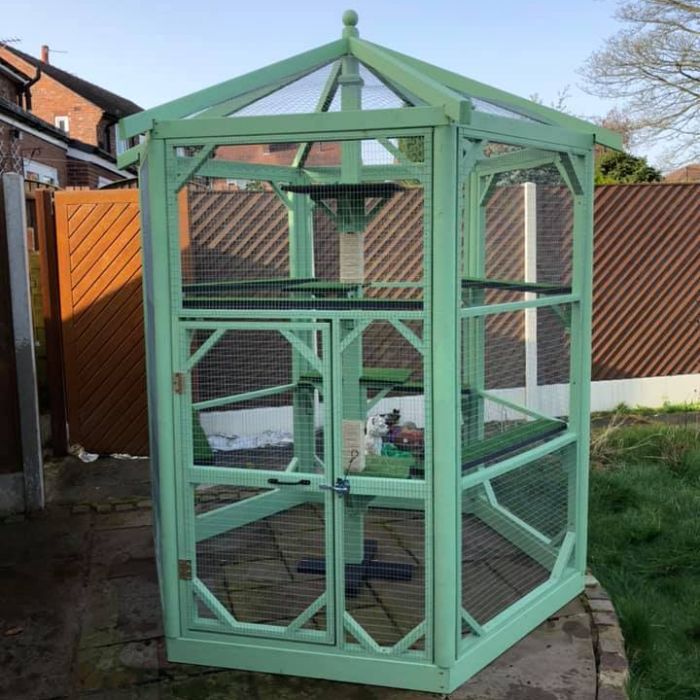 Have you ever felt like your backyard needed a pop of colour? If you did, then you will surely like this mint-green standalone catio created by Bespoke Aviaries that is guaranteed to attract everyone's attention.
Fun Catio with Colourful Accessories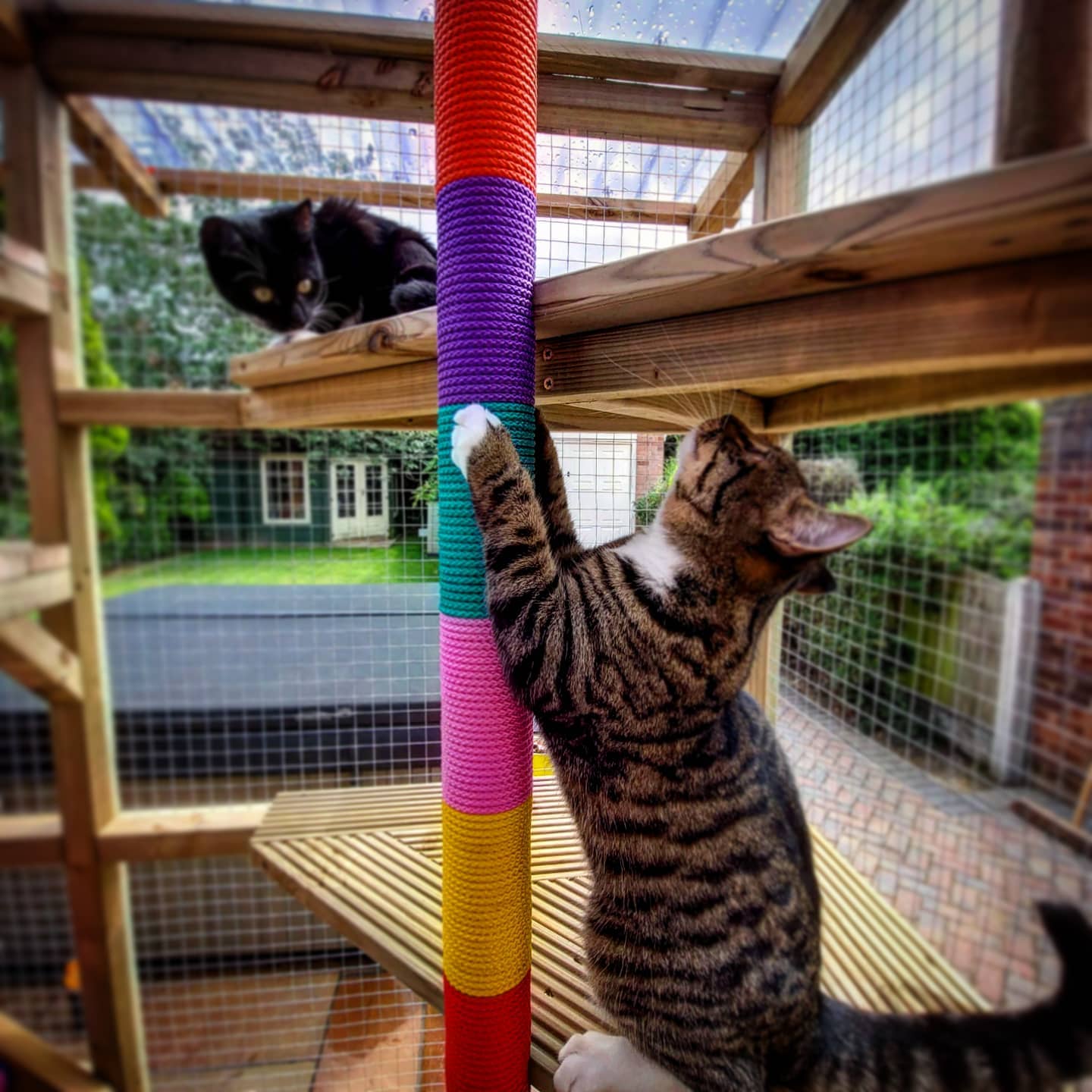 This close-up photo of one of Viking Joinery's creative catio ideas shows how the incorporated colourful scratching post is being put under inspection by a pair of professionals. And it surely passed the test, as who wouldn't love this beautiful scratcher?
Sneak Peak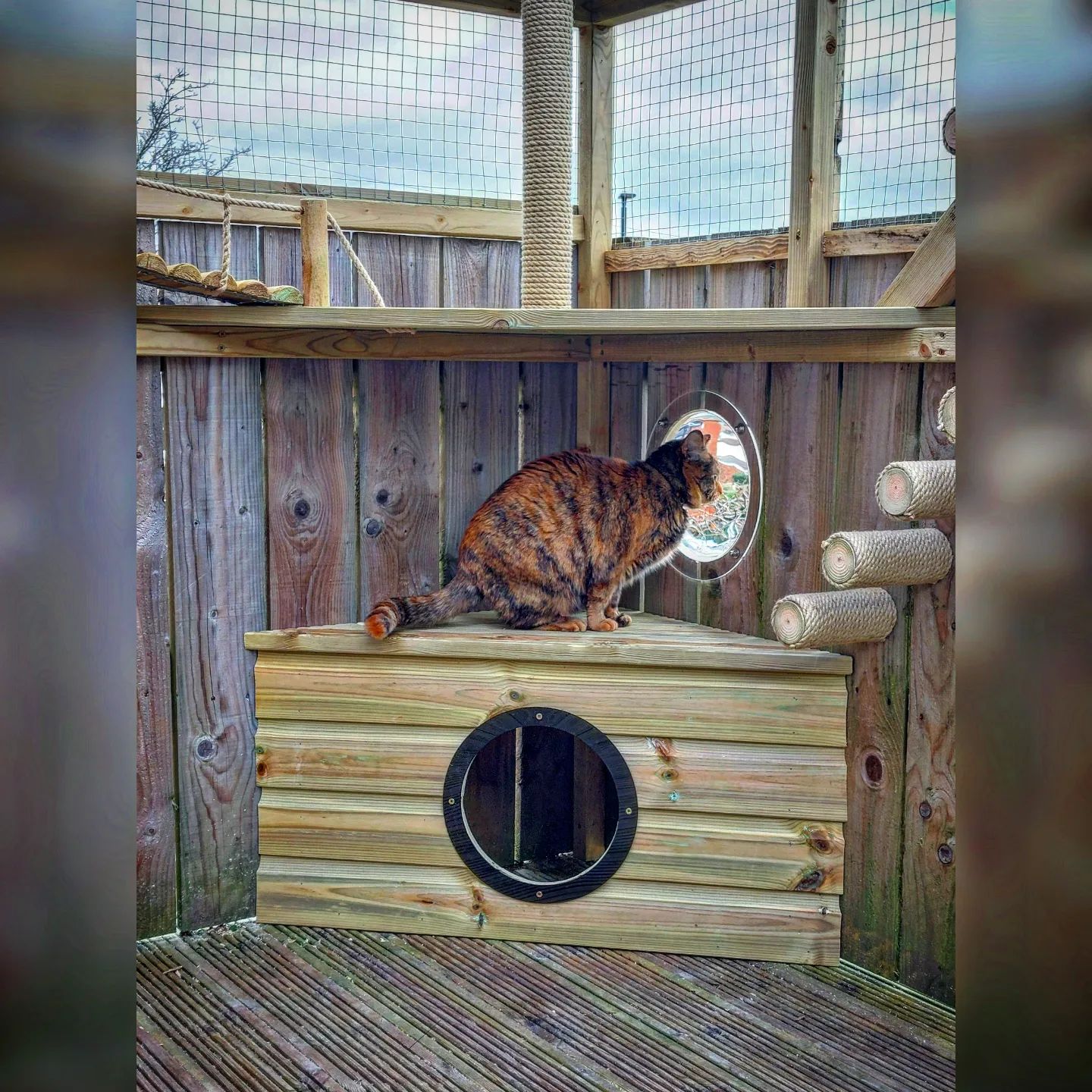 This photo features a nice little addition to an outdoor cat enclosure created by Viking Joinery – a little cat-sized window, offering your feline a sneak peak to the outside world.
Simple but Effective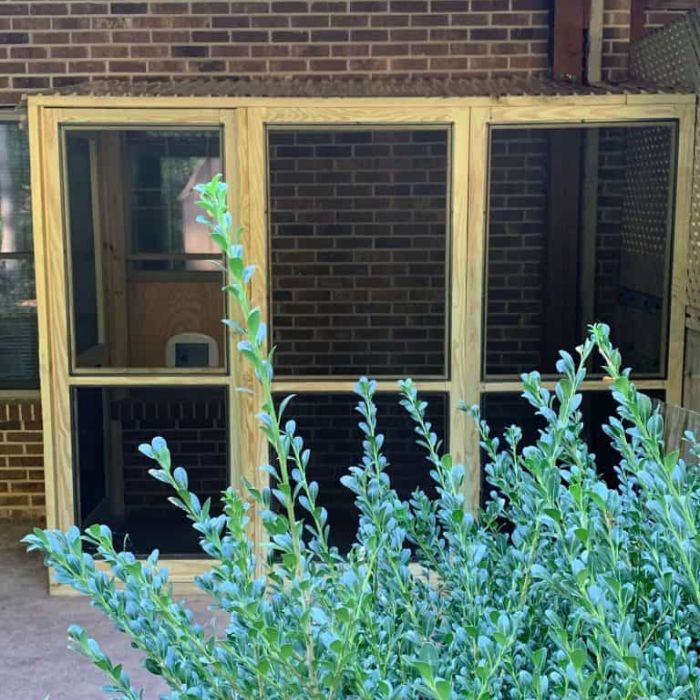 This classy catio is the creation of Laurie from Craft Room Time. She used screen doors with pet guards to create the walls of the catio, which could be accessed by her cats through the cat door attached to the window frame. We surely love the results!
Hideaway Area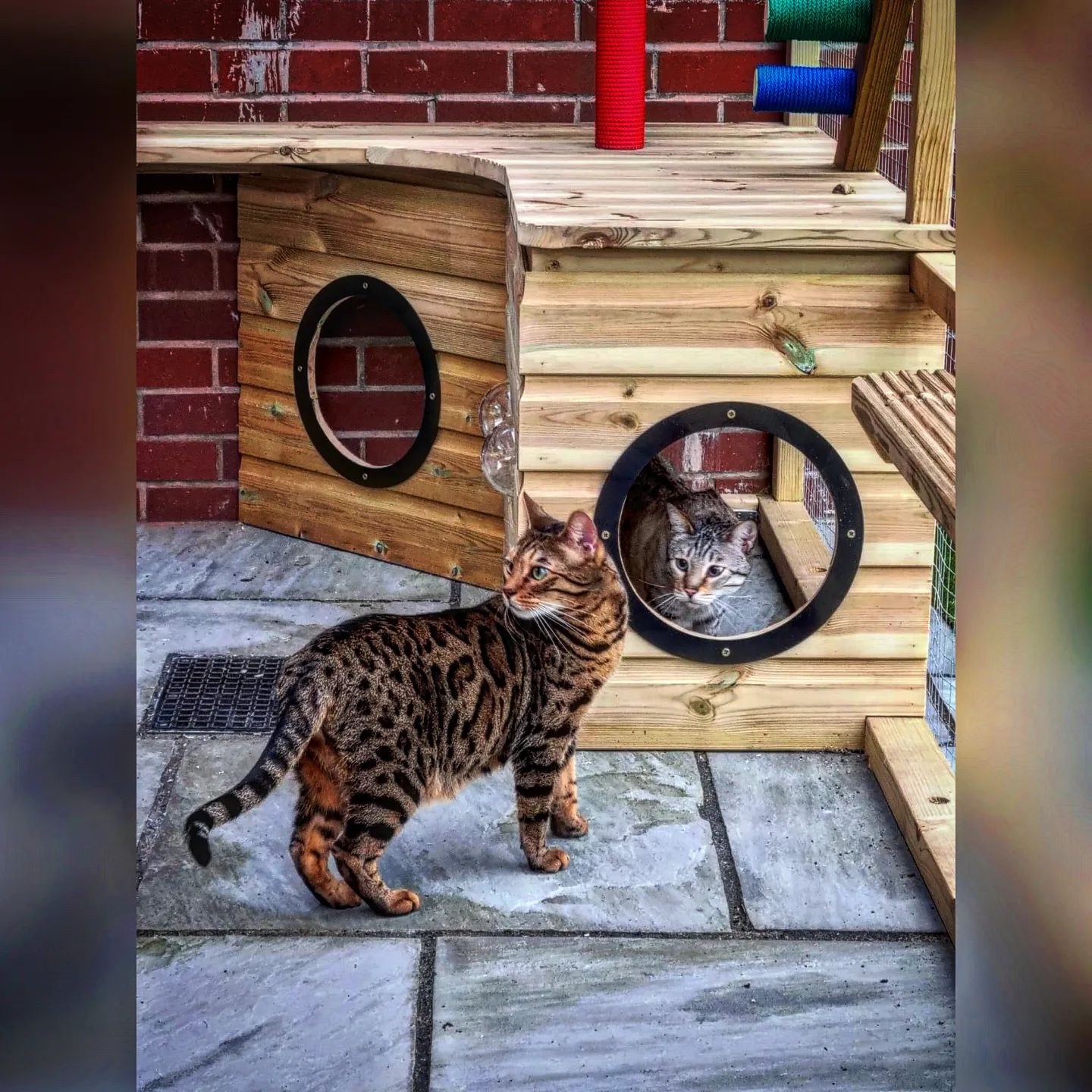 These cats are enjoying the time spent outside in their catio created by Viking Joinery, making use of the hideaway area featured in this design.
A Clever Idea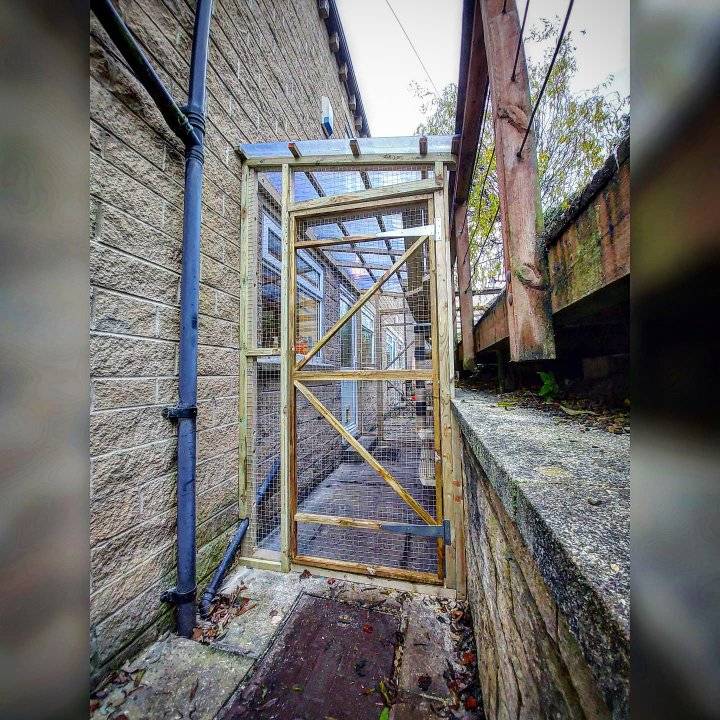 If you have the right distance between your house's wall and fence, this could be a perfect place to create an enclosure for your cat similar to Viking Joinery's creation. It doesn't take up too much extra space, but it still allows your kitten to spend some precious time outside.
Recreating a Natural Habitat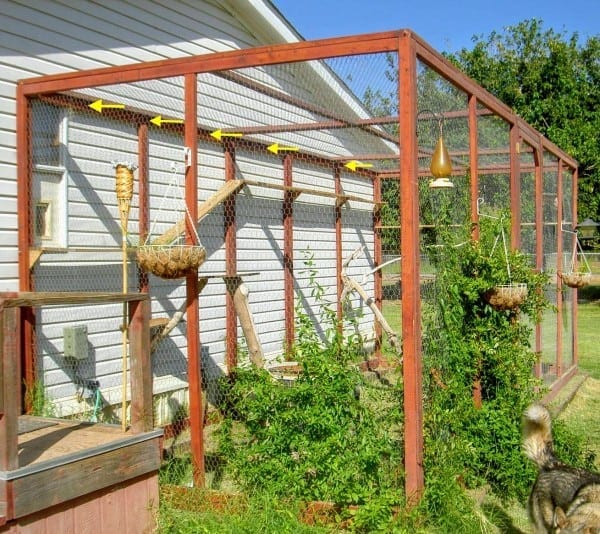 Another gorgeous creation is the catio built by TeeDiddlyDee incorporating a large amount of space, plenty of greens and enrichment opportunities. Tee's DIY cat enclosure has been tried and tested by her felines and according to her, they absolutely love spending time in it!
The Repurposed Catio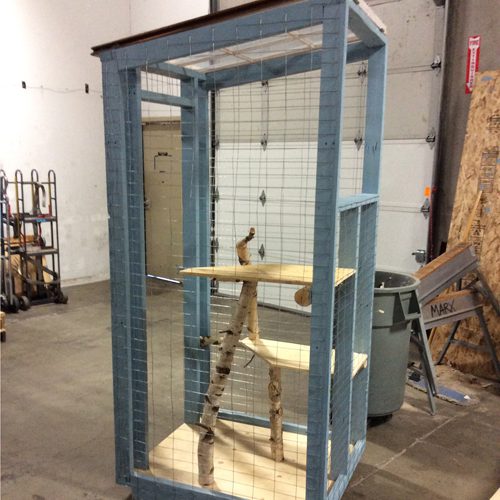 Although catios are useful creations, they undoubtedly can come with a hefty price tag. However, this project by The Habitat for Humanity ReStore shows how you can build your own DIY mini-catio for under $50 – this project was made using repurposed materials such as a shipping crate, old wood sash window and some natural birch tree branches.
Oasis in the Garden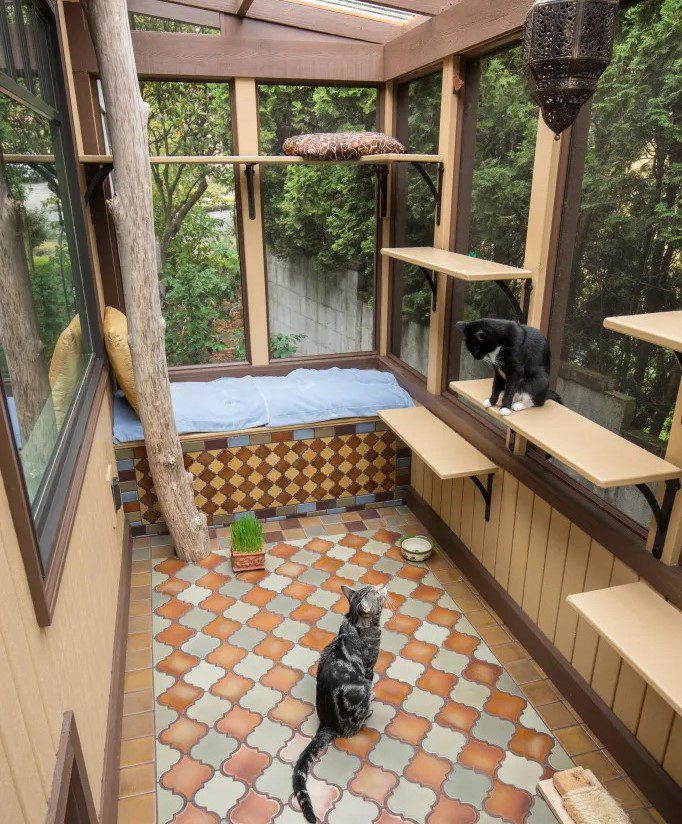 Eileen M. Stark from Real Gardens Grow Natives is a true cat lover – so she decided to create a lovely playing space for her four-legged friends. It took them 5 months to build this space, but from the look of it, it was surely worth it. They removed the enclosed wooden porch/greenhouse in their home and replaced it with a beautiful cat enclosure. The space looks really cozy and the cats are surely having the time of their lives in it!
Catio Steps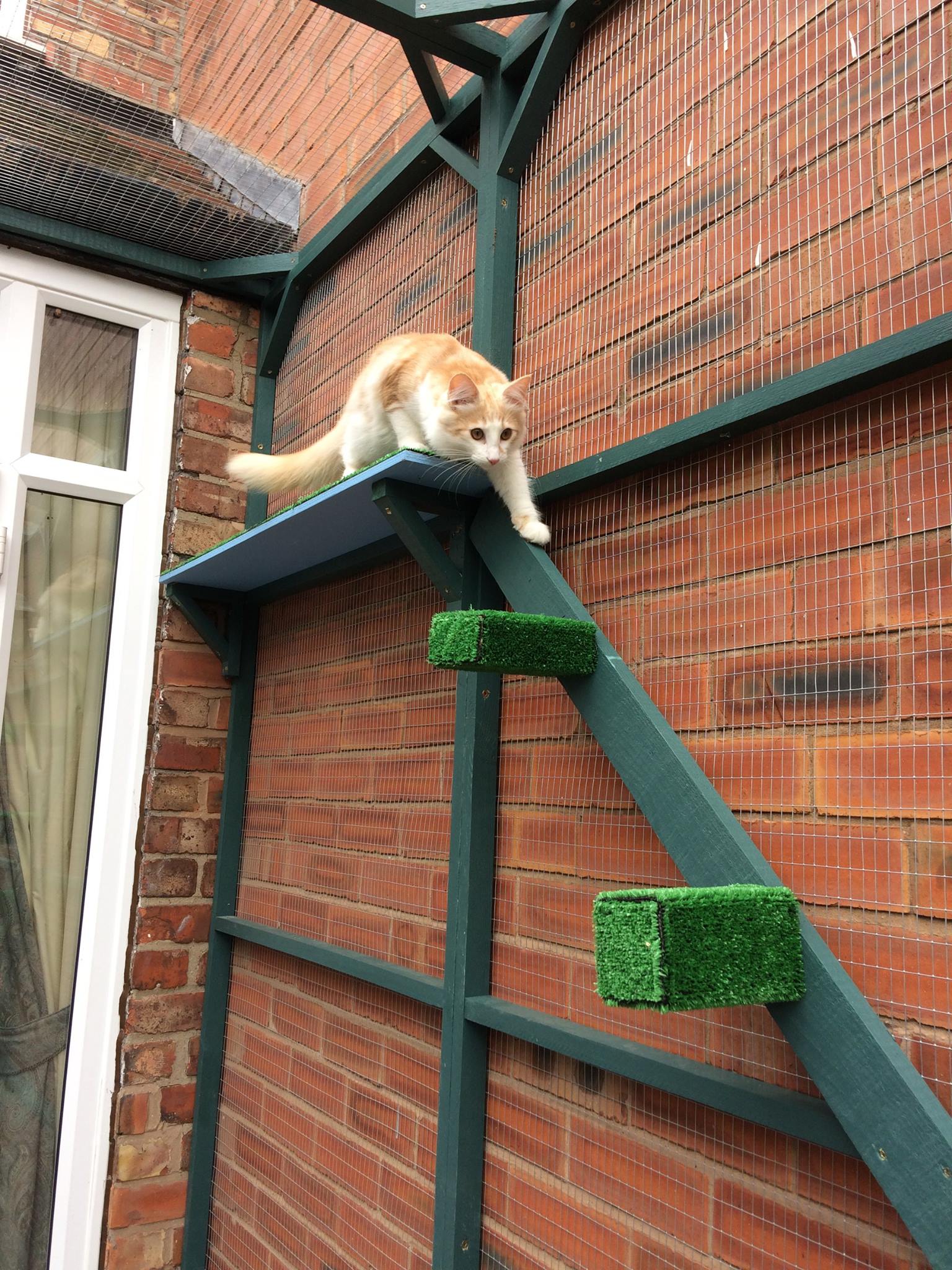 This is a close up photo created by Bespoke Aviaries of some aesthetic looking catio steps, giving off the impression that your feline is walking on blocks of grass.
A Violet Creation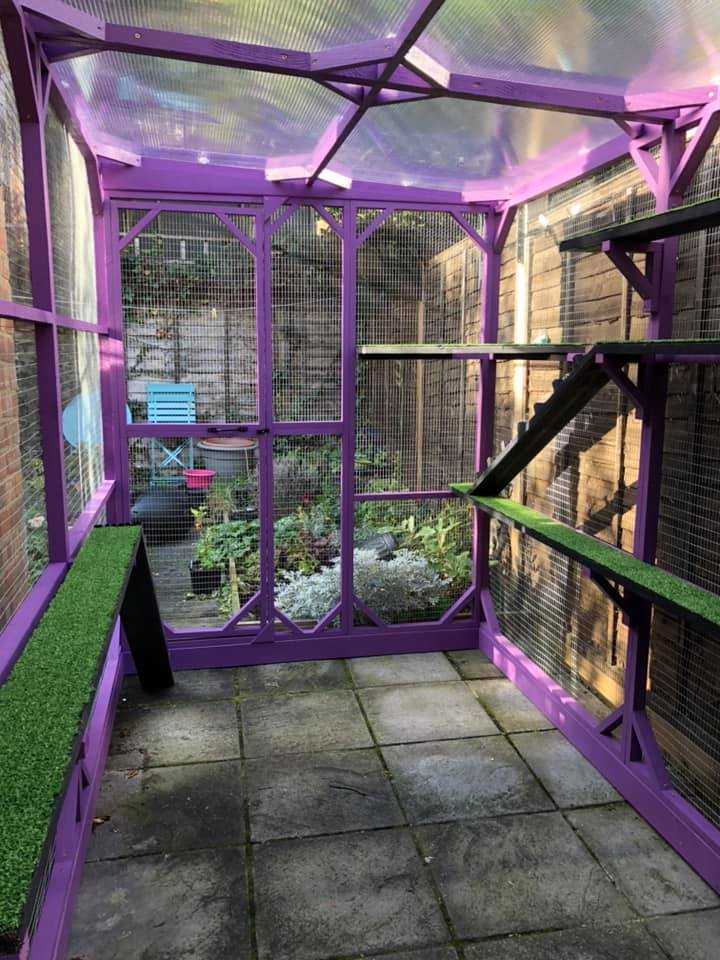 This violet creation by Bespoke Aviaries allows plenty of space for your kitten to run around and experience the safe side of outdoors.
You Can't Beat a Hammock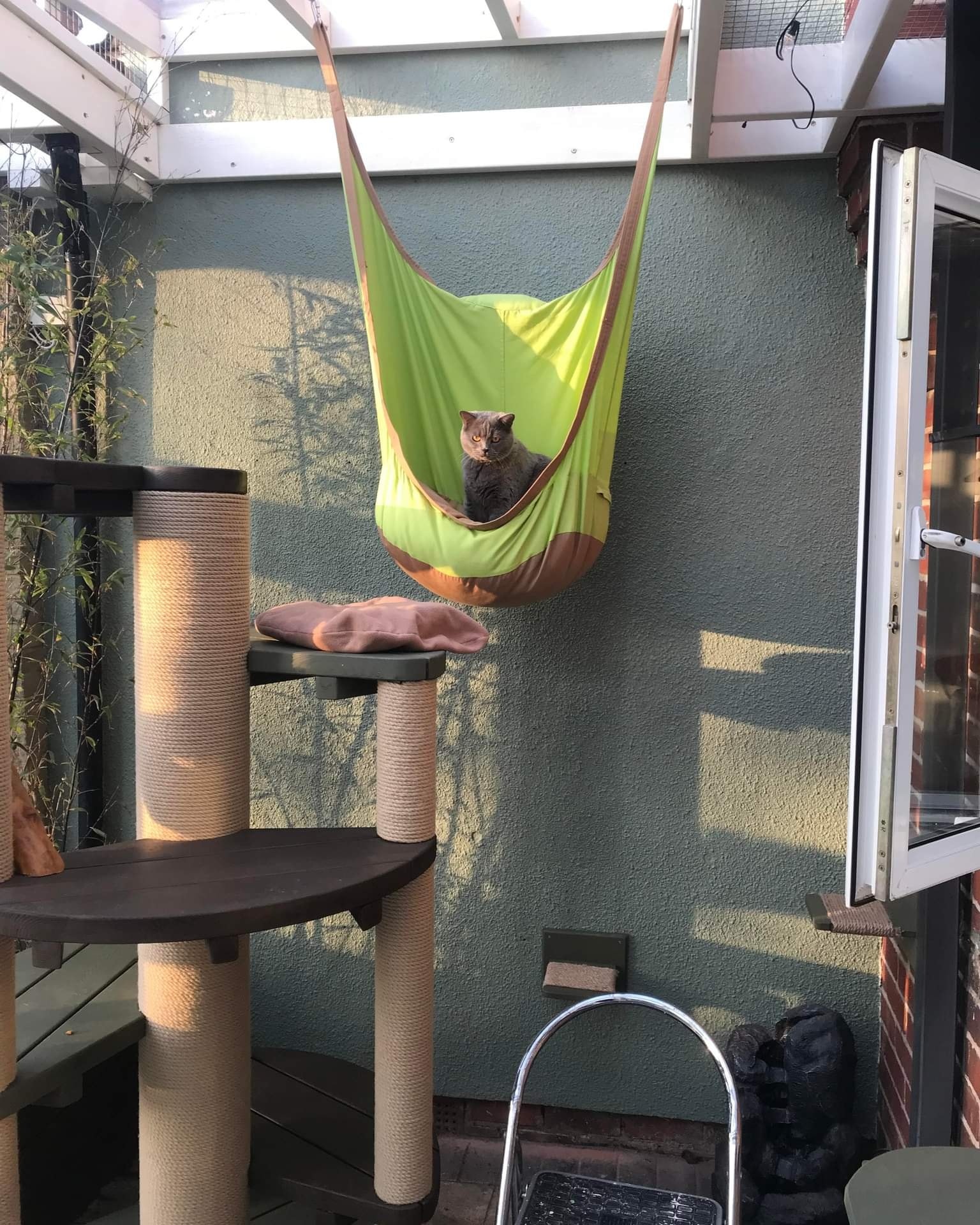 Does your cat like to show off how good it is to sleep all day in different parts of the house, in the most comfortable positions? If you secretly love being jealous of their comfort, this hammock added by Custom Cat Creations is a perfect addition to your catio as well.
Window Hopping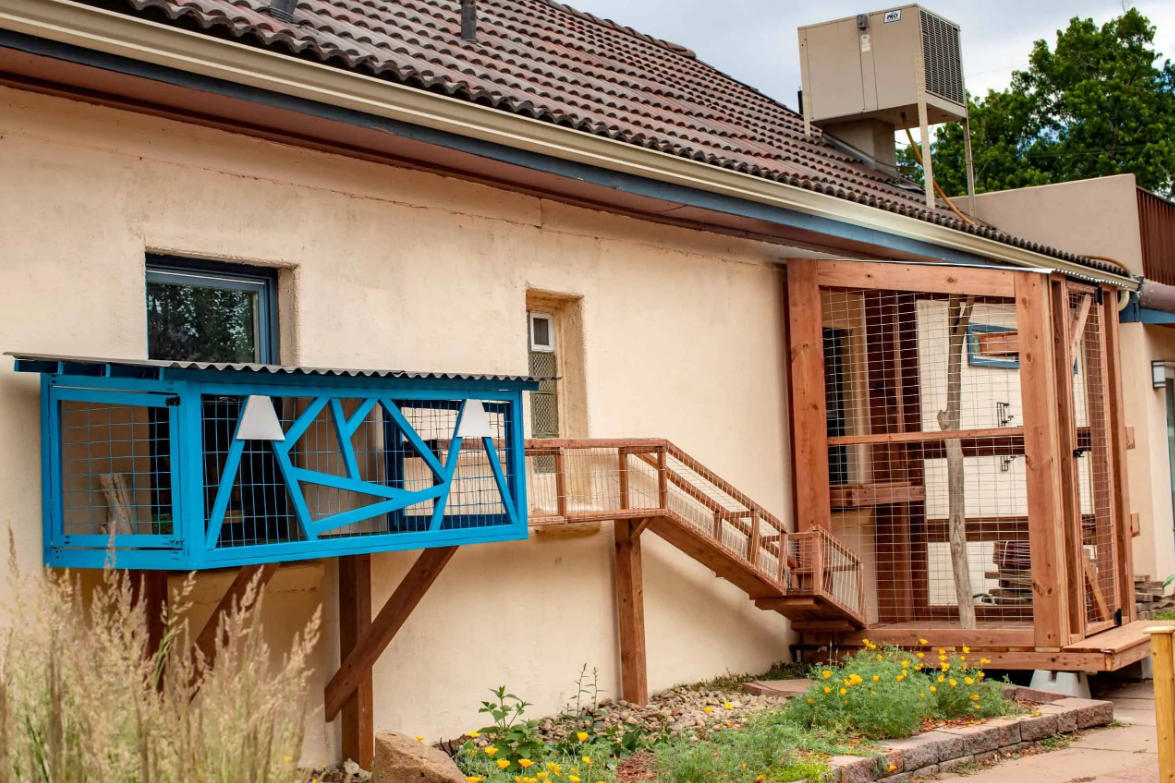 This lovely enclosure by Cat Topia features two separate parts, connected together from window to window, allowing your feline the choice to decide which perspective they would like to experience the world from any given day. The second part features some enrichment options, including a branch to climb on to, making it a perfect match for a curious kitten looking for a taste of adventure. 
Dark Mahogany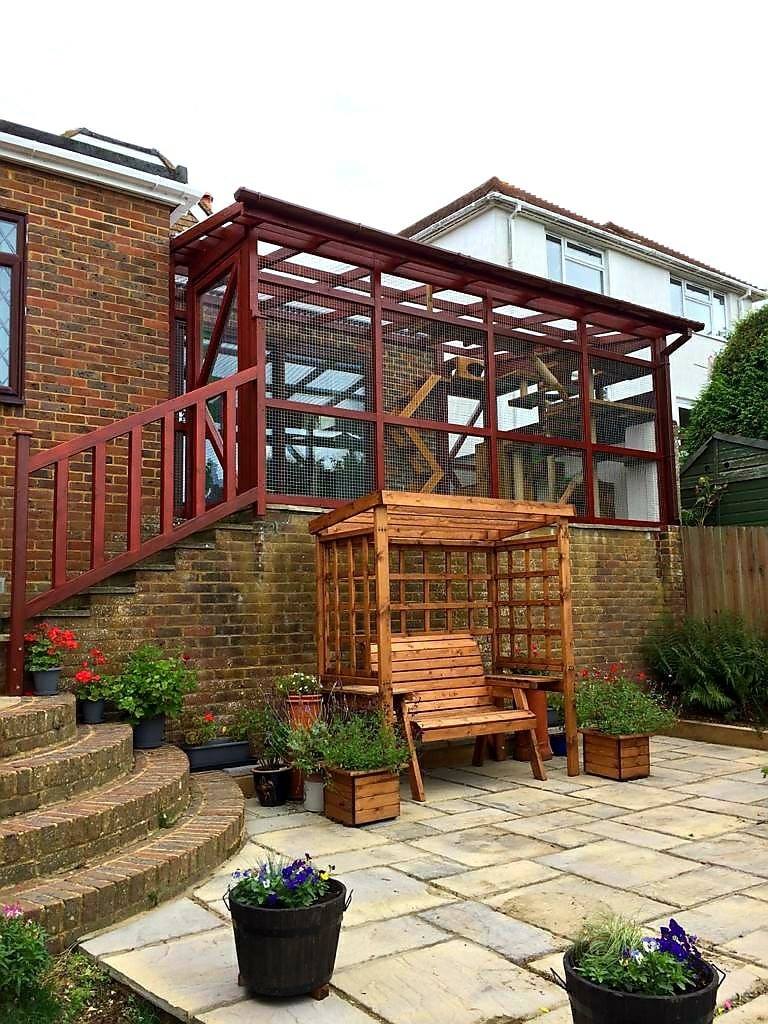 This cat enclosure by Custom Cat Creations takes up the entirety of the porch of the house, creating a highly sophisticated look. The dark mahogany compliments the house's colour palette, making sure to leave all your guests in awe!
Playful Colours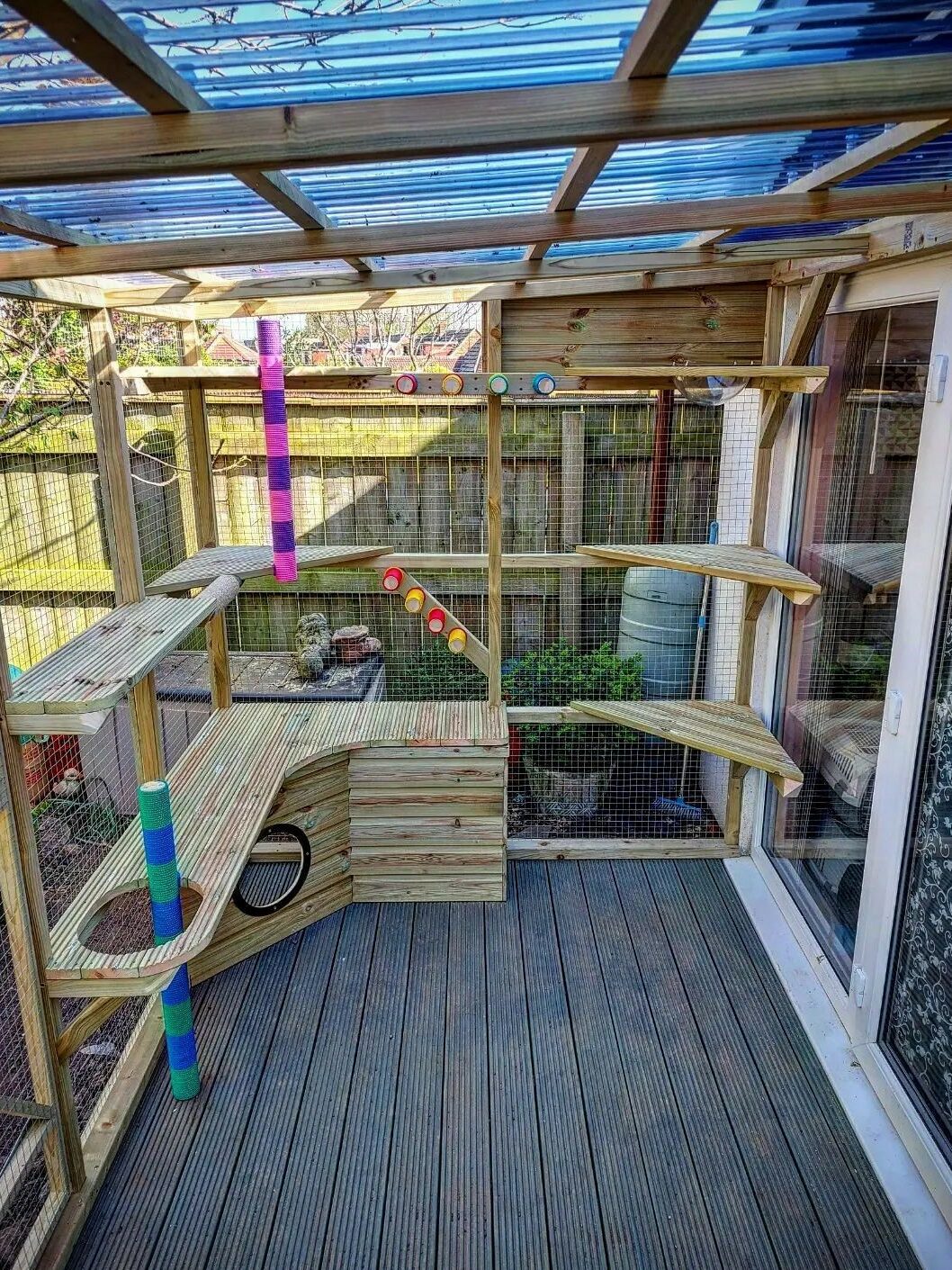 When building a catio it is very important to incorporate some features that will stimulate your cats and keep them occupied so Viking Joinery made sure to create a feline playground, with playful colors and shelves to climb on.
CATIO PLANS
---
Simple Catio Plan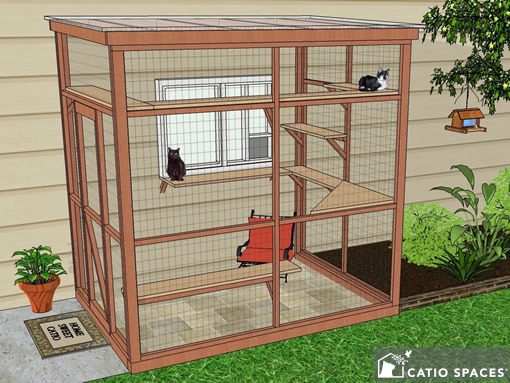 Finally, if you still haven't found the perfect catio inspiration, you should consider downloading one of Catio Spaces's easy DIY catio plans and getting creative along the way! This design is a simple but great way to start your catio-building journey.
EXPERT ADVICE
---
We asked cat experts, veterinarians and behaviourists what would be their best advice when it comes to building a catio for your feline friend. 
'Catios' may be useful in some circumstances however they should not be seen as a replacement for giving a cat free outside access where it can chose where to go and control its own movement. It is still recommended that cats will ideally be allowed outside access. Cats can have a home range that far exceeds the space available in a 'catio' and as such may become frustrated if their outside space is restricted to the space of a 'catio'.

The cat should be able to access the 'catio' as and when it choses with direct access to it from inside the house. Cats Protection does not encourage small cat pens or 'catios' that the owner is required to pick the cat up and place them into. This act alone is stressful for many cats but further to this, some cats may feel trapped or exposed if they do not have access to an escape route. Particularly small pens in the garden with no escape can leave a cat feeling particular exposed.

Cats should always be provided with a covered hiding area in the 'catio'.

As with all cats, cats with access to a 'catio' still need to be microchipped, vaccinated and neutered.

Cats Protection still recommends that indoor only cats are provided with enrichment/puzzle feeders and toy play throughout the day to prevent boredom and frustration. The 'catio' does not serve as an alternative to good enrichment practices in the house.

– Richard Barker, Veterinary Team, Cats Protection
"For people who feel the risks of letting their cats outdoors outweigh the benefits, a catio can provide the cat with fresh air, an opportunity to sun bask, and some of the mental stimulation the outdoor environment brings. If big enough, it can even provide an opportunity for additional physical exercise, especially if the vertical space is optimised with lots of climbing structures.

When designing a catio, it's important to think about the cat's
senses – what can it see, hear, smell, taste and touch from the catio. If you have visiting cats to the garden, these could cause stress to the cat(s) in the catio so remember to provide hiding places and areas where the catio cat(s) cannot be seen. You may even consider low level screening. Offering lots of perching and resting places up high will also help the cat(s) feel safe and give them a good vantage point from which to survey the outdoors. Providing plenty of places to scratch and facial rub are also important and these behaviours help the cat feel familiar with the space. Consider somewhere comfortable for you to sit within the catio so your cat(s) can enjoy social time with you in the fresh air as well as indoors.

Finally, it's important not to think that the catio is the cat's sole place in the home and the only place for all things cat-related. The catio should be viewed as an extension of their home and thus resources such as beds, litter trays, toys and scratching posts should still be distributed throughout the indoors too."

– Dr Sarah Ellis, Head of Cat Advocacy, International Cat Care
"When building a catio ensure to take the needs of your cat(s) into consideration. It should be large enough for your cat to freely roam the catio and also provide climbing areas to be more exciting! And lastly having a secure bed / hiding area is great in case your cat would like to take a nap out of sight from passerbies."

– Marc, Katzenworld
"Make sure you use screening material that is designated as pet safe. Pet screens are stronger than regular window screens, which not only prevents your cat from busting through the screen, but will also result in fewer rips or tears from your cat's claws."

– Ingrid King, Author, Cat Expert and Publisher of The Conscious Cat.
"Catios provide enrichment for any cat. Our feline friends are made to climb and leap, and catios let them do what they're meant to do, all while giving them a front-row seat to the smells and sights of the great outdoors."

– Amy Tokic, PetGuide.com
"Catios are a great idea for many reasons; they prevent your cat from harming local wildlife while allowing them to enjoy the sights, sounds and smells of the outdoors."

– Dan, Tuxedo Cat
"We're big fans of catios for several reasons, but one reason, in particular, is because they provide safe outdoor exploration for cats — no birdies or critters can be injured or killed for play, and our pets stay safe from harm. In our eyes, it's a win for everybody!"
"Outdoor enclosures known as catios are the best solution for pet cats as they offer a safe environment. Safe outdoor living keeps the cat away from most dangers and yet provides a more stimulating environment with potential for more normal feline behaviour."
"Make sure your cat can climb within the catio. A cat will quickly get bored with a flat space even with toys. It would be ideal to put some kind of cat tree in the catio to allow your cat not just movement but the ability to see out of their catio from different heights."

– Amanda OBrien, The Discerning Cat
"I think that ensuring adequate stimulation is available to the cats within the catio is a key consideration. Any cat owner can attest to buying expensive things, only for the cat to ignore it and play with the packaging instead. Ensuring that the catio is stimulating will go a long way in making sure it gets used and your cat remains happy while doing so.

Climbing posts, scratch posts, elevated perches with a good vantage point, and toys are all great additions to a catio."

– Jess, TassieCat
"Catios, or cat patios, are a fantastic way to provide your feline companions with a safe, secure, and stimulating environment to explore the outdoors. When designing a catio, keep in mind your cat's preferences and interests, ensuring you include elements such as climbing structures, perches with various heights, and hiding spots. Use sturdy, weather-resistant materials like wood or metal for the frame, and enclose the space with a durable wire mesh to prevent your cat from escaping and to protect them from potential predators.

Additionally, make sure to provide ample shade and a water source for hot days, as well as comfortable resting areas for relaxation. Regularly inspect the catio for any damage or potential hazards, and maintain a clean environment to promote your cat's health and happiness. By thoughtfully designing and maintaining a catio, you can significantly enrich your cat's life while keeping them safe and secure."

– Simon Fox, Cat Topia
Further Reading
DIY Cat Proof Fence – Step by step instructions on how to make your fence cat proof so your cat doesn't escape your yard 
How to Cut Wire Netting – Learn how to cut wire netting for a DIY catio using the right tools