Customer Project of August 2023
WireFence has decided to choose and showcase the best customer project each month!
The team loves to see what customers are up to and how products are being used once they reach their final destination.
So the favourite project is chosen by vote at the end of each month, based on the review images and any additional ones sent via email or LiveChat. 
August's Pick – Gabion Log Storage
This month's favourite project belongs to Noel Taylor who turned our standard sized baskets into wonderful log storage units which also double up as a privacy fence.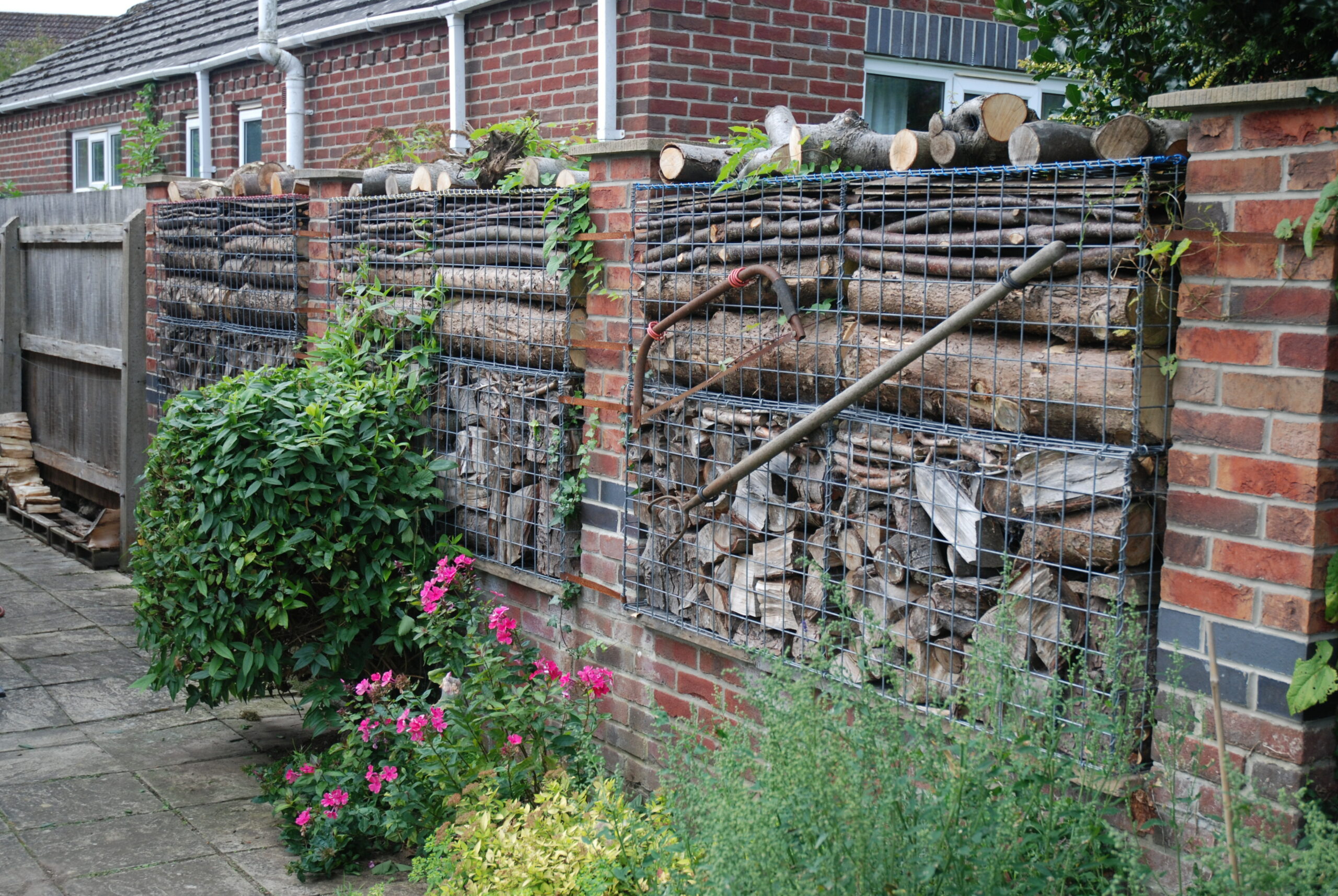 Noel chose to use his gabions as fencing infill between the brick pillars. The gabions double up as a log storage while still having the fencing function. The logs provide privacy to the property and give the garden a rustic look.
We live in a bungalow that needed some renovation when we bought it a few years ago. It has a private back garden except for one corner where there was a low wall split into 3 6 foot sections by pillars. We had a builder raise the pillars by 12 courses of bricks and was then thinking of what kind of fence panels and fixings to use to screen the neighbour's overgrown garden off with. At the same time we had to take down an old chestnut tree and had lots of logs to season (log burner install is happening soon!) and I was looking at gabions for a second project of creating a more solid bank to the stream that bounds the other side of our garden (pictures of that to follow in a few months). So I thought gabions might be the solution to our need for screening – especially as our neighbour told me that a previous attempt at fence panels had not survived the wind in that spot.


The gabions fit nicely in the space (6' x 2' I think) stacked 2 high but I had to cut one section off the top ones to fit them under the capping stones. They are wire tied together and I also put some metal straps between them and around the pillars for a bit of extra stability. I filled the bottom gabions first (obviously I guess) putting some rather large chunks in the bottom corners to ensure they were weighted down and wouldn't rock and then random logs. Once I'd done that I wanted to do something different in the top gabions so graded down longer logs so that they started thick (and heavy) at the bottom and topped out with thin (and light) branches. I added a bit of old fence panel on top to try to keep some rain out and then closed them with some scrap electrical wire (so I can remove it easier) and some oddly shaped logs on top.


I'll probably empty a couple of them every year to burn the wood and am thinking I will refill them with new green logs each time for them to season. Maybe a different pattern next time too.


It was enjoyable to do and helped with finding a new place to store and season the logs when we had rather a lot.
I'm liking the fact that the bush has started to use the gabion as a trellis too. I just need to find a few more old tools to tie to the other gabions now. – Noel Taylor 
It would be a shame not to showcase a couple of other lovely customer projects as well, to serve as inspiration for anyone else looking for creative ways to utilize mesh products.
Honourable Mention – Dog Fence Project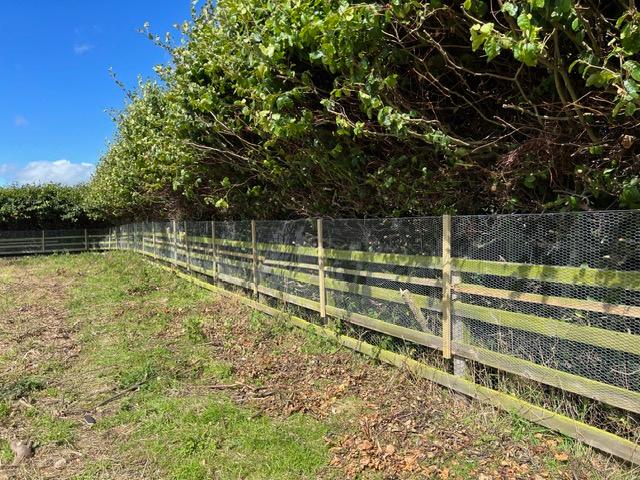 Gary made an excellent job in attaching an extra layer over his existing fence to dog-proof it. The fence turned out very neat and despite the chicken wire not being the ideal fencing for dogs, it proved to work well in stopping his dog from escaping the garden.
I needed to increase the height of our existing fence by a further 30cm to prevent our 3 year old Hungarian Vizsla, Angus, from climbing over into the field at the back of the property where there are sheep. I initially bought 10 Metres of chicken wire and tested to see if it would do the job. The fence length is approximately 52 Metres long, so I purchased an additional 50 Metres of fencing. This took a couple of days to erect, but so far has proved effective. Angus has stayed in the property.

Delivery of the fencing was prompt, quality good and price reasonable. I am happy. – Gary Whitlie
Honourable Mention – Garden Gabion Steps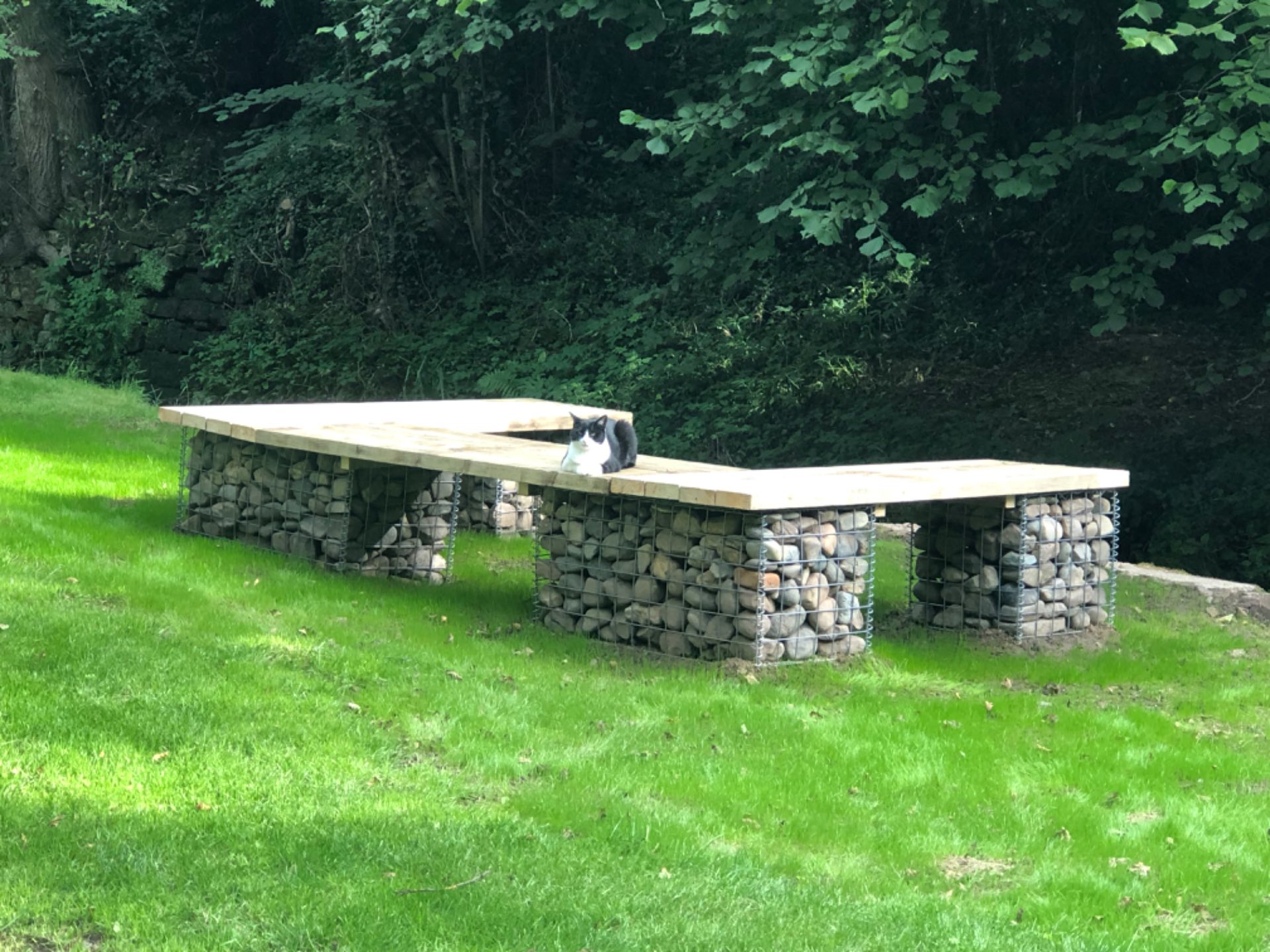 This project shows just how good benches can look when made up of gabions. Rebecca managed to utilize our gabions as garden seating which adds an exquisite look to her garden.
The cobbles in the gabians were all reclaimed from the foundations of our kitchen during building work and we wanted to recycle them.

We also suffered the affects of a flash flood and the bridge across our brook was lifted and swept away and when we did finally retrieve it from up stream we dismantled the wood, wire brushed the planks and used them for the tops- the bench seats on the gabian. We cleaned up all the cobbles to bring out the colours and once made we grass seeded around the bench.The bench overlooks the stream.

We loved the look and the fact it is up-cycled materials and have started to create gabian steps up the rockery as an ongoing project to use further recycled cobbles and tie in the garden with a new kitchen extension. Thanks again delighted! – Rebecca Dutton