Orange Barrier Fence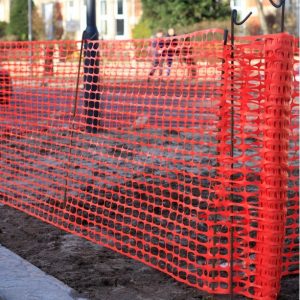 Safety barrier to quickly cordon off hazardous areas. Also used for construction sites, sporting events and crowd control.
Key Info:
UV, rot and water resistant
High-tensile
Lightweight and fast to set up
High-visibility, ideal for construction and crowd control
Reusable and easy to dissemble
No products were found matching your selection.
Product Technical Details
Material:

High-density polyethylene (HDPE) – Plastic
Length:

 50m

Widths:

 0.9 – 1m

Colour:

 Orange
Weight:

 130 gsm (grams per square metre)
FAQs
Will this material tear?
High-density polyethylene (HDPE) is a stretched and high tensile mesh and is resistant to damage such as tearing, making it ideal for construction sites.
Is this orange plastic fence suitable for outdoor use?
Yes, HDPE is UV, rot and water resistant which is why it is often favoured for sporting events or construction. It is also light in comparison to other products, making transport to events much easier.
How do I set up the product?
Setting up this product is very quick and easy. Simply unroll the barrier and attach it to a series of fencing pins which you would have planted in the ground.
How many fencing pins would I need?
This would depend on the size of the barrier you have in mind. As a guideline, when setting up the barrier, you should attach it to a new fencing pin every 5m.
Common uses
Crowd control

Construction sites

Events

Dog boundaries

Poultry netting

Snow Fence
Tree protection