Playground Safety Mats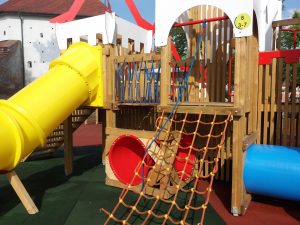 Rubber grass mats used to add protection for children around play areas, reducing the risk of slips and the impact of falls.  They can also be used to protect grass and provide grip to other potentially hazardous areas.  
Key Info:
Increase the grip of outdoor grass areas
Reduces the impact of playground accidents
Tested by RAPRA in accordance with regulations of critical fall height
Encourages water drainage, reducing muddy areas
Very easy install as no digging is required
Protects and promotes grass growth
Environmentally friendly, made from 100% recycled rubber tyres
Wheelchair, mobility scooter and bike friendly
Product Technical Details
Material:

 

Recycled HDPE

Length: 

1.5m

Matt Wall Thickness: 

23mm

Colour:

 

Black
FAQs
Do rubber playground safety mats meet regulations for play areas?
Yes. They are tested and meet the requirements of critical fall height. The absorptive nature of the rubber soaks up and spreads impact over a larger surface area, making it a much more forgiving surface.
What are the advantages to safety mats over sand?
Sand can become filled with stray items that you might harm your child if left unseen, as well as this sand and other surfaces like concrete do not react well to water in comparison to rubber safety mats, which instead encourage a faster drainage and have anti-slip properties. They are also much easier to install as no digging is required.
Can I use this to support wheelie bins or would they get stuck?
Yes, they support the weight of a wheelie bin and would not hinder you rolling it around. It also works very well on uneven, grass covered ground. It's a favoured product for golf course walkways. When grass has grown through it, it becomes nearly invisible and acts as a strong, stable surface, minimizing the risk of slips on muddy soil during rainy periods.
Would I be able to cut the product to a more suitable size for my needs?
Yes. The rubber is relatively easy to cut through and you would be able to using a sharp Stanley knife.
What are the benefits of HDPE?
High Density Polyethylene is a synthetic plastic which is specifically designed to be more hard wearing than standard polyethylene, while maintaining its properties. These include; UV resistance, water resistance and long-lasting qualities. Our playground rubber flooring is made from 100% recycled tires and as a result are environmentally friendly.
How do I install rubber playground rubber flooring?
Simple lie the product over the area you want to cover and you're done. You can also use pegs to fix them into place but you might find the weight of the mat will do the job fine.
Common Uses
Playgrounds
Horse paddocks & stables
Schools
Golf walkways
High footfall areas