Grass Protection Mesh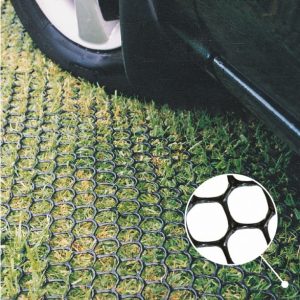 Our rubber grass mats will help to make all your outdoor areas mud free and still keep them nice and green, as the mats will let grass grow through easily. 
Key Info:
Made from 100% recycled HDPE
Rot resistant
Highly durable
UV stabilised
All weather resistant
Blends in with surrounding
Easy to install and manage
Wheelchair friendly
Product Technical Details
Length:

 8.3, 10, 20, 30m

Widths:

 1 – 2m

Colour:

 Green

Hole Size:

 7×7, 25mmx25mm

Weight:

 450 – 650 gsm (grams per square metre)

Load Bearing:

 Up to 7, 9 tonnes
FAQs
Can I cut the mats?
Yes, you can cut them easily with hardware scissors or a hardware knife.
How should I install the grass protection mesh?
You should lay them down in the place you want them in. Easily secure them with the pegs provided, the mats do have some weight, so they stay in place anyway. Once/if it's grass growing season it will grow through the drainage holes gradually. If you'd like you can lightly fill them with soil/seed, but with time the matting will be flushed over with your current lawn.
Can they only be installed on a flat and even surface?
No, they can be laid on uneven surfaces as well as they are made out of rubber, so very flexible and will stay in place with the help of the pegs and the grass, which grows over quite quickly. It can also be installed on concrete and gravel surfaces.
What  areas can I use the matting for other than driveways?
You can use it on any area that you would like to be mud free, for example chicken coops, kennels (you would need to fill it with some soil, so it doesn't damage the paws, feet), play are in your garden, under the children's swing, perfect grass matting for parking, garden paths, etc.
Does it help with anti – slip on my path?
Yes, you can use it as an anti-slip solution. The rubber has a good grip during rainy weather, it drains water well, so the area won't get waterlogged.
How can I cut the grass once the mats are grown over?
If it's well grown over and the surface is flat, you can use a lawnmower. If your surface is a bit more uneven, we would recommend using a hover mower, as that won't damage the matting. Wouldn't recommend using a trimmer as both the trimmer and the mats might  get damaged.
Common uses
Parking area

Driveway

Playground areas