Horse & Equestrian Fencing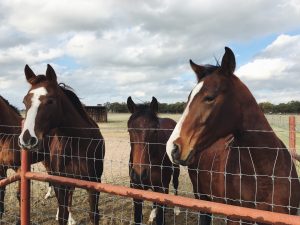 Equestrian wire fencing to keep horses in a designated area.  Stock available for large perimeter jobs.
Material :

Galvanised Steel

Construction :

Diamond Mesh

Wire Dia. - Vertical :

13g. / 2.4mm

Wire Dia. - V Mesh :

14g. / 2mm

Applications :

Specially designed equine fencing
FAQs
How do I erect equestrian wire fencing?
Our fence products for horses are simple to put up when handled correctly. All of these items come with a full set of instructions dealing with the details of set-up. Be sure to consult these carefully.
Is this fence electrified?
Yes, for a number of reasons. This will, after some time, deter a horse from certain behaviours that may lead them to escape from the fence, or that may weaken the wire, such as using it as a scratching post.
Can a horse jump the fence?
Yes, they can, but our fences are of a height designed to make it difficult for them. Our products are also electrified to an extent that it will cause discomfort to the animal, to create a mental barrier, not just a physical one, putting them off jumping.
Where should I put a fence in a horse's field?
Obviously, it should be erected around the perimeter of a field, keeping your animals in a designated area, but apart from that there is no set place. We do recommend, however, giving your animals plenty of living space, and a fairly large area to roam.
How sturdy is this fencing?
Made from tough, unyielding stainless steel with wooden posts for extra reinforcement and support, our range of horse wires are designed to be resistant to any attempt to escape from or break them, and are, thus, built to be extremely sturdy.
Common Uses
DIY enclosure building
Chicken coops
Perimeter fencing
Garden fencing
Security fencing